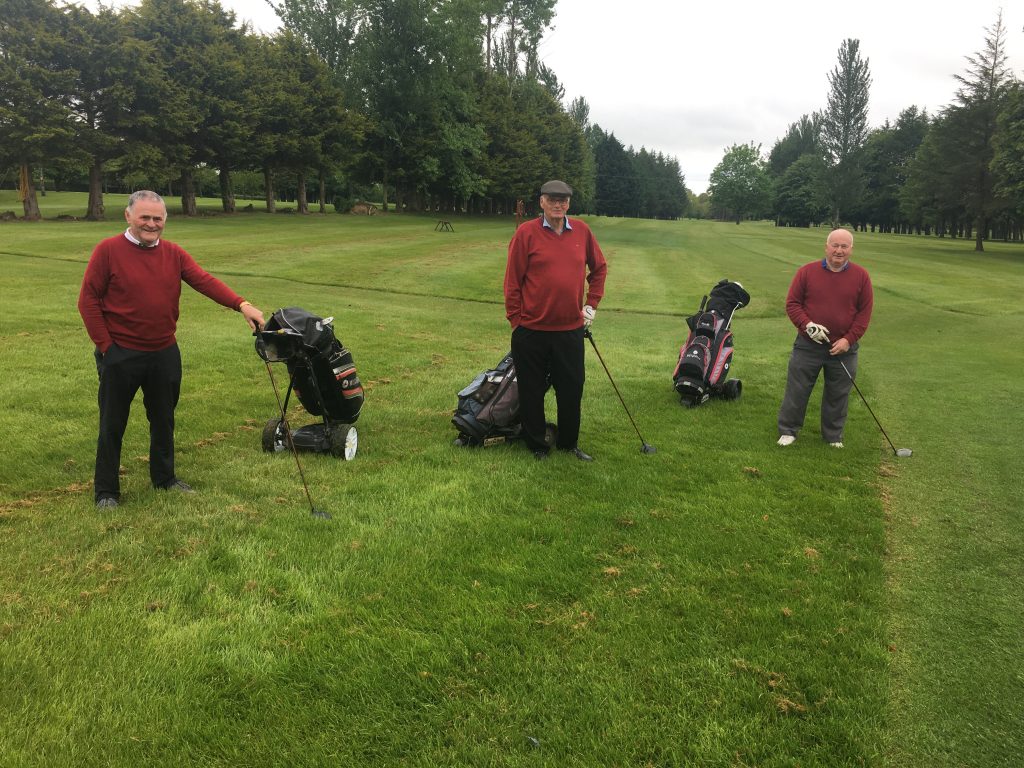 above Historic Photo; Templemore Golf Club Reopening after Covid -19,    1st. on the Tee Bertie Keane, Mick Carey, Bernie O Rourke.)
Templemore Golf Club News
Templemore Golf Club Members are now back on the TEE box on Monday 18th. 2020. After a long brake due to the Covid-19
The course is in excellent condition and new members are more than welcome to play this wonderful amenity in Templemore.
All Government and G.U.I. protocols are to be observed.  Social Distancing is the key with all areas being supervised to ensure compliance. There are 4 designated areas for this;
CAR PARK    REGISTRATION    PUTTING GREEN    and   COURSE.
Arrive not more than 30 minutes before your tee time.  This gives adequate time to get ready and prevents a build up of people in any area.  Players are asked to leave the area at the conclusion of play.
Play is per Time Sheet for Members only with all registering and providing contact details should there be a need for tracing at any time in the future. Regrettably, under 16's are not permitted at this time while Juniors (over 16's) must be accompanied by a Full Member.
From next Wednesday –  20th a blocked Time Sheet will be in operation to facilitate those wishing to play more than 9 holes.  Blocks are as follows with 15 minute intervals applying;
All members must Book through the WhatsApp system. Players arriving "on spec" cannot be facilitated.
In these unprecedented times, golf is one of the sports being afforded the opportunity to return to play albeit subject to limitations.  All involved in the process have a duty to uphold the trust placed in us.  Let us respect that trust by ensuring that we do everything properly and adhere to the protocols laid down by the Authorities. Enjoy your Golf and PLAY SAFE.