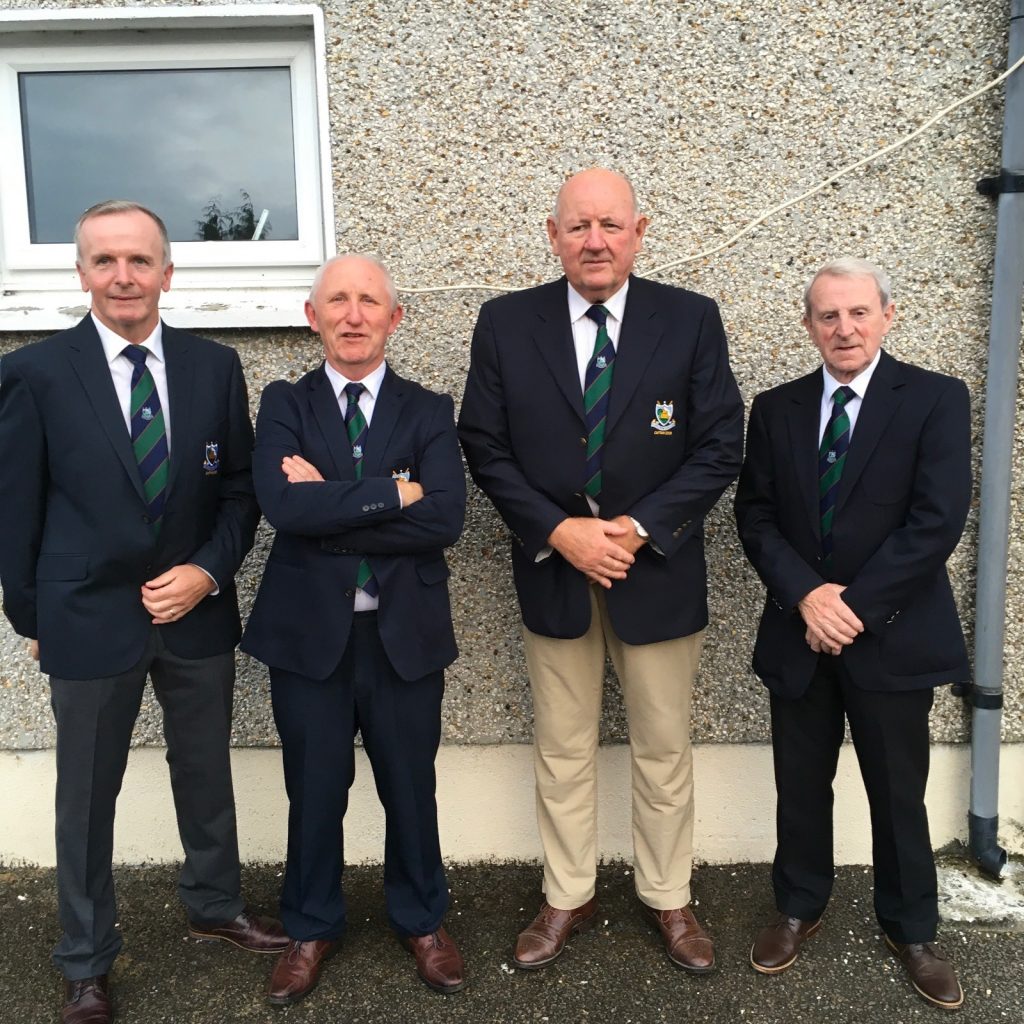 above photo.  Templemore Golf Club 50th. Anniversary.  L.R.  2021 Captain Dinny Maher.  2018 Captain Tommy Foley.  2008 Captain George Collins.   2011 President Liam Daly.  (Photo by, Seamus Bourke)
AGM.
The Annual General Meeting of the Men's Club will take place in the clubhouse on Friday 10th. of December. 2021 at 7pm.  All nominations for committee positions and motions to be lodged with Hon. Secretary by 3rd. of December.  Nomination papers are available in clubhouse.
21st. Nov.  Team of 3 two to count.
1st.  Pat O'Connell, Les Mason, John Kirwan, 76pts.  2nd. Declan Kennedy, Michael Purcell, Ger Clifford, 68pts.  Full results on MSB.,  Next weekend 27th. & 28th. singles holes 3 to 16.   (Weather permitting).
50/50 Draw.
Your continued support to the 50/50 is deeply appreciated as it is funding the purchase of new equipment.
Sunday night 21st. November, Frankie Shortt €170.
Seniors Results.
18th. Nov. 2021.   8 teams took part this morning on a soft day for golf. 1st. Team, on a count back, Bertie Keane, Donald Golden, Jim Gleeson, James Murray, 51pts.  2nd. Team,  Joe O Connor, John Galvin, George Collins, 51 pts.  3rd. Team, on a count back, Paddy Fogarty, Seanie Gleeson, Frankie Shortt, Seamus Ryan, with 49 pts.
Bereavement.
Templemore Golf Club extends it sympathy to Brendan Russell on the passing of his Mother Mena Russell, to all the Russell family and extended Families.  May Mena rest in peace.
Covid 19 Guidelines.
Reminder. Players must sign in at the clubhouse door before teeing off.
Future Competition Dates.
Next weekend 27th. & 28th. singles holes 3 to 16.   (Weather permitting).
Seniors. Every Thursday 9 AM.