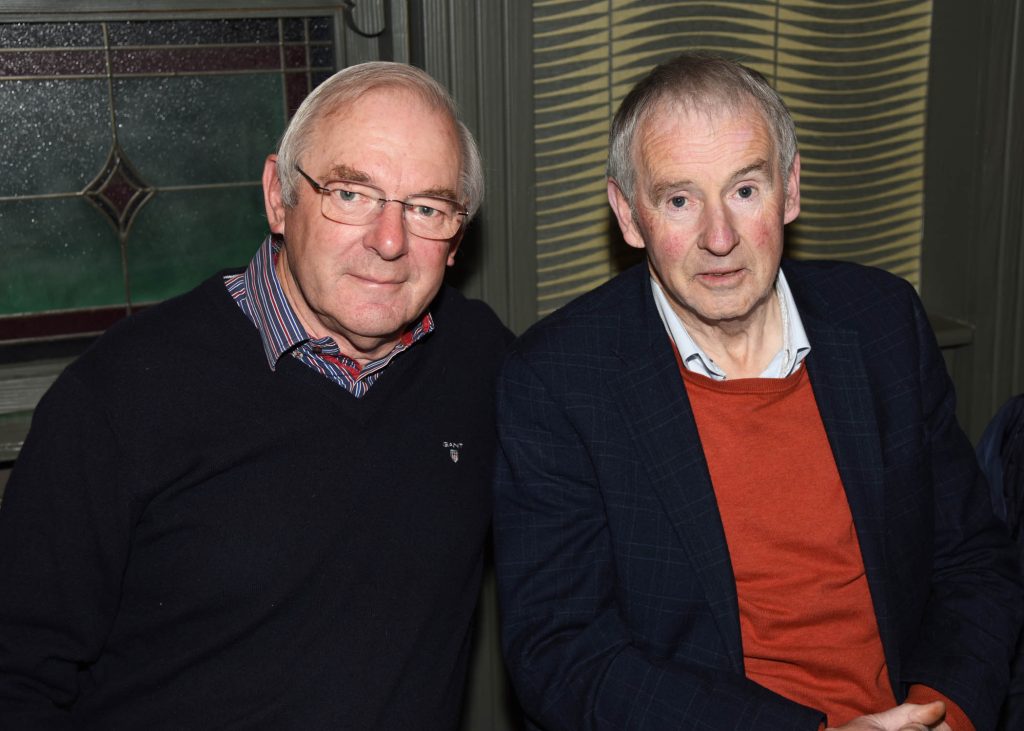 Templemore Golf Club,  L.R.  John Egan and Phillie Bourke Borrisoleigh at the Seniors Celebration of Golf Year 2022.  Discussing all the shots that should have. (Photo by Seamus Bourke)
Spring Golf.
We are now into the new golf year. The weather has been unprecedently wet and we know that this is very frustrating for you all not being able to get out and play golf.  We would like to inform you that there are some very positive drainage steps taking place to counteract the inclement weather conditions from effecting the course into the future.  Now that spring is in the air, we look forward to more golf been played and encourage all to get back into the swing.
Seniors.
Yahoo, after weeks of Rain/Cold Rain and 5 weeks off the course we got the band back together and on a great day for golf, the Seniors threw off the rust and there was great scoring and good banter in the post-match tea-drinking.  In First place with a creditable 61 points were Paddy Bourke, Jim Gleeson, Seanie Gleeson, and Michael Cahill.  Close on their heels, on countback, in second place with 60 points Ambrose Purcell, Sean Cashman, Joe Hennessy, and George Collins.  In third place also with 60 points Bertie Keane, Oliver Murray, Les Mason, and Colm Dooley.  Well done all.
50/50 Draw.
The 50/50 Draw is also available online for anyone who cannot make it to the club. http://templemoregolfclub.ie/membership/ [templemoregolfclub.ie]   Scroll down to the end of the FEE categories and select the 50/50 Buy Now.
Fees for 2023 are now due.
Full Member €350.  Couple €500.  Retired-unemployed couple €450.  Family (2Adults+their 2 children under 18yrs) €550.
Country Member €250. Beginner 2023 (1st.yr. 250) ( 2nd. Yr. 350).  Beginner Couple (1st.yr. 400) (2nd. Yr. €500). Students 3rdLevel College & Garda Students €125.  Juvenile (under 18yrs) €75.  Retired-Unemployed & Clergy €300.  Distance (outside 50k) €175.  Green Fees (no reduction for 9 holes) €20.
FEE Payment Options.
Club House: Use "FEE" drop box in Locker rooms.
On Line: http://templemoregolfclub.ie/membership/ [templemoregolfclub.ie]Select your Category and proceed by Pay Pal OR by Credit Card.
On-Line Banking Transfer; IBAN; IE21BOFI90445678133532, BIC; BOFIIE2D.
Contact any committee member.
Dates for your Diary. 
Captains Drive-in.  Sunday 19th. Feb.  (Mary Kilmartin and Declan Kennedy).  9 hole Scramble followed by refreshments.
Seniors.  Every Thursday 10am. Refreshments afterwards in Club House.