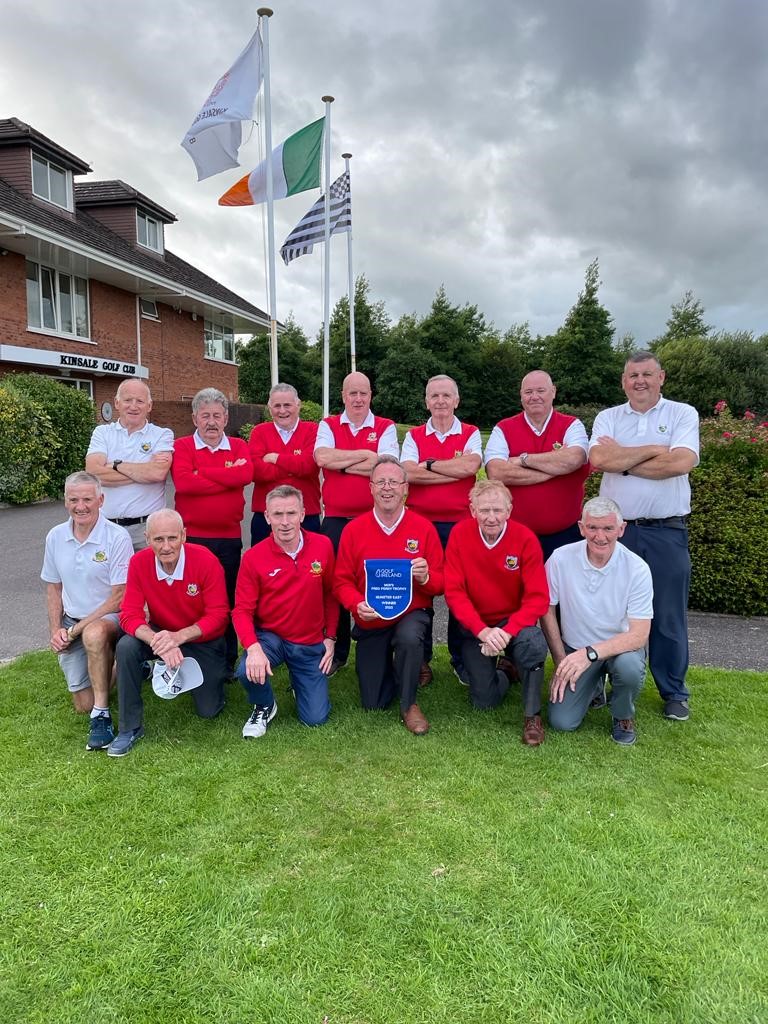 Templemore Golf Club, Fred Perry Golf Ireland Inter Club Competition, Munster winners,  B.R.L.R. Seamus Bourke, Dinny Touhy, Bertie Keane, Padraig Moloney, Dinny Maher, Declan Kennedy, Ted Kennedy.  F.R.L.R.  Tom McGrath, Joe Fahy, Club Captain Declan Kennedy, Team Manager, Liam Leahy, Jerry Keegan, Pat Looby.  (Photo by Seamus Bourke)
Captain Declan Kennedy's Appreciation.
The Captain's Prize was a very successful weekend with a large turnout of players. The competition was cut short and played over 36 holes, due to poor weather conditions. Nevertheless, the competition saw very good scoring and it took a countback to decide the winner.  The poor weather did not dampen the atmosphere of the occasion. Congratulations to Dinny Tuohy on winning first prize, he showed all his skill to get it over the line. There are people that I wish to thank for contributing to making the weekend a very enjoyable and memorable occasion with a special thank you to the Competition Committee, Sean, Les, Timmy and Mick who worked tirelessly over the weekend and put in very long hours. My fellow golfers who played over the weekend to support my Captaincy and those who were unable to attend but sent their apologies or best wishes were much appreciated. Another very special thanks to the course staff of Pat and Dinny who worked tirelessly during the week to have the course in tremendous playing condition, in such challenging weather. Thanks to Jim Ryan for offering me the captaincy and allowing me the opportunity to serve my fellow golfers. It is such an honour and privilege to be provided with the opportunity to be Captain of your local golf club and one I truly appreciate. Les Mason has been a great Vice-Captain and the club is in very safe hands next year. Thanks to the Men's Committee and sub committees who make my job much easier and who work diligently for the club. The Lady Captain Mary and the Ladies Committee have made tremendous strides this year especially with the "Programme for Getting into Golf". The ladies and men's committees are working very closely together with many joint sub-committees already in place. The goal is for a joint committee of governance/management to be installed to run the affairs of the club in the very near future.   Liz's Café prepared and served the food over the weekend. The café venture is a very positive step for the club. Thanks to Seamus for attending all the functions and providing his expertise with the photos. The Men's Seniors and Social Mixed have been very generous in donating their takings to the club for their respective Captain's competitions during the week. Thanks to all the managers of teams who gave their time and continue to do so. Some of these teams are presently having wonderful success. Above all I want to thank my wife and daughter for supporting me in this very busy year. I hope that I haven't forgotten anybody and apologise if I did. This has been a roller coaster of a year to date, one that I am truly enjoying and look forward to the rest of the year.  (Captain Declan Kennedy)
Fred Perry Golf Ireland Inter Club Competition.
29th.July. Congratulations to Templemore on a great 4/1 victory over Clonakilty Golf Club in Kinsale.  This victory gives Templemore the Munster Title.  Fred Perry was the longest serving member of the GUI's Central Council. After 43 years, he was still going strong in 2018 and spent time during the last week of his life rescheduling a meeting of the GUI's Constitution Review Committee.  The Fred Perry Trophy national final is held in the West of Ireland in Co. Sligo Golf Club at Rosses Point. The Templemore Team.  Seamus Bourke, Dinny Touhy, Bertie Keane, Padraig Moloney, Dinny Maher, Declan Kennedy, Ted Kennedy. Tom McGrath, Joe Fahy, Jerry Keegan, Pat Looby.
Country Clubs National Competition.
30th. July.  Congratulations to Seamus Burke manager and his "Country Club Team" on their victory over Doneraile Golf Club in the Country Clubs in Templemore today by a margin of 4,1/2 to 2,1/2.  They will now travel to Lismore for the Semi-Final and Final on Sunday on 27th. of August..  The "Country Clubs Competition" is the oldest gold competition in Munster and is confined to clubs that have fewer than 18 holes.  Congratulations to all.
President Rody Cawley Week-end.
25th. Fri. 26th. Sat. 27h.  Sun. August.  The Rody Cawley President 18hole Stableford week-end.  Reminder to note in your calendar for full support.
Weekend Competition.
30th. July.  For this weekends' competition sponsored by the "Templemore Arms" the weather was mixed on the wetter side of passable. The winner with an excellent 40 points is Sean Cashman, in Second on Countback with 38 points is Donal Hayes in Third also on 38 points is John Greed and the best Gross with 20 points is John Kiely.
50/50 Draw.
30th. July.  The winners of the 50/50 is Don and Della Ryan who pocket € 160.
Men's Senior Golf.
27th. Thurs.  The day was muggy but the course was excellent the golf conditions were great. There was serious scoring among the 9 teams. On 60 points in 1st. place Sean Cashman, Bernie O'Rourke, Tom Hogan, Willie Haverty. A short distance behind in 2nd. with 56 points, John Kirwan, Ollie Murray, Seanie Gleeson and John Stapleton. In 3rd. Place on a past winning score with 51 points John Fitzpatrick, Pat Maher, Colm Dooley and Eoin Wolahan.  Great shooting lads so good and the atmosphere upstairs in Greenview was excellent.
Juvenile Academy.
31th. July. Monday.  Lessons will continue on Mondays at 10 am. Cost €5. Lessons for Beginner Ladies will follow at 11 am. It is hoped to run the lessons for 6 or 7 weeks.  Contact Pat O'Connell 087-9205821 by Text or just arrive on the day at 9.45 am.
Club GreenView Restaurant.
Open on Thursday, Fri, Sat, Sun. 10am to 5pm.  Contact Liz 086-3916800 for bookings.
Dates for your Diary. 
12th. Aug.  Sat. Lady's Presidents Day.
25th. 26th. 27th. Aug.  Rody Cawley President weekend.
27th. of August. Sun.  Country Clubs National Competition, in Lismore.
1St. Sept.  Fri, Sat, 2nd, Sun, 3rd, Sept. Classic Weekend.
Social mixed will continue on Wed's at 6pm.
Seniors.  Every Thursday 10am. Refreshments afterwards in new Club House "GreenView Restaurant".