Templemore Golf Club News;
"Social Fundraising Race Night" in Thurles Greyhound Stadium on  Saturday night the 18th. November. This will be a great social event for the club.  Don't miss out on this enjoyable night out with plenty of banter.  For further details contact by phone or text; 087-0509278, by e-mail; tmoregc1@eircom.net  or info@templemoregolfclub.ie, also on our web site; www.templemoregolfclub.ie  Race will commence at 8pm.  The prizemoney will be €800.  Tickets are €10 (includes entry in the draw, admission and race card on the night).   Full support is called on all members both ladies and Gents for this fundraising event.
Men's Singles Match play; Now at the final stage; Jerry Keegan jnr. (Finalist) V (Conor Sheedy  V Seamus Bourke).  It will be an exciting great to see the finish to this event.  Best of luck to all.
Golfer of the Year;  Congratulations to Michael Walsh the winner with 186 points.  2nd. Place;  Brendan Russell 182pts.  3rd. Place;  Donal Hayes 164pts.  4th. Place; Hugh Scott 155pts.  A great competition by all accounts and a credit to all who consistently took part in this event.
Fixtures; 
11 hole Stableford will continue on a weekly basis including Saturdays and Sundays up to Xmass.  Holes 1 to 11.  Entry will be €3 and re-entry  €2.  Play as often as you like.  See the competition book in the locker room for weekly details.
Results; 
Sat. 28th.,  Sun. 29th. and Mon. 30th. Oct;  18 hole Stableford, 1st. Rody Cawley.  2nd. Mick Carey.
Ladies Golf;  No results due to bad weather conditions.
Seniors Report and Results;
Thursday 2nd. Nov. 1st Team; George Collins, Pat O'Connell, John Mullaly, John Galvin.  2nd Team;  Gerry Keegan, Mick Murphy, Phil Ryan.  3rd. Team; Joe O'Connor, Pat Maher, PJ Leahy.
Thursday 9th. Nov.  1st Team; John Mullaly, Seanie Gleeson, Jim Gleeson.  2nd Team;  Sean Lee, Gerry Keegan, PJ Leahy, John Brown.  3rd. Team; Bertie Keane, Pat O'Connell, Mick Connell, Frank Shortt.
Fixtures;  Esker Hills on Monday 13th.  results will be interesting with a great turn out, almost 50 for the event . Great credit to the Seniors committee and to John Stapleton for organising the event.  Results will be in the next issue.
Storm Damage;  Ongoing volunteers will be required to help with the clean-up caused by both storms Ophelia and Brian.  Some trees have now been cleared and the branches left needs clearing.  Contact John Stapleton 086-0894718 for times.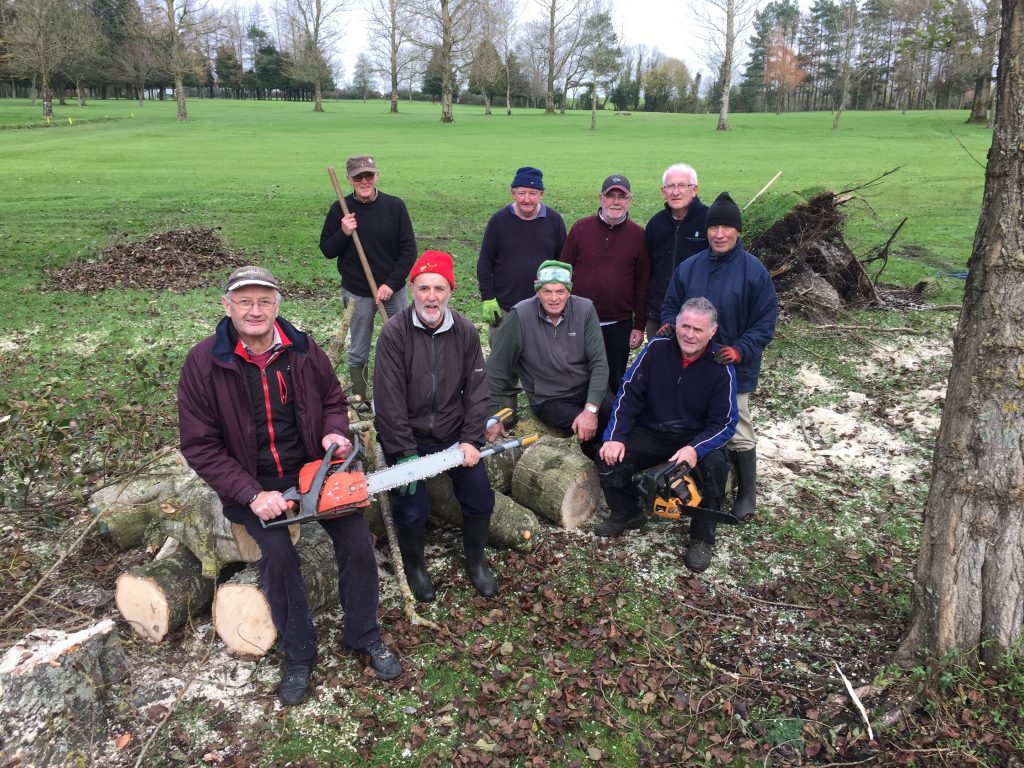 Bunkers;  All volunteers that have "Adopted a Bunker" are also requested to attend to their bunker for a clean-up caused by debris from both storms.
Sympathy was extended by all seniors by a minute silence to the passing of Michael Websters brother. John (Jack) Webster, Midgemount, Cloonagh, Ballinagore, Co. Westmeath/ Loughmore, Castleiney Co. Tipperary.  "May he rest in peace".
Your Club Thought;  "This is Your Club the members, both Ladies and Gents, therefore be proud and supportive of it, in whatever way you can that will make a difference.  Be positive and protective of its future, so that the youth and next generations of Templemore will inherit the legacy and asset of this great sport facility,  "Templemore Golf Club".