Templemore Golf Club News;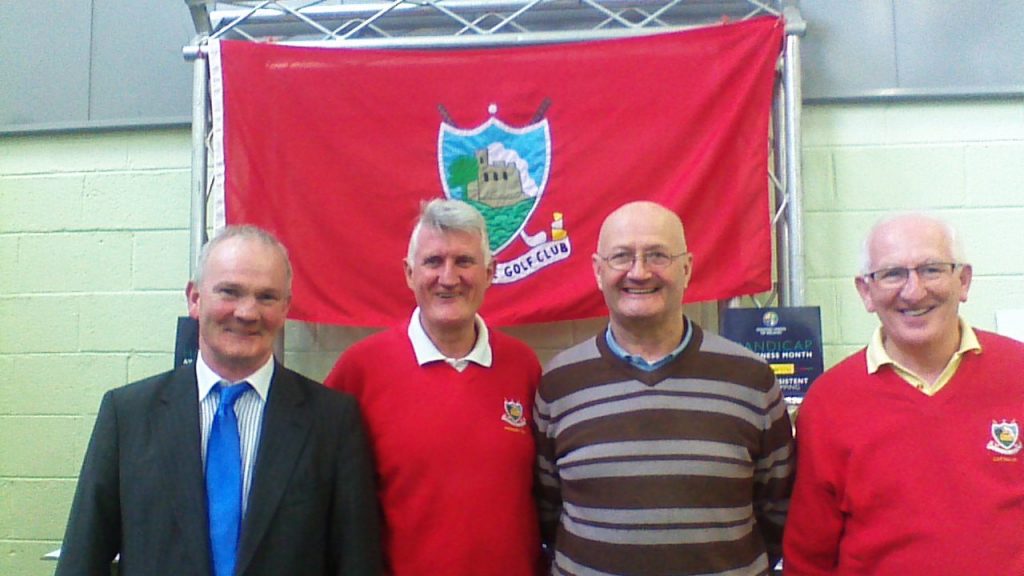 AGM.  The AGM for the Men's Club will take place on Monday the 11th. December at 8pm. in the Club House Lounge.  All nominations for the (5) Officers and (3) Committee positions and motions to the AGM must be lodged with the Honorary Secretary by 5pm. on Wed. 29th. November. 2017. The Agenda and the Nomination form are available in the Locker Room.
It is important that all members attend the AGM to show solidarity and enthusiasm in the future of this wonderful club which is you the members club and let your voice be heard.  "Please attend".
Fixtures; 
Christmas Hamper Competition;  11 holes 1 to 9 plus 17 & 18  stableford will continue from Saturday 25th. Nov. to Sunday 10th. December. Entry will be €5 and re-entry  €3.  "Play as often as you like".  All cards posted in the competition box will be numbered when checked, subject to 1 (one) card per member on their best score.  On the night of the AGM (Mon. 11th), cards will be drawn as pairs and totals added to get the winning score.  In the event of a tie, count back on highest score card in each pair will determine the winner of 1st prize.  2nd to 4th prize will be calculated as per normal single's competitions.  A person can only win 1 (one) prize.  1st. Prize; Hampers to the winning pair.  2nd. Prize; A Hamper.  3rd. Prize; €40 Voucher.  4th. Prize; €25 voucher.
Committee Meeting;  Thursday 7th. Dec. at 8pm. sharp.
Golf Vouchers;  Gift Vouchers make the ideal present for XMass, Birthdays, Weddings, Anniversaries, Special Occasions or Corporate Incentive Presentations and Team Building; Visit our Web Site and order your voucher by selecting the "Membership" tab and scroll down to the "Voucher" button and order it on-line or contact the club number; 0504 31400 or email; info@templemoregolfclub.ie
Men's Singles Match play; The Semi-final was completed on Sat. 18th. Nov. between Conor Sheedy  and Seamus Bourke.  The weather was very overcast and misty but both braved the elements and battled the course with great long drives and finally Seamus Bourke won the event on the 16th. hole.  Well done to both.   Now to the final stage; Jerry Keegan jnr. V Seamus Bourke.  It would be great to see an exciting drama finish to this great event soon.  Best of luck to both Seamus and Jerry.
Ladies Golf;  9 hole Christmas Competition 7th. Nov to 13th. Nov. Winner; Mary Hogan.
9 hole Christmas Competition 14th. Nov to 20th. Nov. Winner; Ann O' Rourke.
Ladies AGM will be on Dec 13th. in Murphy's, all Lady members are requested to support by attending this meeting.
Seniors Report and Results;
Thursday 16th. Nov.  1st Team; Frankie Shortt, Donal Golden, Phil Ryan, Michael Purcell.  2nd Team;  Gerry Keegan, Mick Carey, Michael Webster.  3rd. Team; Bertie Keane, Sean Lee, PJ Leahy, Seanie Gleeson.
XMASS Party and Golf;  (instead of Thursday) it will be on Wednesday 6th. December.  The Seniors Golf will commence at 11am and the meal will follow later in the day.  (details will be sent out by text)  There will be great music and banter and all are requested to attend this great celebration of the Senior Year 2017.  For further details contact John Stapleton 086-0894718.
Winter Clean up of Bunkers; Bunkers now need to be cleaned and the winter look taken off them by raking and weeding.  "Just call in and get on with the work".  Also other work is required.  Contact John Stapleton 086-0894718 for times.
Your Club Thought;  "This is Your Club the members, both Ladies and Gents, therefore be proud and supportive of it, in whatever way you can that will make a difference.  Be positive and protective of its future, so that the youth and next generations of Templemore will inherit the legacy and asset of this great sport facility,  "Templemore Golf Club".