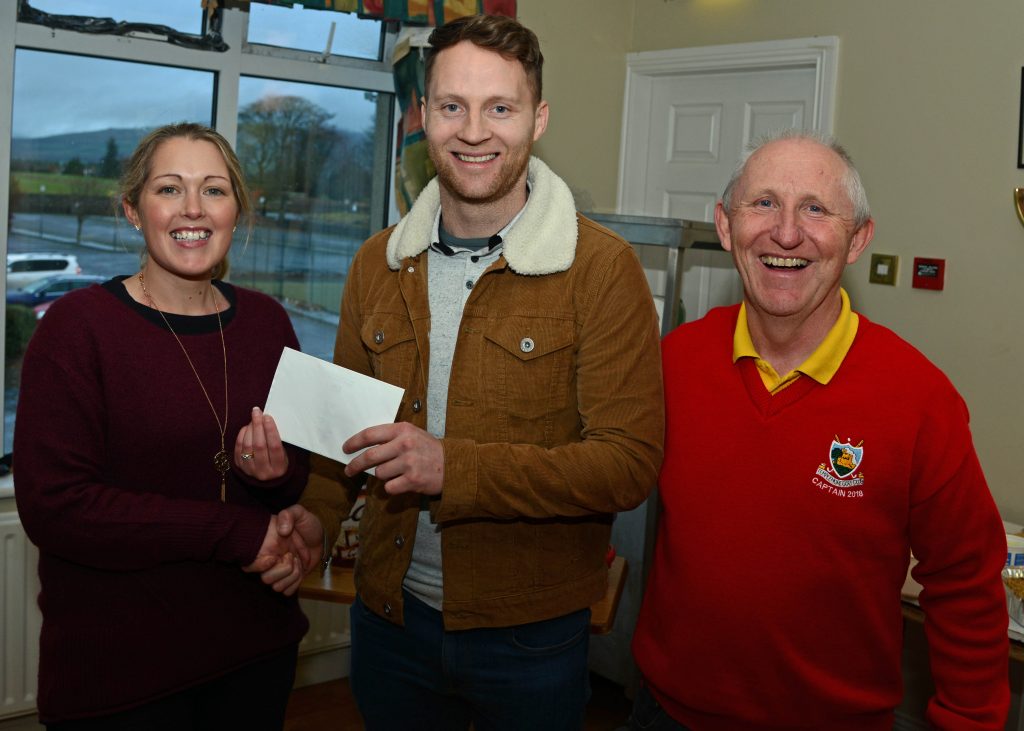 above photo;. Templemore Golf Club, Amanda Fund Raiser. Lady Captain Sara Hearne presenting the Funds Raised to Paddy Stapleton also Present Club Captain Tommy Foley. (Photo by; Seamus Bourke)
 Templemore Golf Club News;
Amanda Fundraiser;  There was a huge turn out for the Amanda Stapleton fundraiser despite the uncertain weather.  The course was in excellent condition thanks to the course staff and the volunteers who made this event a special occasion.  The Ladies who organised the event was sincerely thanked by Club Captain Tommy Foley.  Tommy also paid tribute to Amanda's father John (The Saint) for all his contribution over the years to the club and wished him well in his own recovery also, to Amanda that she may have a speedy recovery.  Tommy introduced Paddy Stapleton, brother to Amanda to address the attendance.  Paddy expressed his surprise with the huge attendance and his appreciation of support to Amanda.  Lady Captain Sara Hearne expressed a grateful thanks to the Men's Club for all their support also, to all the Ladies who worked very hard to make this event successful.  Sara then presented to Paddy Stapleton the substantial funds of €1150 raised by all and thanked all those who made their contributions.   It was a wonderful day for golf with 5star reception for all after the competition with a variety of hors d'oeuvres, sandwiches, cakes and all sorts of deserts.  The course played well, and the scoring was very competitive.  The winners were;  1st. Team; Mary Hogan, Pat Looby, Jim Ryan.  2nd Team; Mary Butler, Seamus Bourke, Tony O'Toole.  3rd Team; Declan Russell, Tom Kennedy, Bertie Keane.  A memorable day for Templemore Golf Club.  
The McHugh Cups;  This is a special perpetual competition over the years in honor of both Joe and Rita McHugh.  Both renowned past Captains of Templemore Golf Club.  The Cups were donated to the Club by Garreth and Joanne McHugh.  A very significant gesture in recognition to the past enjoyment that both got from Templemore Golf Club and the great game of Golf.  May they both rest in peace.  The winners were;  1st. pairing Dinny Touhy and Sara Hearne.  43pts.  2nd. Pairing.  Denis Maher and Ann O'Rourke, 41pts.  3rd. Pairing., Paul Tuohy and Mary Ann Maher, 40pts. .
11hole Competition Results;  Sat. 3rd and Sun. 4th. Nov;  1st. Liam Daly.  2nd.  Joe O'Connor.
Autumn League;  Proposal to Run a 9Hole Autumn League, application is now available on the notice board for those that want to participate.  Place your name on it as soon as possible so that the event can start immediately.  The entry fee is €20 for 5 weeks.  Re-entry is €2.  Weekly Prizes Xmas fare, Overall Prize Hampers.
AGM Reminder;  The Men's AGM will be held on 3rd. Dec. @ 8pm in the Club Lounge.  The nominations forms are now available on the notice board for anyone who wants to be on the 2019 committee and can make contributions to the future of your club.  All members are requested to attend the AGM.  This is the annual opportunity for you the members to participate in future updates, projections and profile of your club.  Please make every effort to attend.
Ladies Golf;    "Ongoing 9hole" competition for Christmas fare.
 "9 hole social mixed fundraiser"  On Sunday 11th. November 9hole social mixed fundraiser in support of the Stapleton Benefit fund.  Was a huge success.  Refer to the above heading for details;
Ladies AGM Reminder ; The proposed date for the AGM this year is Wed 12th of Dec after which all outstanding prizes will be presented.
The Seniors;  On Thursday 1st. Nov. saw was a great turnout of players in a glorious sunshine day. The team results were;  1st.Team with 54pts. were; Jerry Keegan, Joe Hennessy, Sean Lee, Phil Ryan.  2nd.Team with 51pts. were; Joe O'Connor, Mick Carey, Mick Maher, Seanie Gleeson.   3rd. Team, Seamus Bourke, PJ Leahy, Tony O'Toole, John Brown.   Seanie Gleeson on behalf of the Seniors expressed delight to see John Stapleton back in the lounge and also expressed best wishes to Rody Cawley on his recovery.
New Members for 2019 Reminder;  New members are now been accepted for 2019.  Early Bird applications will have the advantage of completing this year golf season.   All current members are encouraged to introduce at least "ONE NEW MEMBER" Lady or Gent, Junior or Student, Seniors Juveniles and Family, Active Retiree's or any person interested in taking up the sport.  It will be a huge advantage to building the club membership and profile.  Registrations Forms for new members are now available on-line on our web site, or at the club house or contact Martin Bohan 087 0509278 or any of the committee members.   Also, membership payment options can be made through the Golf Club web site link; http://templemoregolfclub.ie/membership/    All will be welcomed.
Golf Ireland;  Watch the Video;   ‌https://bitly.com/  To give a better understanding on what the new body will do and how it will be for the good of the game, Pat Finn (CEO, GUI) and Sinead Heraty (CEO, ILGU) took part in a recent podcast where they answered questions from golfers about the plan.  All members are requested to familiar themselves with this future change that will change how golf is managed in Ireland into the future.
Memorabilia of 50 Years of Golf in Templemore Reminder;  Urgent call for memorabilia by PJ to all members past and present or anyone or families that were involved in golf to dig deep and search achieves for any memorabilia that they can find.  Old photos, sayings, and good banter from the past that can be resurrected to make this project successful.   All will be appreciated and returned as received after the process.
Adopt a Bunker Successful Project;  Keep up the Great work on the bunkers.  All members who have signed up to commit to adopting a Bunkers which is helping to keep the course in great shape is very much appreciated.  Put your stamp on any bunker you feel that you can commit to looking after which will result in the presentation of the course to a high standard.   The "Adopt a Bunker" form is on the notice board in the Locker room.
New Golf Rules;   Relaxed bunker rules: There will be no penalty for moving loose impediments in a bunker or for generally touching the sand with a hand or club. A limited set of restrictions (such as not grounding the club right next to the ball) is kept to preserve the challenge of playing from the sand; however, an extra relief option is added for an unplayable ball in a bunker, allowing the ball to be played from outside the bunker with a two-stroke penalty..
Club Fixtures;
11hole S/f will continue every Sat/Sun.
Autumn League; ASAP
3rd. Dec. Men's AGM @ 8pm in the Club Lounge.
15th. Dec. White Dowling Society 18H S/F.
The Pat Delahunty Cup. Date TBC.
Spring of 2019 the Captains/Captains in the Algarve.
Winter Timber Sale while stocks last;  Due to all the various storms there are considerable amounts of timber available for winter firing;  The competitive rate are;  €50 for a single car flat trailer and €80 for a car twin flat trailer.  Some chopped and some in blocks, Contact; Tony 086-8209991 or Tommy 087-1715692