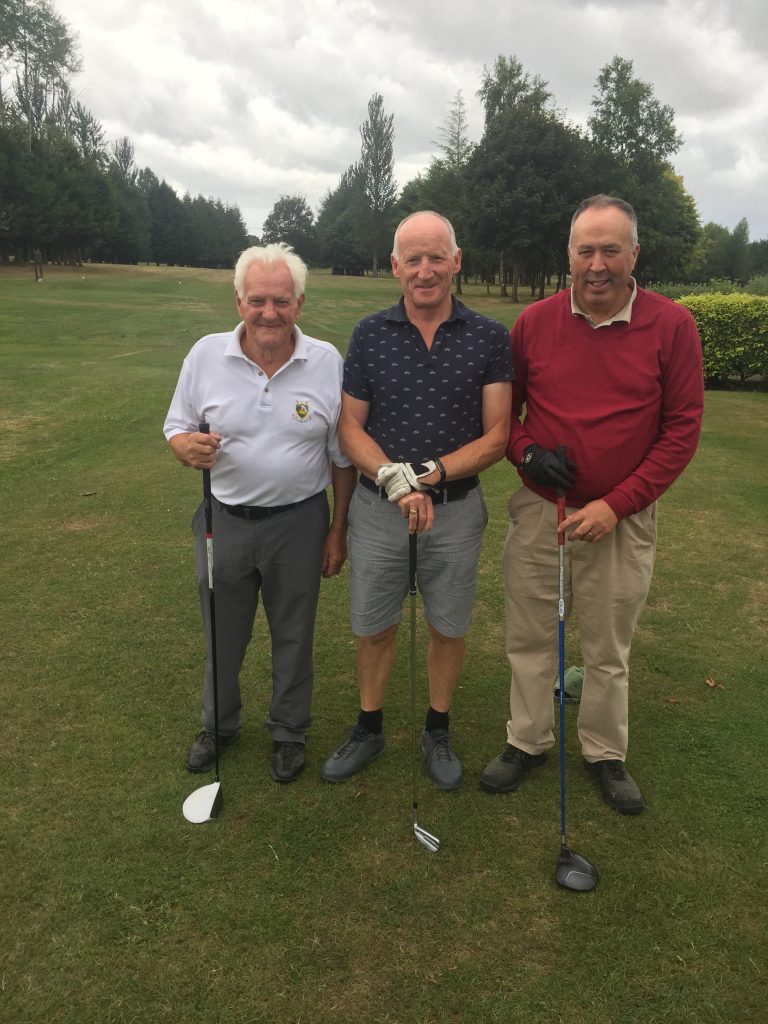 above photo;. Templemore Golf Club.  The Last of The Summer Golf. Eddie Butler, Seamus Bourke, Andrew Purcell, (Photo by; Rody Cawley)
Templemore Golf Club News;
Week-end Golf;  All members are requested to participate in the week-end Saturday or Sunday golf.  This participation is vital for the survival of competitions and, also for the selection of players for competitions representing the club;  The results for week-end Sat. 27th/Sun. 28th. 18hole S/f. were; 1st. Michael Purcell, 33pts.  2nd. Les Hogan, 29pts.
The McHugh Cups; The competition was a great success and an appreciation to all those that took part.  The results will be in the next issue;.
AGM;  The Men's AGM will be held on 3rd. Dec. @ 8pm in the Club Lounge.  All members are requested to attend.  This is the annual opportunity for you the members to participate in the future updates, projections and profile of your club.  Please make every effort to attend.
Ladies Golf;    "Ongoing 9hole" competition for Christmas fare.
 "9 hole social mixed fundraiser"  On Sunday 11th. November we are running a special 9hole social mixed fundraiser in support of the Stapleton Benefit fund.  Entry fee is €10.  The draw will be at 1.30pm.  and we encourage as many members as possible to play.  Alternatively, all are welcome in the clubhouse afterwards for the prize presentation, tea and sandwiches where we will have a donation box for those that cannot play.
Ladies AGM; The proposed date for the AGM this year is Wed 12th of Dec after which all outstanding prizes will be presented.
The Seniors;  On Thursday 1st. Nov. saw was a great turnout of players in a glorious sunshine day. The team results were;  1st.Team with 54pts. were; Jerry Keegan, Joe Hennessy, Sean Lee, Phil Ryan.  2nd.Team with 51pts. were; Joe O'Connor, Mick Carey, Mick Maher, Seanie Gleeson.   3rd. Team, Seamus Bourke, PJ Leahy, Tony O'Toole, John Brown.   Seanie Gleeson on behalf of the Seniors expressed delight to see John Stapleton back in the lounge and also expressed best wishes to Rody Cawley on his recovery.
Amanda Stapleton 9hole social mixed fundraiser Reminder;  On Sunday 11th. November the ladies are running a special 9 hole social mixed fundraiser in support of the Stapleton Benefit fund. Entry fee is €10.  The draw will be at 1.30pm.  All members are encouraged to play. Alternatively, all are welcome in the clubhouse afterwards for the prize presentation, tea and sandwiches where they will have a donation box for those that cannot play.   You can also make your own personal donation on the following web link arranged by the Borrisoleigh fund raising Committee;   https://www.gofundme.com/Amandastapletonfund
New Members for 2019;  New members are now been accepted for 2019.  Early Bird applications will have the advantage of completing this year golf season.   All current members are encouraged to introduce at least "ONE NEW MEMBER" Lady or Gent, Junior or Student, Seniors Juveniles and Family, Active Retiree's or any person interested in taking up the sport.  It will be a huge advantage to building the club membership and profile.  Registrations Forms for new members are now available on-line on our web site, or at the club house or contact Martin Bohan 087 0509278 or any of the committee members.   Also, membership payment options can be made through the Golf Club web site link; http://templemoregolfclub.ie/membership/    All will be welcomed.
Golf Ireland;  Equality in Golf Ireland;   Golf Ireland will seek to ensure that clubs treat all members fairly and that rights and entitlements are determined by membership categories and not by gender. – Golf Ireland will lead from the front in promoting equality and inclusivity for all golfers. The role of Golf Ireland President will alternate between men and women, and there will be a minimum 30% representation of both genders at Board and Regional level. Golf Ireland is committed to ensuring that the voice of both men and women is equally heard. The voting system at Golf Ireland General Meetings and Regional Meetings has been devised to ensure that male and female club members will have a say in the outcome of elections and voting on notices of motion
Memorabilia of 50 Years of Golf in Templemore;  Urgent call for memorabilia by PJ to all members past and present or anyone or families that were involved in golf to dig deep and search achieves for any memorabilia that they can find.  Old photos, sayings, and good banter from the past that can be resurrected to make this project successful.   All will be appreciated and returned as received after the process.
Adopt a Bunker Project;  Keep up the Great work on the bunkers.  All members who have signed up to commit to adopting a Bunkers which is helping to keep the course in great shape is very much appreciated.  Put your stamp on any bunker you feel that you can commit to looking after which will result in the presentation of the course to a high standard.   The "Adopt a Bunker" form is on the notice board in the Locker room.
Greens Plug Marks;  Players are reminded to repair their own or any plug marks on the greens.  A lot of continued work goes into the maintenance of the greens to ensure they are to a high standard for competitions and it is disappointing to find that some players are not diligent in the repairing of these un-respectful marks.
New Golf Rules;   Relaxed Rules for "Penalty Areas" (currently called "water hazards")  Red and yellow-marked penalty areas may cover areas of desert, jungle, lava rock, etc., in addition to areas of water; expanded use of red penalty areas where lateral relief is allowed; and there will be no penalty for moving loose impediments or touching the ground or water in a penalty area.
Club Fixtures;
18hole S/f will continue every Sat/Sun.
11th. Nov.  Amanda Benefit Fundraiser
3rd. Dec. Men's AGM @ 8pm in the Club Lounge.
15th. Dec. White Dowling Society 18H S/F.
The Pat Delahunty Cup. Date TBC.
Spring of 2019 the Captains/Captains in the Algarve.
Winter Timber Sale while stocks last;  Due to all the various storms there are considerable amounts of timber available for winter firing;  The competitive rate are;  €50 for a single car flat trailer and €80 for a car twin flat trailer.  Some chopped and some in blocks, Contact; Tony 086-8209991 or Tommy 087-1715692