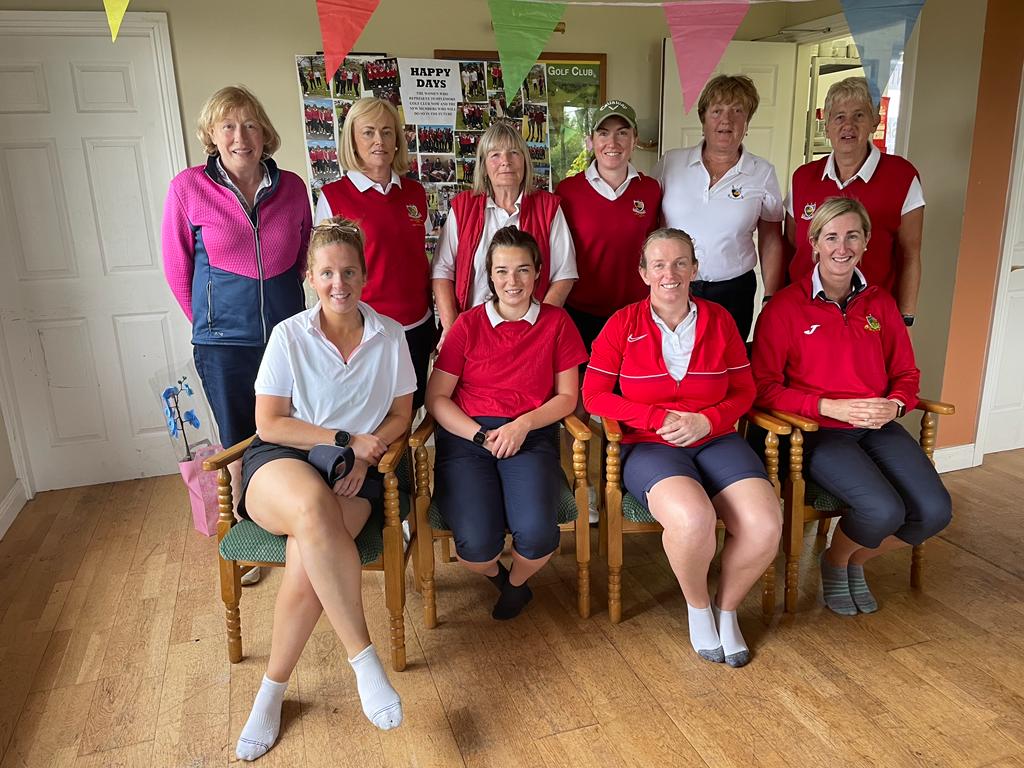 Templemore Golf Club. "Revive Active" Team.  B.R.L.R.  S. Tynan, M. Hayes Kenny, S. Delaney Team Captain, L. Ryan, J. Bourke, M. Fitzpatrick, Seated. C. Fitzpatrick, S. Geary, N. Connolly, M. Hassett. (Photo by Seamus Bourke).
"Revive Active" Win for Templemore Ladies. 
10th. June.  "Revive Active" are a proud partner of ILGU since 2016 and have now continued their support of the game by becoming one of the foundation partners of Golf Ireland.  The Revive Active Women's Four-Ball competition is a cornerstone of the Women's Inter-Club season and sees over 1700 participants from over 170 clubs around the island compete for the coveted trophy.   Congratulations to the Templemore Golf Club Ladies with their success on beating Thurles on Saturday 10th. June.
Pierce Purcell Trophy.
11th June.  Hard luck to Team Manager Tom McGrath and all the Pierce Purcell Team who went down narrowly to 3 and a half to 1 and a half to Thurles this evening. 3 of the matches went down the 19th with 2 matches already shared with a win a piece beforehand. Very exciting and some very good golf played. Well done to all and congratulations to Thurles and all the best going forward.
Week-End Competition.
11th. June.  On another great day for golf, the 18 hole Stableford played on Sunday the 11th June was won by Tommy Foley with 41 points, In second place with 40 points was Dermot Cooper. Congratulations to all.
Golf Club Café.
A new innovation has developed for the club.  "Liz's Café" has opened its service upstairs in the club house.  Liz and her staff are to be congratulated for their efforts in delivering a 1st rate service to all who visit the club.  This service is also available to everyone.  Thursday, Fridays, Saturdays 10am to 5pm. Sundays 10am to 4pm.
Women's Golf Competitions.
6th. June.  18 Hole Stableford.  1st. Marian Keely, 2nd. Helen Hayes, 3rd. Claire Fitzpatrick.
Women Getting Into Golf Programme.
10th. June. The 10th. round of "Getting Into Golf" programme was a complete success due to a continued dedicated turn out and fantastic weather for golf, the "Scramble" was the final event in the programme.  The enthusiasm was fantastic, and all were very pleased with their progress.  A fantastic success, thanks to all the Ladies and  especially to Lady Captain Mary Gilmartin and her team. All are winners.
Seniors Golf.
8th. June.  On a fantastic golfing day for our first outing of 2023.   8 teams enjoyed the hospitality offered by Roscrea Golf club and a Delicious meal afterwards in great company.  The scoring reflected the course in excellent condition, and in 1st. place with 113 points, Liam Leahy, Pat O'Connell, Pascal Whelan and Shay O'Connel. Followed closely in 2nd.  with 112 points,  Paudie "Hole in One" Butler, Pat Maher, Colm Dooley, George Murray. In 3rd. place with 101 points, Jim Russell, Seanie Gleeson, Les Mason and Phil Ryan Snr.  Congratulations to Paudie Butler on achieving a "Hole in One"
Final Notice, Fees for 2023 need to be paid if one wants remain a member.
Full Member €350.  Couple €500.  Retired-unemployed couple €450.  Family (2Adults+their 2 children under 18yrs) €550.
Country Member €250. Beginner 2023 (1st.yr. 250) ( 2nd. Yr. 350).  Beginner Couple (1st.yr. 400) (2nd. Yr. €500). Students 3rdLevel College & Garda Students €125.  Juvenile (under 18yrs) €75.  Retired-Unemployed & Clergy €300.  Distance (outside 50k) €175.  Green Fees (no reduction for 9 holes) €20.
FEE Payment Options.
Club House: Use "FEE" drop box in Locker rooms.
On Line: http://templemoregolfclub.ie/membership/ [templemoregolfclub.ie]Select your Category and proceed by Pay Pal OR by Credit Card.
On-Line Banking Transfer; IBAN; IE21BOFI90445678133532, BIC; BOFIIE2D.
Contact any committee member.
Dates for your Diary. 
Vice Captain Date Change to 1st. and 2nd. July
Social mix will continue on Wed's at 7pm.
Seniors.  Every Thursday 10am. Refreshments afterwards in new Club House "Liz's Café".
Inter Club Competitions.  Team Captains & Vice-Captains.
AIG Men's Jimmy Bruen Shield – Captain, Padraig Moloney , Vice- Captain, Denis Maher
AIG Men's Pierce Purcell Shield – Captain, Tom McGrath, Vice -Captain, Dinny Tuohy
AIG Men's Fred Perry Trophy Captain – Liam Leahy, Vice – Captain, (not picked)
J.B. Carr Tournament – Captain, Michael Carey,   Vice-Captain, Liam Daly
Munster Country Clubs Cup – Captain, Seamus Bourke
Mixed Foursomes Roscrea Golf Club – Captain's Declan Kennedy & Mary Gilmartin