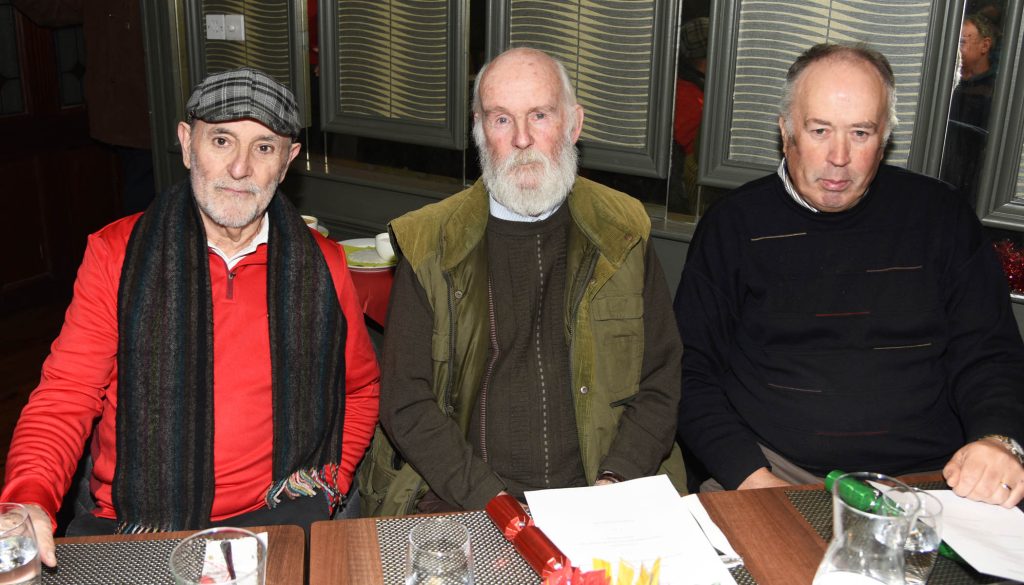 Templemore Golf Club L.R. President Rody Cawley, Competitive Golfers Paddy Fogarty and Ambrose Purcell discussing past and future performance campaigns at Seniors 2022 Celebration (Photo by Seamus Bourke)
Captains Drive-in.
The course is now set for a fantastic day of golf with Captains Declan Kennedy, Mary Gilmartin, President Rody Cawley and Margie Costigan battling it out on a 9 hole Scramble followed by all enthusiastic members.  Commencing at 1pm.  Refreshments will be available afterwards for all.
Week-end Results.
4th. 5th. Feb.  Even with the unfortunate loss of Sunday due to bad weather St Brigit brought still brought a good turnout and in a close result on countback with 25 points Bernie O'Rourke just pipped Joe Fahey.  Congratulations Bernie.
Spring League.
Now with the golf season starting to move up a gear the Competition Committee announce the start of the spring league 2023. The dates for the spring league are.
Round 1.  27th. February, Finish 12th. March.  Round 2, 6th. March, Finish 19th. March.  Round 3, 13th. March,  Finish 26th. March.  Round 4, 20th. March,  Finish  2nd. April.
If you wish take part of the spring league names by 6 pm. Thursday 23rd February. Names can be entered on the sheet in the men's locker room or via WhatsApp. (Please ensure that you specify Spring League on WhatsApp).  Entry fee will be €20 further details to follow.
Seniors.
2nd Feb.   On a slightly cold and overcast day, but the good golf played by the 8 teams brought out the sun towards the end. Scoring was great, with 61 points in first place were John Kirwan, Mick Keely, Seanie Gleeson, and Seamus Ryan. In Second Place with 60 points were Michael Cahill, Pat O'Connell, and Jim Casey and in Third place with 58 points were Tom McGrath, Liam Leahy, Jim Gilmartin, and Tom Hogan.
9th. Feb. Well, it was proved today that Templemore Seniors are totally indomitable, even a frozen course we just waited it out and finally the 9 teams got out to play two hours late at 12:00.  And the scores returned reflected the good conditions that then prevailed. In First Place with 59 points were Pat O'Connell, John Mullally and a return after nearly a year out is our bionic Tony O'Toole. It was close in second place separated by countback with 58 points Seamus Bourke, John Galvin, Michael Maher, and Pascal Whelan. Third also with 58 points John Kirwan, George Collins, Les Mason, and Colm Dooley. Well done all.
50/50 Draw.
The 50/50 Draw is also available online for anyone who cannot make it to the club. http://templemoregolfclub.ie/membership/ [templemoregolfclub.ie]   Scroll down to the end of the FEE categories and select the 50/50 Buy Now.
Fees for 2023 are now due.
Full Member €350.  Couple €500.  Retired-unemployed couple €450.  Family (2Adults+their 2 children under 18yrs) €550.
Country Member €250. Beginner 2023 (1st.yr. 250) ( 2nd. Yr. 350).  Beginner Couple (1st.yr. 400) (2nd. Yr. €500). Students 3rdLevel College & Garda Students €125.  Juvenile (under 18yrs) €75.  Retired-Unemployed & Clergy €300.  Distance (outside 50k) €175.  Green Fees (no reduction for 9 holes) €20.
FEE Payment Options.
Club House: Use "FEE" drop box in Locker rooms.
On Line: http://templemoregolfclub.ie/membership/ [templemoregolfclub.ie]Select your Category and proceed by Pay Pal OR by Credit Card.
On-Line Banking Transfer; IBAN; IE21BOFI90445678133532, BIC; BOFIIE2D.
Contact any committee member.
Dates for your Diary. 
Captains Drive-in.  Sunday 19th. Feb.  (Mary Kilmartin and Declan Kennedy).  9 hole Scramble followed by refreshments.
Seniors.  Every Thursday 10am. Refreshments afterwards in Club House.