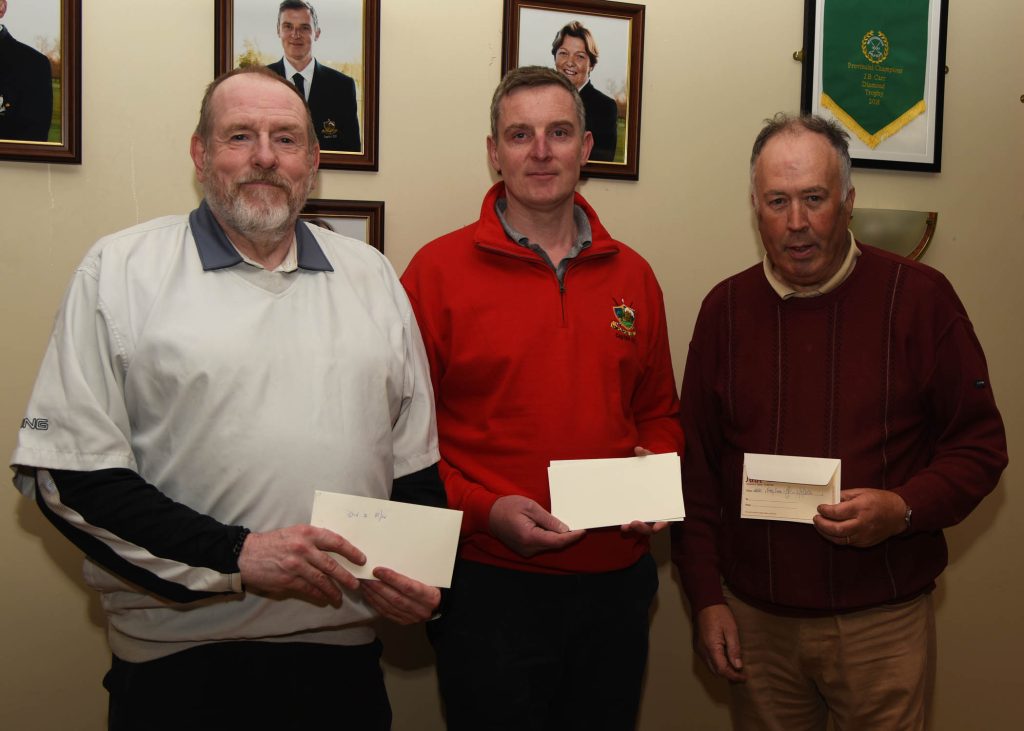 Templemore Golf Club Spring League No 2 Runners Up Team. Les Mason, Presentation by Captain Jim Ryan, Ambrose Purcell, (missing) Cathal Leahy and Dessie Hennessy.  (Photo by Seamus Bourke).
JK Brackens Classic.
10th. and 11th. June.  I fantastic successful week-end of Golf for the JK Brackens Club.
Competition Results.
12th.  June, 18 hole Stapleford.   1st. Ned Delaney with  40 pts.  2nd. Matthew Stapleton with 36 pts.
The Social Mixed Scramble.
1/06/2022,  Results, 1st. Seamus Bourke, Mary Hogan, Breda Murphy, Gross-Pat O'Connell, Niamh Connelly, Declan Russell.
Ladies Golf; 
7th. June.  18hole Stableford. 1st. Bernie Stapleton 32pts. 2nd. Mary Ann Maher 30pts. 3rd. Marie Rabbittee 29pts.
Juvenile lessons;
Commence on Tuesday 12th. July at 10 am followed by Ladies lessons at 11 am.. Contact Pat O'Connell, 087 9205821.
50/50 Draw.
Carried forward to Next Week.  The 50/50 Draw is also available online for anyone who cannot make it to the Club.  http://templemoregolfclub.ie/membership/ [templemoregolfclub.ie]
Seniors Results.
9th. June.,  On our first away trip for over 2 years we had a most enjoyable outing to Tipperary GC. Scoring was very good on a nice day for golf. 1st. 101 pts. Tom Kennedy, Paudie Butler, Ollie Murray.  2nd. 99 pts. Paddy Bourke, John Mullally, Tom Hogan, Michael Healy. 3rd. 97 pts. Ambrose Purcell, Jim Gleeson, Paschal Whelan, Phil Ryan.
Club membership Fees.
Membership is now due. No fee means no entry to club competitions going forward, Master Score Board for Tee Bookings and Members WhatsApp.
Fees can be paid to any committee member, or placed in the FEE Box in the Locker room.  Alternative, you can pay on the web site.  http://templemoregolfclub.ie/membership/ [templemoregolfclub.ie]  All fee rates are on the Web Site.
Golf for Everyone Competitive Membership Fees in Templemore.
Gent/Lady.   €300.  Husband & Wife/Partners. €450.   O.A.P. Husband & Wife/Partners. €350.  Family (Children under 15yrs.) €500.  Country Member. €200.  Beginner (Lady/Gent). €200.  Husband & Wife/Partners Beginners.  €350.  Student 3rd Level & Garda Student.  €100.  Juvenile (Under 18yrs).  €50.  OAP & Clergy. €250.  Distance (Outside 50K)  Lady & Gent.  €150.  Green Fee. (No Reduced Fee for 9 holes).  €15.   Visit the club web site for on-line payment or contact any committee member.
Future Competition Dates.
Mixed Social.  Every Wed..
Seniors. Every Thursday 9 AM.
Others Dates for your Diary.
Mary Hogan Ladies Captain's Prize Tuesday 5th. and Saturday 9th. July.
Mary Butler Ladies President Prize Saturday 6th. August.
Jim Ryan's Captain's Prize Friday 22nd. to Sunday 24th. July.