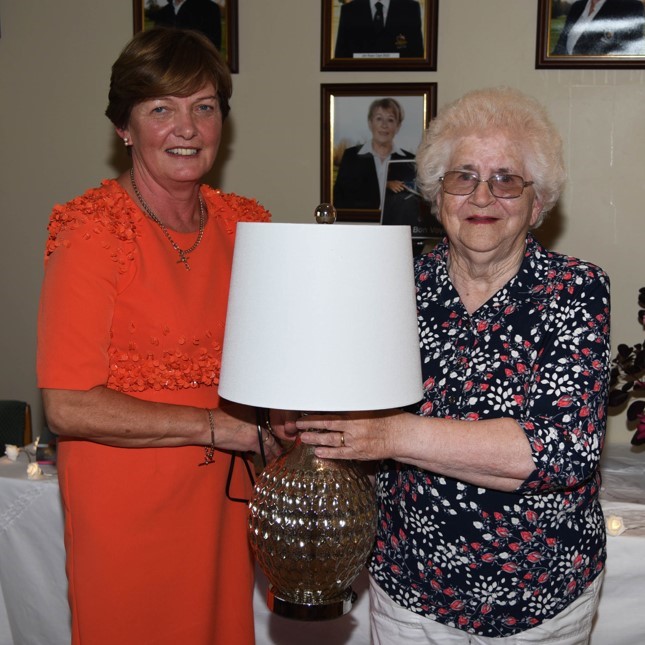 Templemore Golf Club, Lady President Prize runner up,  Biddy Gleeson, Presentation by Lady President Mary Butler. (Photo by Seamus Bourke)
Winter League.
As promised there has been a review regarding the Winter League and taking into account the state of the course and the weather forecast the Competition Committee has decided to cancel the 2022 Winter League.  We will be planning some Christmas Fares closer to December course and weather permitting.
Course Update. 
Due to constant torrential rain over the last three weeks, the course has been closed intermittingly for play.  Hopefully later next week 17th. onwards there will be competitions and great results.
50/50 Draw.
23rd. 30th. Oct. 6th. And 13th. Nov.  The 50/50 draw is carried over due to the inclement weather.   The 50/50 Draw is also available online for anyone who cannot make it to the club.  http://templemoregolfclub.ie/membership/ [templemoregolfclub.ie]
Men's Seniors  
10th. Nov. This may be like stating the obvious but due to the fact that the course conditions do not lend itself to best show our golfing prowess the seniors again was cancelled for this week. Hopefully next week.
Ladies Golf; 
All activities cancelled due to the inclement weather. Further updates on the 14thth. Nov. On the members WhatsApp.
"Golf is for Everyone" Last of the 2022 Fees.
Green Fees;  Visitors, €15 for 9 or 18 holes.  Men, Women and Juveniles.  Full Membership will allow you to have access to Club Competitions, Master Score Board for Tee Bookings and Members WhatsApp.  Fees can be paid to any committee member, or placed in the FEE Box in the Locker room.  Alternative, you can pay on the web site.  http://templemoregolfclub.ie/membership/ [templemoregolfclub.ie]  All fee rates are on the Web Site.
Dates for your Diary. 
Seniors. Every Thursday 9 AM.  (weather Permitting)