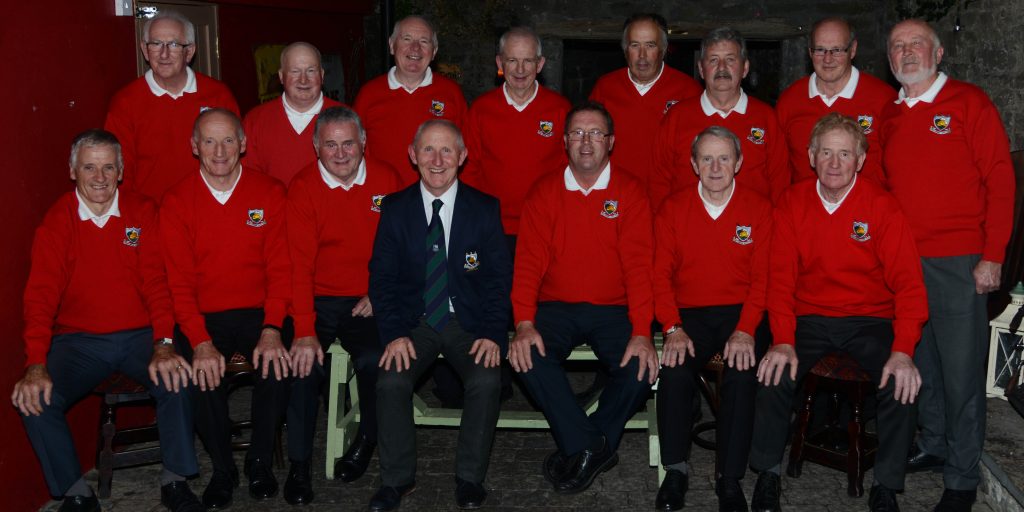 above photos;.
(photo 1)  Templemore Golf Club, Presentation of "Claret Jug" Crystal to the JB Carr Munster Team and 3rd in the All Ireland Competition.  Front row L-R;  Tom McGrath, Seamus Bourke, Bertie Keane, Club Captain Tommy Foley, Competition Secretary and Team Manager Liam Leahy, Liam Daly, Jerry Keegan.  Back row L-R; Martin Bohan, Bernie O'Rourke, Tom Kenny, Mick Kealy, Ambrose Purcell, Dinny Tuohy, Paddy Bourke. (Photo by Seamus Bourke)
(Photo 2)  Templemore Golf  Club, Special "Membership for Life" A Special Club presentation by Captain Tommy Foley to Mr. Pat Costello. In recognition of his life time service to the club. (Photo by Seamus Bourke)
Templemore Golf Club News;
Presentation Night Friday 12th. Oct. ;  A fantastic night was had by all, Ladies and Gents and visitors for this special presentation of an individual fantastic "Claret Jug Crystal" awarded to all the team players by the Woodenbridge Golf Club to this successful JB Carr Team in bringing so much credit to Templemore Golf Club in their progression to capturing 3rd. national place in such a large field of players, 186 teams and 1860 players. The "Claret Jug" is the trophy presented to the winner of a major golf event " The Open Championship"   This event was truly an equal major Open Competition event, as the journey to get there to achieving a Munster Championship Title was long and very competitive.  There is no doubt that this trophy will be an heirloom to all the team players and their famalies and accrediting them as "Competitive Golfers".  The Club is very proud of their success and long may they all continue to be "Competitive Golfers".  The Competition Secretary and team manager Liam Leahy was MC on the night and thanked all for their support during the campaign and a special thanks to the great numbers of Ladies who travelled to Woodenbridge for the final.  Club Captain Tommy Foley made the presentations and thanked all the players for a fantastic and proud display of "Competitive Golf" that will put Templemore Golf Club in recognition into the Golf Fraternity.   A great night continued with music by Tommy Foley and PJ Connolly and fantastic renditions by Club Members.  Complements to Mary Francis and her Staff in Tom Maher's Pub for their support to the event and the provision of great food.  A wonderful and proud night.
Life Long Serving Presentation;   During the above presentation Night an "Honorary Member for Life" presentation was presented on a well design parchment scroll to Mr. Pat Costello for his lifetime service to Templemore Golf Club.  Pat Costello was giving the task of initiating and organising the first meeting of the Golf Club back in 1971.  Pat was Captain in 1986 and president in 1984 and was chairperson for the 30th. anniversary celebration.  Pat was also on the JB Carr team of 2002, who acquitted themselves well against Slievenamon but lost out to Nenagh in the second round.  A brilliant dedicated historical past by Pat, and an encouragement to all members and golfers as we look forward to the 50th. Celebration in 2021.
Vice-Captain Competition;  Vice Captain Tony O'Toole S/F Competition had a fantastic turn out especially on Sunday 14th. which was a glorious summer day.  It was a delight to see so many players competing. The course held well with no water puddles especially after disaster winter weather conditions on Saturday.  The greens and the course is in excellent condition except for the leaves.  Thanks to Liam Leahy course manager, John Alexandra and Dennis Maher for their diligent continuous work on the course.  Tony thanks with great appreciation the support from all.  The winner will be posted on the web site;
National 3T's "K Club" Competitors;  Best of luck to Club Captain Tommy Foley, Mary Hayes, Sadie Tynan and Sean Lee who secured 3rd place in the provincial rounds only narrowly pipped by Thurles and Loughrea at Dundrum Golf Club on Monday 10th. Sept.  This Templemore team will now compete in the National 3T's at the K Club on Monday 22nd. October.   This is the 16th. Year of this popular 3T's Golf Tournament,  an awareness campaign to highlight the issue of suicide in Ireland at grassroots level.  Best of Luck to all.
The McHugh Cups Reminder; The competition will need to finish before 1st. Nov.   All pairings are requested to contact and arrange mutual times.  Also, one can arrange to play with another pairing or play with a marker.  Any further information contact Competition Secretary Liam Leahy 087-4115773.
The list of players selected for to compete in the" McHugh Cups"  is now posted on the notice board in the Locker Room.   The format will be "Mixed Foursomes Stableford"  The Entry Fee will be 20Euro per pair.  This competition must be completed by November 1st.   The pairing are as follows;  Sarah Hearne & Denis Tuohy;  Mary Hogan & Ciaran Hassett; Josie Bourke & Pat Maher; Mary Ryan & Gerry Keegan; Margi Costigan & Ambrose Purcell; Kay Brennan & Jerome Ryan; Sadie Tynan & Hugh Scott; Bernie Stapleton & Denis Maher; Mary A Maher & Paul Tuohy; Joan Shortt & Bernie O' Rourke; L Ryan & Liam Leahy; Sheila Delaney & Lorcan Reilly; Mary Hayes & Anon; Ann Kenny & Francis McCormack; Ann O'Rourke & Bernard Barry;
Sat. 6th./ Sun. 7thd. 18hole S/F winners ;  1st.  Captain Tommy Foley.  2nd. Tom Quinlan.  3rd. Les Mason.   All members are requested to make a great effort to participate in this week-end 20th. and 21st.  GOY.
.
Ladies Golf;  The Ladies Senior Alliance had a great turn out in numbers.  The weather was excellent which created great competitive golf.
Monday 24th. Sept. 9hole S/F. Result;  1st. Breda Murphy.  2nd. Ann Hogg.
Garda Student Golf;  There was a great turn out this week for the Garda Student "Interclass Challenge".  it was great to see such numbers of Garda Students availing of the Golf Course for their sport activity.  Templemore Golf Club has always reserved special rates for Garda Students of €70 euro or €5 for green fee to encourage them to take part in the use of the Golf Course for the duration of their stay in the College.
The Seniors Away in Roscrea Thursday 11th.    The Seniors away trip to Roscrea Golf Course was a fantastic success thanks to the great organisation by the seniors committee.  The shotgun start was a great solution to everyone getting in for the fantastic meal on time and thanks to the catering staff.  Complements were expressed by Seanie Gleeson to Centenary Co.Op for their prize sponsorship and for the continued support throughout the year and in return we should all show our appreciation in shopping local.  Also, sentiments were expressed to Rody Cawley and John Stapleton, wishing both a speedy recovery and look forward to both getting back into the Golf frame.  The winners in Roscrea were;   1st. Team;  Dennis Maher, John Mullally, Joe Hennessy.  2nd. Team;  Seamus Bourke, Mick Murphy, Michael Webster, Ollie Murrey.  3rd. Team;  Joe Fahy, Eddie Butler, Seanie Gleeson, Seamus Ryan.
Next Seniors;  Thursday 18th. will be contested for the O'Toole trophy. Playing details will be announced on the day.  The Seamus Cody Cup will be coming up next.
Amanda Stapleton Benefit fund;  This benefit fund is dedicated to helping Amanda Stapleton from Borrisoleigh, Co.Tipperary who has recently been diagnosed with an inoperable brain tumor.  Amanda is the Daughter of former Templemore Golf Club President John Stapleton.   You can make your own personal donation on the following web link arranged by the Borrisoleigh fund raising Committee;   https://www.gofundme.com/Amandastapletonfund
Enrolling New Members both Lady and Gents for 2019;  New members will now be accepted for 2019.  Early Bird applications will have the advantage of completing this year golf season.   All current members are encouraged to introduce at least "ONE NEW MEMBER" Lady or Gent, Junior or Student, Seniors Juveniles and Family, Active Retiree's or any person interested in taking up the sport.  It will be a huge advantage to building the club membership and profile.  Registrations Forms for new members are now available on-line on our web site, or at the club house or contact Martin Bohan 087 0509278 or any of the committee members.   Also, membership payment options can be made through the Golf Club web site link; http://templemoregolfclub.ie/membership/    All will be welcomed.
Rules of Golf;  The 2019 Players edition on the "Rules of Golf". There is a new supply now available in the Men's Locker room.  There is great interest in these new Rules as the first batch was taken up and now a 2nd.  batch is available.
Golf Ireland Club Benefits;  "Golf Ireland" will have one vision and one strategy, for both men and women, to lead golf into the future. There will be increased emphasis on support and services for the member clubs of Golf Ireland. Family-friendly initiatives and promoting an inclusive environment will be at the forefront of Golf Ireland's objectives. The aim of these initiatives will be to help attract more people to the game, to support ongoing harmonious relations in our clubs the length and breadth of the country, and to have families say as a group that "this is a sport for us." This will inevitably heighten interest among commercial sponsors and Government bodies, as golf will be a more attractive proposition. Golf Ireland will work tirelessly to ensure the future is bright for the game of golf in Ireland.
Explanatory Booklets are still available while stocks last, in the Club Locker Room.  A power point presentation is now available on the benefits of this new initiative.  Members who want a copy can email, info@templemoregolfclub.ie    It is advised that all members keep themselves informed on this development.
Memorabilia of 50 Years of Golf in Templemore;  Urgent call for memorabilia by PJ to all members past and present or anyone or families that were involved in golf to dig deep and search their achieves for any memorabilia that they can find.  Old photos, sayings, and good banter from the past that can be resurrected to make this project successful.   All will be appreciated and returned as received after the process.
Timber for Sale;  Due to all the various storms there are considerable amounts of timber available for winter firing;  The competitive rate are;  €50 for a single car flat trailer and €80 for a car twin flat trailer.  Some chopped and some in blocks, Contact; Tony 086-8209991 or Tommy 087-1715692
Club Fixtures;
The McHugh Cup. Must be completed by Nov.1st.
20th. and 21st. Oct. GOY 18H S/F.
22nd. Oct. 3T's Team All-Ireland at the K Club.
27th. Oct. White Dowling Society 18H S/F.
3rd. Dec. AGM @ 8pm in the Club Lounge.
Amanda Benefit Fundraiser. Date TBC.
15th. Dec. White Dowling Society 18H S/F.
The Pat Delahunty Cup. Date TBC.
Spring of 2019 the Captains/Captains in the Algarve.
Adopt a Bunker Project;  Winter work required to all the bunkers.  All fringes of the bunkers have been groomed and a noticeable amount of players have signed up to commit to adopting a Bunkers which is helping to keep the course in great shape.  Put your stamp on any bunker you feel that you can commit to looking after which will result in the presentation of the course to a high standard.   The "Adopt a Bunker" form is on the notice board in the Locker room.
New Golf Rules;   Removing the penalty for a double hit:  The penalty stroke for accidentally striking the ball more than once in the course of a stroke has been removed.  Golfers will simply count the one stroke they made to strike the ball.  (Key change: the proposed Rules released in 2017 included the existing one-stroke penalty).