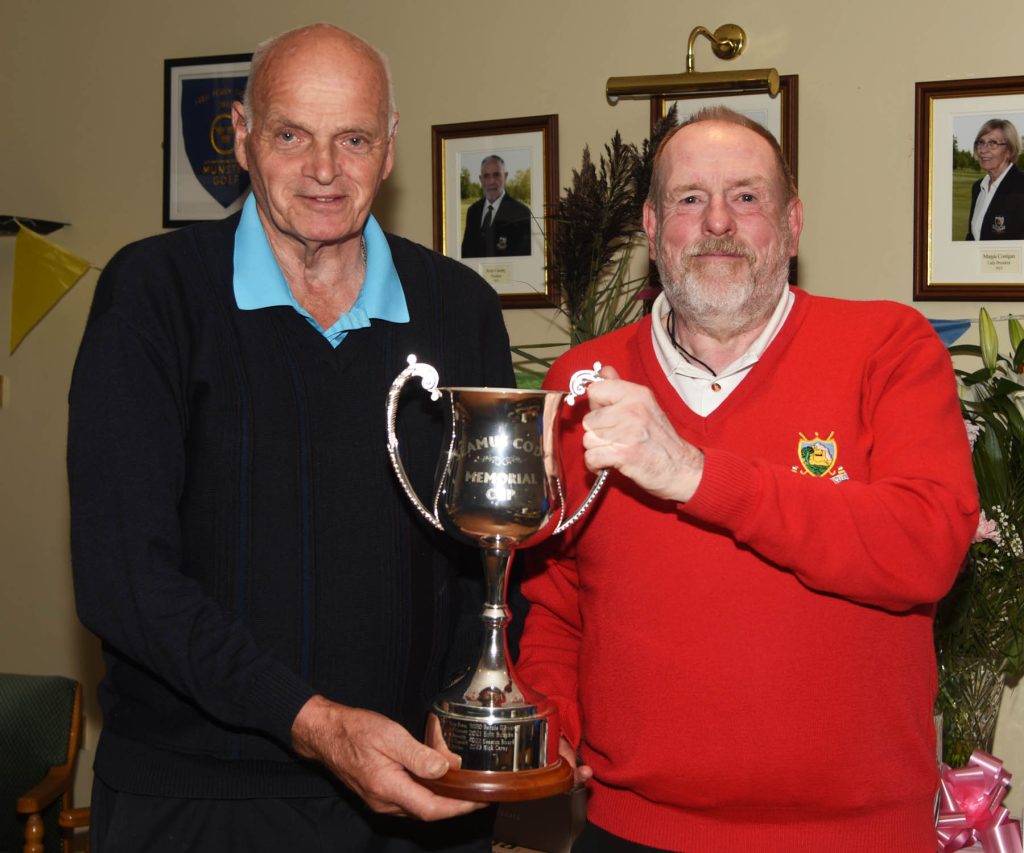 Templemore Golf Club. Seamus Cody Perpetual Trophy Winner Mick Carey.  Presentation by Vice Captain Les Mason.   (Photo by Seamus Bourke)
Seamus Cody Perpetual Cup.
The Seamus Cody Perpetual Cup is coveted by all members in recognition of the loyalty that Seamus Cody displayed over years on the of evolution of the club.  Seamus Cody was Captain in 1977 and President in 2005. (R.I.P. 5th. Jan 2016).  The match play Competition took several weeks to complete principle due to constant inclement weather.  Mick Cary the winner was Captain in 2011.  A deserving winner.  He is a very competitive golfer, also as Seamus he is dedicated to the evolution of the club and always made himself available for course work.   Seamus Cody would be delighted as see Mick Carey's name on his Perpetual Cup.
Week-End Competition.
3rd. to 6th Oct.  9 hole S/F.  Winner, Donal Golden 23 pts.
8th Oct.  18 hole S/F.  Winne.  Sean Lee  40 pts.  2nd.  Jody Boyle 39 pts.
Ladies Golf Results.
26th.Sept.  18 Hole S/f.  1st.  Bernie Stapleton, 2nd. Breda O'Connell, 3rd.  Della Ryan.
3rd. Oct.    18 Hole S/F.  Sponsor, Gemma Hair Salon.  1st. Mary Hayes,  2nd. Josie Bourke, 3rd. Kathleen Maher.
Seniors Golf.
12th.Oct.  A wonderful day for golf after a couple of rain offs saw 9 teams enjoy the fruits of the maintenance done on the greens and with 50 points the winners were Ollie Murray, Tom Ryan, Mick Cahill and Eoin Wolahan. In Second place on countback with 49 points is Eamon Connolly,  Seanie Gleeson, Jim Casey and James Murray and in Third place also with 49 points George Murray, Mick Murphy, Colm Dooley and Joe Clarke. Well done lads
50/50 Draw.
8th. Oct. 5O/5O Winner, Joe Hennessey,  75 Euro.
Dates for your Diary. 
Seniors.  Every Thursday 10am. Refreshments afterwards.