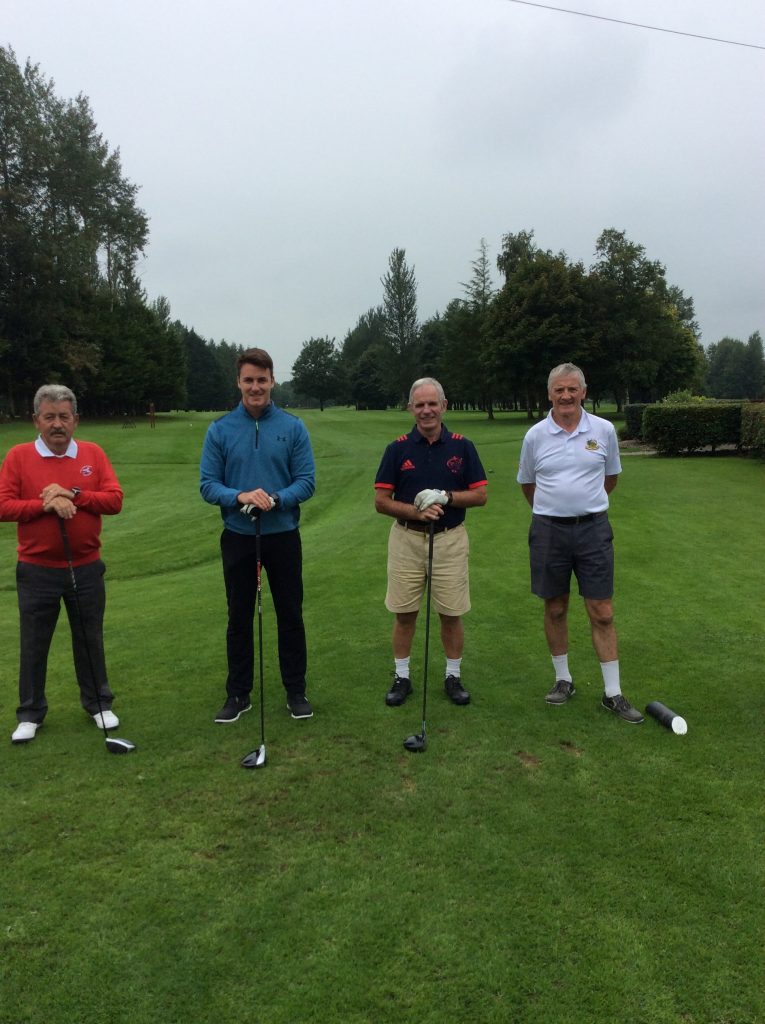 above photo; Templemore Golf Club Captains Day 1st. Round.   Dinny Tuohy, Johnny Coleman, John Fitzpatrick, and Club Captain Tom McGrath. Photo by Rody Cawley.
Templemore Golf Club News; 
Captains Prize;  Saturday 15th. and Sunday 16th.  A historical turn out of players.  Indicating the fantastic, appreciation the members have for the Captain Tom McGrath, the course conditions, the committee and the robust future of the club. There were great scores with Jerome Ryan leading the field with 61, followed by Declan Kelly with 67, and Garry Russell  with a 68.  Top 60 and ties qualify for 18H, round 2, for next Sunday 23rd. .  Score 76 or better qualify, please let the competition Secretary Dinny Tuohy  know if your not available asap to facilitate the draw.  Best of luck to all.   Due to the need to carry out works for the Captains days it is necessary for no casual play to be permitted on Sat. 22nd. or Sunday 23rd. Thanks for your co-operation and best of luck to all taking part Captain Tom McGrath.
Ladies 18 S/F.   Murphy's Pharmacy Ladies 18 Hole Stableford. Tuesday 11th. Aug;  1st. Shelia Delaney 41pts.  2nd. Margaret Costigan 33pts.  3rd,  Cathleen Maher 33 pts. .  Full results on master score board.
New On-Line Tee Booking System;   The club new "Online Booking System" can be accessed on our Web site; www.templemoregolfclub.ie  no access to the course will be allowed without booking through the new system also registering on the "Covid-19 Tracing Register".  Visitors can contact info@templemoregolfclub.ie to request Tee times or link up with an existing member.
50/50 Lotto Winners;  1st Draw.  Biddy Gleeson.  2nd Draw.  Mick Murphy.  3rd. Draw.  Patricia King.  4th. Draw. Michael Purcell.  5th. Draw Ann Kenny.  6th. Draw, Kevin Fogarty. 7th. Draw. Peggy Ryan.  8th. Draw Matty Stapleton.  9th. Draw Matt Butler.  Special congratulations to all, from Club Captain Tom McGrath and thanks expressed to all for supporting this venture.
Cadet Golf;  Next Coaching Course, Friday 21st..  Contact Pat O'Connell. 087-9205821.
Seniors Results; Ten teams took part on Wed 12th. competition which produced some great scoring. Three teams finished with 52pts each, so on a count back the winners with 38pts. on the last 6 holes were Tom Hogan, Mick Connell, and John Galvin. In second place with 37pts. on the last 6 holes and 18pts. for the 3 holes were Bertie Keane, Donal Golden, Michael Maher, and Sean Gleeson. In 3rd. place also with 52pts, 37pts on the last 6 and 17 on the last 3 holes were Seamus Bourke. John Egan. Willie Haverty. and Frankie Shortt. On bèhalf of our Senior members we wish our Club Captain Tom McGrath and his fellow committee members a wonderful weekend and a fine and competitive  turnout.  Contact P.J. Leahy 086-8828947.
New Members are more than welcome.
Select the "New Members" tab on the web site and complete the ONLINE application form and select submit.
Then select the "FEE" tab and proceed with payment.
If any difficulty contact Tony by text @ 086-8209991.
Make Golf a Life Changing Gift;   Give a life changing Sport experience to someone.  The Ideal gift for anyone who would like to take part in an active exercise sport.  Golf is that Ideal Gift.  Buy a membership Voucher now.  Contact Pat O'Connell 087-9205821 or any of the committee for to purchase the "Ideal Active Present".
Golf Active in Retirement for 2020;  For the active retirement, this is an excellent activity.  You will be more than welcome.
Why Join;
Good Outdoor Exercise; 9 holes + 2hrs.  18 Holes = 4hrs.
Good Social occasions, Presentation Nights, Social Mixed, Senior Events and Away Trips.
The Handicap System allows members of different abilities an equal chance of winning.
Various Category of Memberships are available at different rates.  ( see Membership rates on our web site).
The club will assist you in starter clubs to get you going.  Contact any current member for assistance and you will be looked after.
Private Donations for Course Development;  Donations, sponsorship, will be greatly received now that the club will have its own autonomy and will be used exclusively for Course Development.  Put your stamp on the course making a special contribution.  For Donations, Just select the "FEE" tab and then select "Make a Donation" tab on the Club Web Site http://templemoregolfclub.ie/membership/ , or in confidence contact; Club Captain Tom McGrath 087-1147666.
Future Competition Dates;
Weekly 9 hole S/ford;  Monday to Sat..
Captains Prize Dates;  2nd. 18 + final 9, Sun 23rd. Aug. Captain Tom McGrath.
Presidents Prize; Men's and Ladies, September 4th.5th 6th.. Presidents, Padraig Moloney and Breda Murphy.