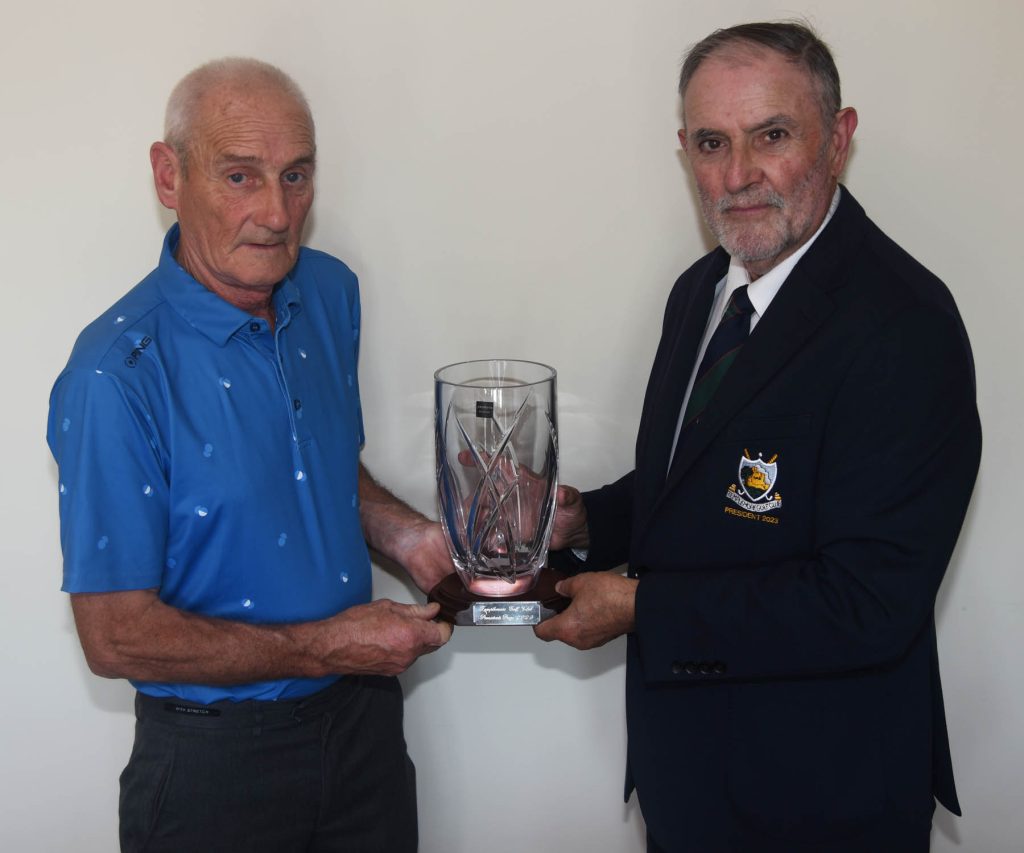 Templemore Golf Club. President Prize Winner Joe Fahy,  Presentation by President Rody Cawley.  (Photo by Seamus Bourke)
27th Aug.  President prize winner Joe Fahy a great and outstanding golfer who represented the club as a team player on many occasions over the years. Well done Joe and continued success in your Golf achievements in the years ahead.
Week-End Competition.
23rd. Sept.  Winner of competition on Sat 23 Sept.  Matter Stapelton. 36 points.
Fred Perry National Golf Ireland Competition.
23rd. Sept.  Thanks to Liam Leahy and his Fred Perry team who played exceptional golf, but came up just short of getting a win V Connemara Isles Golf Club. The bounce of the ball did not go our way. In one match the opposition chipped in twice from impossible positions. It is a great achievement to reach the All-Ireland semi-finals and I have no doubt that we will be back. Thanks again for all your time Liam and Team and commitment you gave to the club. Captain Declan Kennedy.  Manager Liam Leahy Appreciation.  Thanks to everyone for their support over this prestigious Golf weekend, calls and messages were very much appreciated, unfortunately on the day we did not get the rub off the greens. Well done to the team and panel for all their time efforts and commitment during the year. It was an honor to be manager of such a great team. Liam Leahy Thanks guys. 
Borrisoleigh School Classic.
31st. Sept.  John Stapleton Appreciation.  Thanks very much for the support over the last two days. It's very much appreciated. Thanks to Templemore Golf Club for their support. Classic results.  1st.   Kevin Walsh, Danny Ryan, David Skehan.  2nd.  Eddie Stapleton, Francis Cummins, David Stapleton.  3rd.  Paddy Bourke, Jim Casey, Seamus Bourke.  4th.  Mick Carey, Bernie o Rourke, Bertie Keane.  5th.   Mark Bourke, Kieran Hackett, Michael Delaney.  6th,   Sam lee, Frank Russell, Paddy Fogarty.  7th.   Joe Kenny, Mary Ryan, Mary Hayes Kenny.  Longest Drive, Kevin walsh, Mary Hayes Kenny.  Nearest pin, Richie Tynan.  
Seniors Golf.
6th.Sept.  Well, the good weather from last week blessed us again today as the Seniors showed their continued support for the club and participated in the Seniors Classic in 1st. place a 3 ball that really shot the lights out with 57 points Ollie Murray, Seanie Gleeson, Rody Cawley. In 2nd. place with 53 points ( on Countback) Eamon Connolly, Tom Ryan, Michael Healy, and Pascal Whelan and finally in 3rd. place also with 53 points Bernie O'Rourke, John Mullally, John Stapleton and James Murray. An appreciated thanks to all.
50/50 Draw.
23rd. Sept.  Declan Kennedy.  140euro.
Dates for your Diary. 
Seniors.  Every Thursday 10am. Refreshments afterwards in new Club House "GreenView Restaurant".