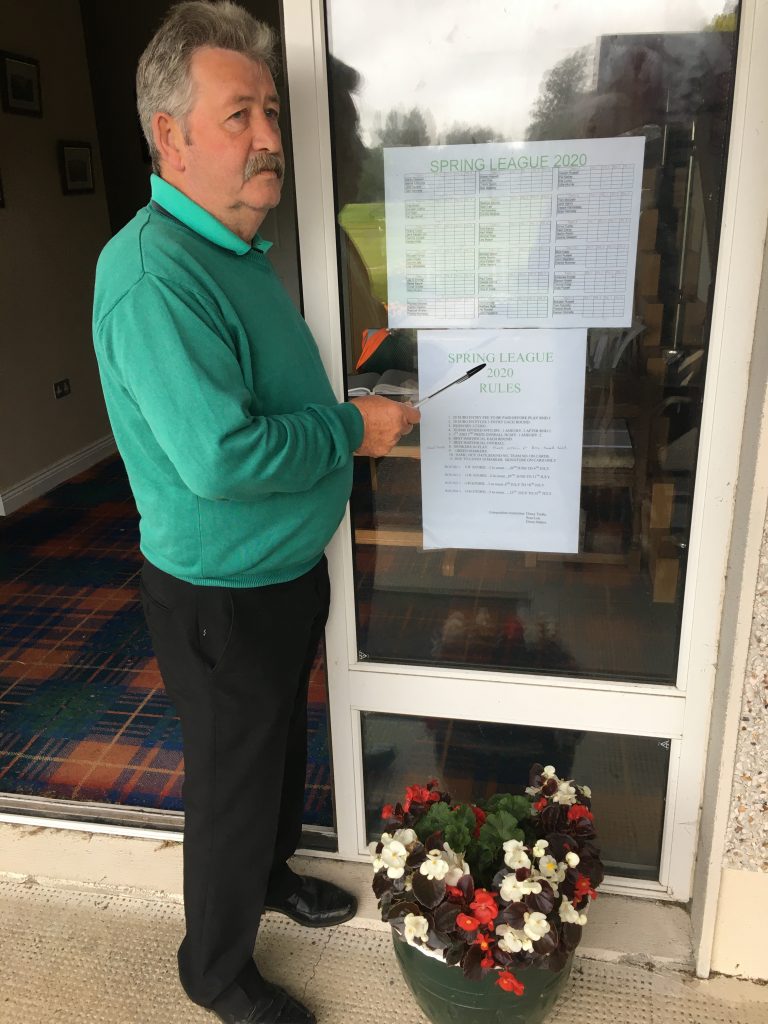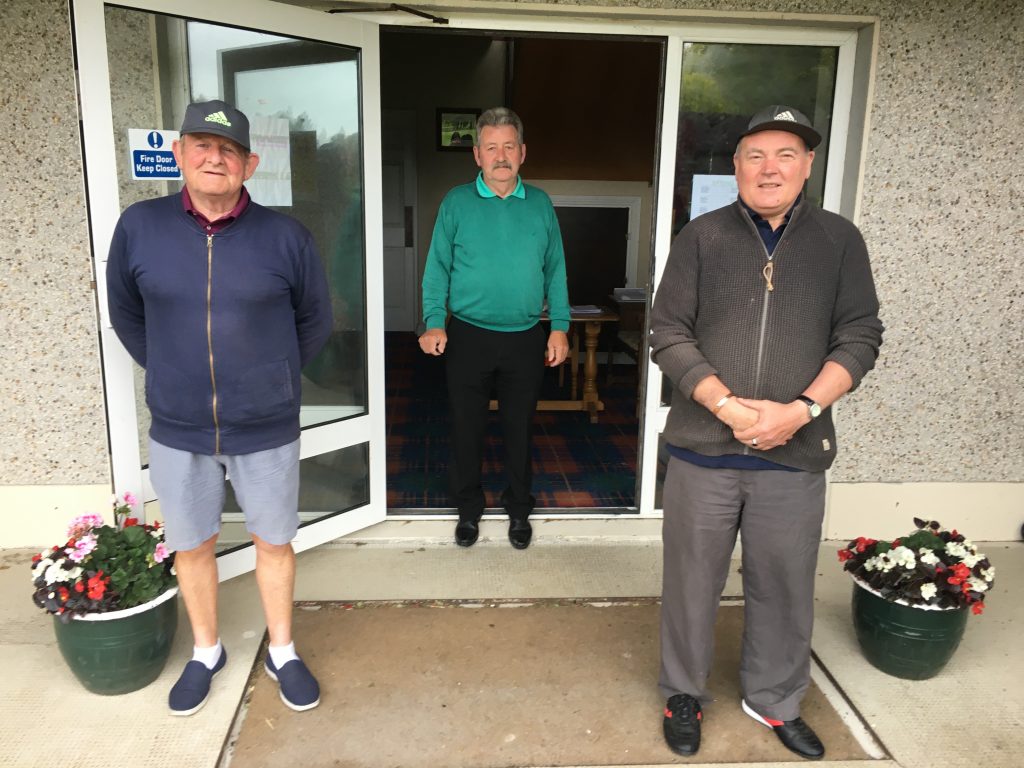 (Templemore Golf Club Spring League Competition Secretary Dinny Tuohy restarting the Spring League Competition on Monday 29th  June)
(Templemore Golf Club Spring League 1st restart competitors, Paschal Whelan & Willie Haverty with Starter Dinny Tuohy.
Templemore Golf Club News; 
Club Captain Tom McGrath "Let The Games Begin"
As we come to the end of Phase 2 of the "unlocking process" it is only right that the terrific efforts of all members are acknowledged.  Credit to all for turning out in such numbers and for your compliance with the various directives and protocols laid down for us.  Special thanks to those who have given so freely of their time at the "front desk". Very few problems were encountered, and all were resolved quietly.  Going forward it is MANDATORY that all players register at that desk before going out on the course.  This is necessary for traceability purposes and must be complied with.  Thanks to all involved in having the Course and Clubhouse surrounds in such great order.  Over the past 6 weeks an average of 65 people has played the course each day!!  Players are reminded to respect the facilities and ensure that your visit benefits rather than detracts from them. Replace and repair as you go whether you did the damage or not. Slow play is not a major issue, but slower players or those searching for a ball should call faster players through.  Bookings must now be made through the "Handicap Master" System. Through using it members will become familiar with its various functions with help and advice available, if required.  "The Spring League" resumes from Monday 29th with Week 1 concluding at the weekend.  Week 2 is also open for play and runs for 12 days.  Full details are on display at the "front desk" along with details and advice on recording and returning scores.  Bunkers are in play BUT placing is allowed within 6 inches.  Players should smooth the disturbed area, but only AFTER playing their shot.  Full course 18-hole events resume on Saturday / Sunday 4th/5th July.  It is to be hoped that these competitions will be fully supported.  Play will be in 3 balls at 15 minute intervals to facilitate turning. There will be no "Casual Play" on Sundays until after 3.00pm.  From 1st July a "NO SUB NO PLAY" policy will be in operation.   A special word of welcome to the many new and returning members in our midst.  We trust that you will enjoy the facilities and derive benefit and satisfaction from what we have to offer.
Let the games begin!!!
Club Captain Tom McGrath.
Spring League;  The spring League is now back in action after a long recess due to the Covid-19.  The competition restarted on the Monday 29th June.  It will be over 4 weeks.  Round 1; 29th. June to 4th. July.  Round 2; 29th. to 11th. July.  Round 3; 6th. to 18th. July.  Final Week, Round 4;  13th. to 25th. July. Entry fee €20 for 1st. 4 weeks, Re-entries @ €3 each week. Teams are displayed at the club house.  Anyone not able to play and substitutes that want to play Contact Competition Secretary. Dinny Tuohy 085-2842067.  Best of luck to all.
New On-Line Tee Booking;   The club has launched a new "Online Booking System" which can be accessed on our Web site; www.templemoregolfclub.ie  no access to the course will be allowed without booking through the new system.  Visitors can contact info@templemoregolfclub.ie to request Tee times or link up with an existing member.
18 hole Singles, S/F, Competition will commence on Sat. 4th. and 5th. July. Booking only through the "New Online Booking System".  Confined to 2 Ball and 3 Ball Only. No 4 Ball.
50/50 Lotto Winners;  1st Draw.   Biddy Gleeson.  2nd Draw.  Mick Murphy.  3rd. Draw.  Patricia King.  Special congratulations to all from Club Captain Tom McGrath and thanks expressed to all for supporting this venture.
Cadet Golf;  All Cadets will be notified as soon as we can resume "Collective Training".  In the mean-time Cadets can play in the company of an Adult Member.  Contact Pat O'Connell for more information. 087-9205821.
Seniors Results;
Round 1; We had an excellent turnout of 40 senior members. This comprised of 10 team's. The results were 1st. with 53pts. Ambrose Purcell, Michael Healy, Frankie Shortt, Tom Kennedy. 2nd. place also with 53pts. loosing on a count back were Sean Lee, Jim Gleeson, John Egan, and Les Mason.  There were 3 teams on 52pts, best of them on a count back were Tom McGrath Seamus Ryan Mick Carey and Eddie Butler.
Round 2;  Great turnout again with 44 players taken part making 11 team's. While the scoring was not as round one, 4 team's finished on 48pts. On a count back in 1st. place Declan Russell, PJ Leahy, Mick Murphy, Liam Daly.  2nd.  place Dinny Tuohy, Tom Hogan, Willie Haverty, Mick Connell.  3rd. place, Ambrose Purcell. John Browne. Tom Kennedy. Paudie Butler. Thanks to all for taken part also in the 50/50 draw.  Well done to one and all, looking forward to seeing you all next week. PJ. Leahy.
New Members are more than welcome.
Select the "New Members" tab on the web site and complete the ONLINE application form and select submit.
Then select the "FEE" tab and proceed with payment.
If any difficulty contact Tony by text @ 086-8209991.
Make Golf a Life Changing Gift;   Give a life changing Sport experience to someone.  The Ideal gift for anyone who would like to take part in an active exercise sport.  Golf is that Ideal Gift.  Buy a membership Voucher now.  Contact Pat O'Connell 087-9205821 or any of the committee for to purchase the "Ideal Active Present".
Golf Active in Retirement for 2020;  For the active retirement, this is an excellent activity.  You will be more than welcome.
Why Join;
Good Outdoor Exercise; 9 holes + 2hrs.  18 Holes = 4hrs.
Good Social occasions, Presentation Nights, Social Mixed, Senior Events and Away Trips.
The Handicap System allows members of different abilities an equal chance of winning.
Various Category of Memberships are available at different rates.  ( see Membership rates on our web site).
The club will assist you in starter clubs to get you going.  Contact any current member for assistance and you will be looked after.
Private Donations for Course Development;  Donations, sponsorship, will be greatly received now that the club will have its own autonomy and will be used exclusively for Course Development.  Put your stamp on the course making a special contribution.  For Donations, Just select the "FEE" tab and then select "Make a Donation" tab on the Club Web Site http://templemoregolfclub.ie/membership/ , or in confidence contact; Captain Tom McGrath 087-1147666.