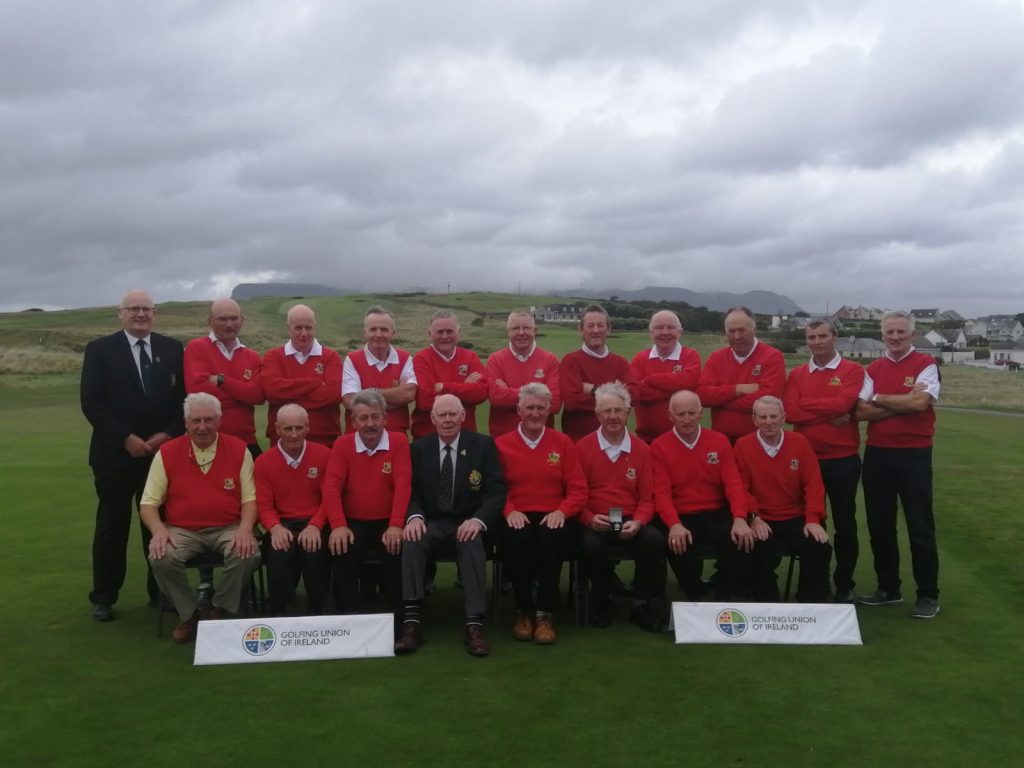 Please insert the following photo; Templemore Golf Club All-Ireland Team, in the Inaugural Golf Union of Ireland (GUI) Fred Perry Trophy.  B-L.R.  Michael Heaney Connacht Chairman, Michael Purcell. Padraig Moloney, Dinny Maher, Bertie Keane, Mattie Bourke, John Hassett, Tom Kenny, Ambrose Purcell, Joe O'Connor, Tom McGrath. F-L.R. John Moloughney former President of GUI, Joe Fahy, Dinny Touhy, Jim McGovern GUI President, Tony O'Toole Captain Templemore Golf Club, Seanie Gleeson Team Captain, Seamus Bourke, Liam Daly.
Templemore Golf Club News; 
Fred Perry All Ireland GUI Final at Rosses Point;  A historic Golf Union of Ireland (GUI) interclub 4 province competition exclusively for men aged 55 and over, Templemore's Team Captain Seanie Gleeson was thrilled to have a very competitive element of players for this age profile.  Having already won over 5 Munster prestigious Clubs, Tipperary, Ballykisteen, Dungarvin, West Waterford, Limerick,  qualified Templemore to the MUNSTER FINALS on Sun 8th. September at Cork Golf Club -V- East Cork Golf Club with a decisive win of 3.5 to 1.5 continued to the All-Ireland Semi Final on Thursday 26th. -V-Woodenbridge Golf Club in Rosses Point Golf Club, Sligo.  Woodenbridge played some great golf that was a challenge of the men from Templemore but the Templemore side won decisively with a 3.5 to 1.5 victory.  Seamus Bourke and Liam Daly, a pairing unbeaten throughout the campaign, put the first point on the board for Templemore with a 2&1 win.  Their second point came in the bottom match where Denis Maher and Padraig Moloney were comprehensive victors by 5&4.  Woodenbridge rallied, beating Joe O'Connor and Tom Kenny by 1 hole but moments later Templemore sealed the win when Denis Tuohy and Joe Fahy were victorious with a 2&1 win.  The nine-hole Templemore course in rural Tipperary was applauded by the prestigious Woodenbridge Golf Club and Templemore's team Captain Seanie Gleeson spoke highly of his team commitment, endurance and not faltering to the weather elements. It's a great achievement for a small club like Templemore to have reached the all-Ireland final in this inaugural National prestigious tournament.  The Connaught, Gort Golf Club defeated the Ulster side Loughgall by 3.5 to 1.5.
The all-Ireland final stage was now set for Friday 27th. in Rosses Point Golf Club between Templemore -V- Gort Golf Club.  The weather conditions were seriously inclement intermittently,  players experienced the four seasons in a matter of hours across the famous Rosses Point links. The drama began. It was so intensive and captivating that it has to be a record for this GUI all Ireland final especially as it was the first "FRED PERRY" competition on his home course.  A total of 96 holes were played to decide the winners.  At one stage mid-way through the back nine the scene was set for Templemore to lay claim to the title but the resilience of the Gort side continued.  A battling performance from Gort against Seamus Bourke and Liam Daly gave them the first point of the day, coming on the 19th green.  The second point for Gort came in the third match sealed a win by 1 hole against Tom McGrath and Bertie Keane.  The drama was to intensify. Templemore were looking comfortable in the last two matches and would go on to win the bottom match by 1 hole. Denis Maher and Padraig Moloney taken all the way to the last hole to win.   The fourth match, Templemore's Denis Tuohy and Joe Fahy climbed to the summit mountain green .(their 20th) and halved.  Gort needed to win just one of the remaining two matches to seal the win.  It fell to Gort -v- Ambrose Purcell & Mattie Bourke who lost on the marathon 21st. hole, and the Fred Perry Trophy went to Gort 3.5 over 1.5 for Templemore.  Final result;  Seamus Bourke & Liam Daly lost on the 19th; Ambrose Purcell & Mattie Bourke lost on the 21st; T McGrath & B Keane lost on the 1 hole; Dennis Tuohy & Joe Fahy halved; Dennis Maher & Padraigh Moloney won 1 hole.
Templemore Team Captain Seanie Gleeson congratulated Gort on their win and emphasized that "Golf is one sport that you can play until you're 90 years + and you can be competitive. To have competitions like the Fred Perry Trophy for any golf club is tremendous, for older players and most members now retiring at 60 and they are out playing golf it's tremendous to be able to do that."  A fantastic Victory in defeat.
Gort's Team Captain Robbie Killeen congratulated Templemore and lauded that Templemore could have won the game on the 19th, 20th. It was hard luck on Templemore..  "It was a thriller, I didn't think we were going to win it. It was brilliant. I think it's great for a Connacht club to have won the Fred Perry Trophy seeing as he was from Connacht".
"Fred was a one off," says former GUI President John Moloughney. "He was committed to golf and the ethos of the game. He was a father figure in Irish golf."
The inaugural All-Ireland Finals in Rosses Point was Fred Perry's home club in County Sligo, where he served the Connacht Branch with distinction for 42 years on the West of Ireland Championship Committee before his death in March 2018.
A historical distinction performance by Templemore Golf Club.
Senior results; My heart goes out to you Sean and your gallant team. Congrats to you all for taken us on such a wonderful journey. Seniors results Thursday 19th. 1st. with 47pts were Jerry Keegan, Paddy Nolan, Mick Connell, Ollie Murray. 2nd. with 45pts. were John Galvin, Tom Kennedy, Philip Ryan, Mick Mahe,r 3rd. with 44pts. Eddie Butler, Seamus Ryan, Donal Golden, Jim Gleeson.  Next seniors outing is in Cahir Monday 14th Oct tee box 10 30. Entries taken next Thursday 3rd..
LMC President Prize;  It's an honor to have a Templemore member as President of the LMC Mr. Phil Ryan.  His LMC President Prize date will be on Saturday 5th. October in Templemore which will have in excess of 100 members from various clubs taking part.  We wish Phil all the success with the event.
"Cadets Membership" ;   You can join the Cadets anytime from the age of 8 to 15 Boys and Girls and Cadet youths Age 15 to 18 Boys and Girls.   All members who have a junior family member that has an interest in Golf should encourage them to call in on Wed and Friday's.  If new to the game, clubs will be made available to those that do not have them.  This is an opportunity to build members for the future of the Club.  All training will be in association with CGI (Confederation of Golf Ireland) guidelines and will continue throughout the year.  Do your best to promote this venture.  A special practice range is now in place for the Cadets.  Contact Pat O' Connell. 087-9205821 Club Juvenile Liaison Officer. Come along if you are interested in playing Golf
Cadet Training;  Training will continue, on Saturdays from 1 to 2pm.  Thanks for all the support from parents and volunteers and look forward to continuing throughout the year.
 "New Members" Special Rate.  Pay now and your membership will be up to Dec 2020.  There is a "Special Fee" for beginners which is guaranteed not to change for 3 years.  This is very attractive for anyone new interested in joining and for those purchasing vouchers to give a life changing experience to someone.  New members are now been accepted.  All current members are encouraged to introduce at least "ONE NEW MEMBER" Lady or Gent, Junior or Student, Seniors Juveniles and Family, Active Retiree's, Special Needs or any person interested in taking up the sport.  It will be a huge advantage to building the club membership and profile.
A great Welcome back to Lapsed Members; Pay now for membership up to Dec, 2020;  A special rate for "Lapsed Members" will continue throughout the year.  A "welcomed back" once-off, special rate for Gents €200 and Ladies €170.  This is a great opportunity for golfers, Ladies and Gents who want to return to this great social game.
All current members are encouraged to promote this offer to help those that want to return to the Club.   Registrations Forms are now available on-line on our web site, just select the "Membership" tab and it will give you the option to pay by Pay Pal or Credit Card. or collect an application form at the club house or contact Martin Bohan 087 0509278 or any of the committee members.   Payment options can also be made through the Golf Club web site link; http://templemoregolfclub.ie/membership/    All will be more than welcomed.
All Golf Societies;   All golf societies are more than welcome to play the course.  For booking dates contact email;mailto:info@templemoregolfclub.ie
Make Golf a Life Changing Gift;   Give a life changing Sport experience to someone.  The Ideal gift for anyone who would like to take part in an active exercise sport.  Golf is that Ideal Gift.  Buy a membership Voucher now.  Contact Martin Bohan 087 0509278 or any of the committee for to purchase the "Ideal Active Present".
Be Active in Retirement;  For the active retirement, this is an excellent activity.  You will be more than welcome.
Why Join;
Good Outdoor Exercise; 9 holes + 2hrs.  18 Holes = 4hrs.
Good Social occasions, Presentation Nights, Social Mixed, Senior Events and Away Trips.
The Handicap System allows members of different abilities an equal chance of winning.
Various Category of Memberships are available at different rates.  ( see Membership rates on our web site).
The club will assist you in starter clubs to get you going.  Contact any current member for assistance and you will be looked after.
Donations for Course Development;  Donations, sponsorship, will be greatly received and used exclusively for Course Development.  Put your stamp on the course making a special contribution.  For Donations, Just select the "Membership" tab and then select "Make a Donation" tab on the Club Web Site http://templemoregolfclub.ie/membership/ , or in confidence contact; Martin Bohan 087 0509278.
Club Fixtures;
LMC in Templemore; Saturday 5th. October. (President, Phil Ryan Prize)
White Dowling Society; Saturday December 14
White Dowling Society; Saturday October 26.
See Notice Board for more details on club fixtures or contact Club Competition Secretary; Liam Leahy, 087-4115773.