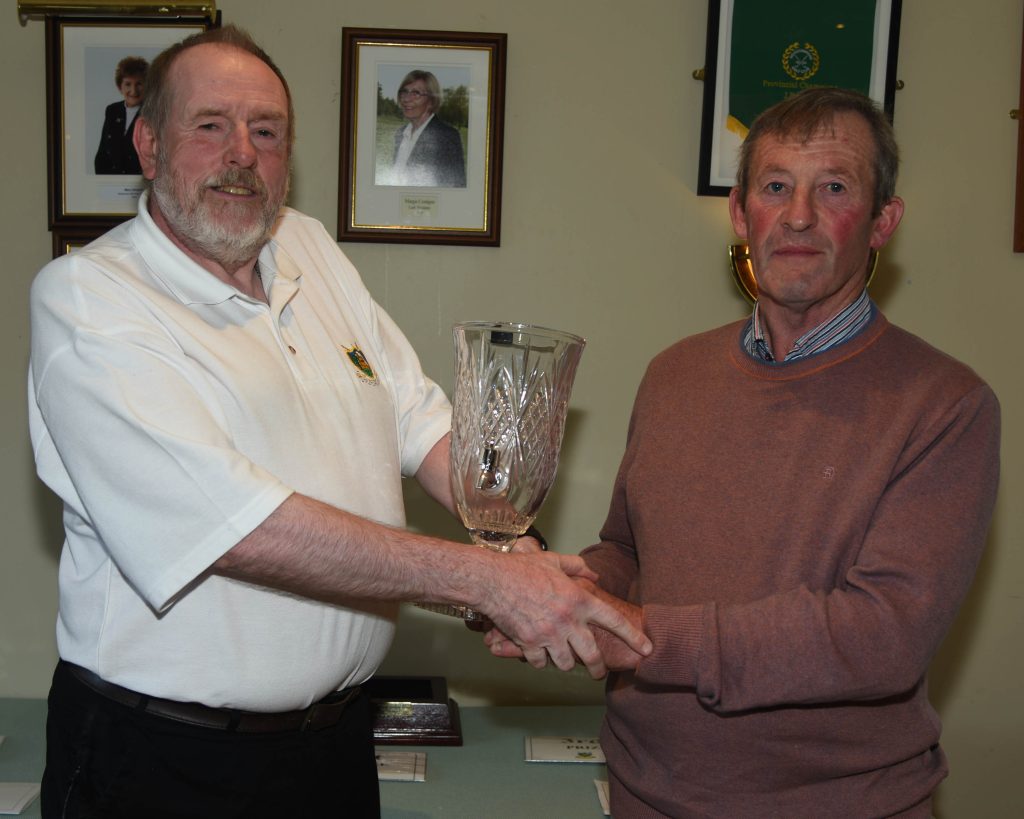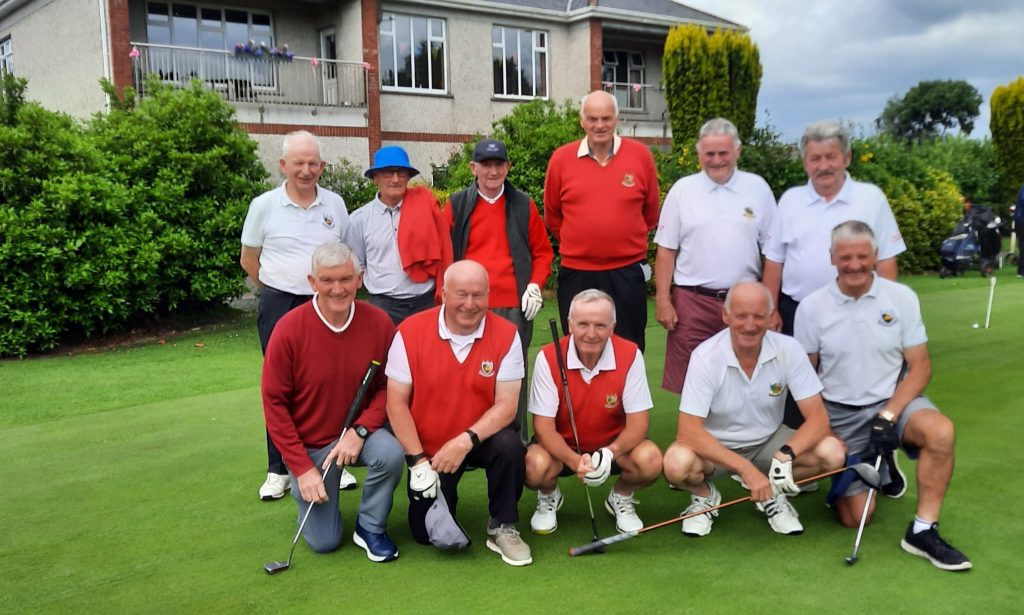 Templemore Golf Club,
(Photo 1 ) Vice Captain Winner presentation.  Vice Captain Les Mason presentation to John Hassett.  (Photo by Seamus Bourke)
(Photo 2) JB Carr Team and Manager that defeated Ballyneeny GC to reach the Munster Semi Final against Dungarvan GC. B.R. L. R. Mick Keely, Joe Fahy, Ferry Keegan, Mick Carey Manager, Bertie Keane, Dinny Touhy.  F.R. L.R. Pat Looby, Bernie O'Rourke, Dinny Maher, Seamus Bourke, Tom McGrath. (Photo by Seamus Bourke)
Vice captains Prize.
2nd. July.  On a blustery and sometimes sunny but mostly dry weekend we had a fantastic turn out for the Vice Captains Prize. With the course reflecting the great work by the greensmen. The results are In First place with 43 points was John Hassett. In Second Place with 42 Points Sean Cashman. In Third Place on count back with 41 points Mick Carey, in Fourth Place on count back with 41 points Dermot Cooper in Fifth Place on count back with 39 points Martin Walsh and in Sixth Place on count back with 39 points Tom McGrath. The best front nine score was 23 points Paddy Bourke and the Best Back nine was Donal Hayes with 21 points. Thank You to all who participated and contributed to a fantastic weekend. Presentation of prizes was on Sunday 2nd July at 7pm.
JB Carr Trophy.
30th. June.  Congratulations to the management and JB Carr team, who won 3&2 against Ballyneety on Fri. evening. They are now in the Munster Semi Final against Dungarvan GC.
Seamus Cody Trophy.
7th. July. Knockout of Round 2 fixtures.  Round 2 Matches.  Albie Egan V Paul Touhy.  Tony O'Toole V Paddy Bourke.  Jerry Keegan V Mick Carey.  Bernie O'Rourke V Michael Delaney.  Round 3 will commence on the 8th. July.
Women's Golf Results.
27th. June.  18 Hole Stableford.  1st. Evelyn Lyons. 36pts.  2nd.  Marian Hodgins 34 Pts.  3rd. Bridget Gleeson 32 Pts.
30th. June.  9 Hole Stableford.  1st.  Pauline Purcell 16pts.  2nd. Ann Hogg 14pts.  3rd. Breda Murphy 9 pts.
Wed. Mixed Social.
28th. June.  Social Mixed Results: 1st.  Frances Stapleton, John Fitzpatrick, John Hassett, Tom McGrath -24 nett.  2nd.  Biddy Gleeson, EveLyn Lyons, Micheal Purcell- 26.5.
Seniors Golf.
29th. June,  On a variable but dry day of weather nine teams strode out and the first two teams could only be separated on a countback with 55 points.  1st. place John Kirwan, John Fitzpatrick, Tony O'Toole and Tommy Deegan.  2nd. With  55 points, Ted Kennedy, Frankie Shortt, Mick Cahill and Jim Casey.  3rd. place with 52 points.  Paddy Bourke, Paddy Fogarty, Colm Dooley and George Collins. Well done all.
Juvenile lessons
3rd July.   Lessons will commence on Monday at 10 am. Cost €5. Lessons for Beginner Ladies will follow at 11 am. It is hoped to run the lessons for 6 or 7 weeks.
Dates for your Diary. 
Social mixed will continue on Wed's at 6pm.
Seniors.  Every Thursday 10am. Refreshments afterwards in new Club House "GreenView Restaurant".