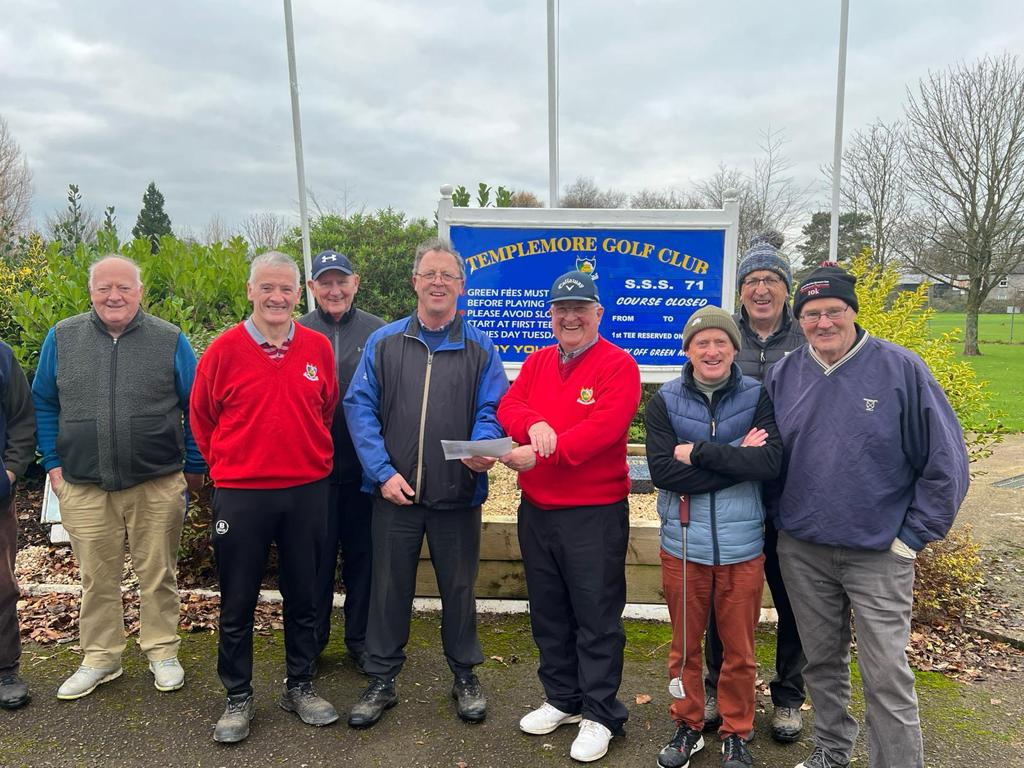 Templemore Golf Club Seniors. Presentation to the Club development fund, L.R. Christy O Rourke, Tom McGrath, Mick Murphy, Course Manager Liam Leahy,  Presentation by Phil Ryan Snr., Sean Cashman, Paudie Butler, Paddy Bourke.  
Men's Seniors  
1st Dec.  On a grand day for golf 6 teams got out and even though we were mindful of the course condition after the continual rain.  Great scoring was aided by the foreshortened course so in 1st. place with 64 points, Donal Golden, Pat O'Connell, John Mullally and Jim Casey.  2nd. Place with 62 points, Jim Gleeson, Seanie Gleeson, John Galvin and Les Mason.  3rd. Place with 60 points, Tom McGrath, Sean Cashman, Mick Murphy and Phil Ryan.  It was great to be back together after a month. Don't forget 15th December after Senior Golf. Christmas Meal in Murphy's at 2pm.
Christmas Fare.
We will be planning some Christmas Fares in the next week, weather permitting.
50/50 Draw.
23rd. 30th. Oct. 6th. And 13th. Nov.  The 50/50 draw is carried over due to the inclement weather.   The 50/50 Draw is also available online for anyone who cannot make it to the club.
Dates for your Diary. 
Seniors. Every Thursday 9 AM.