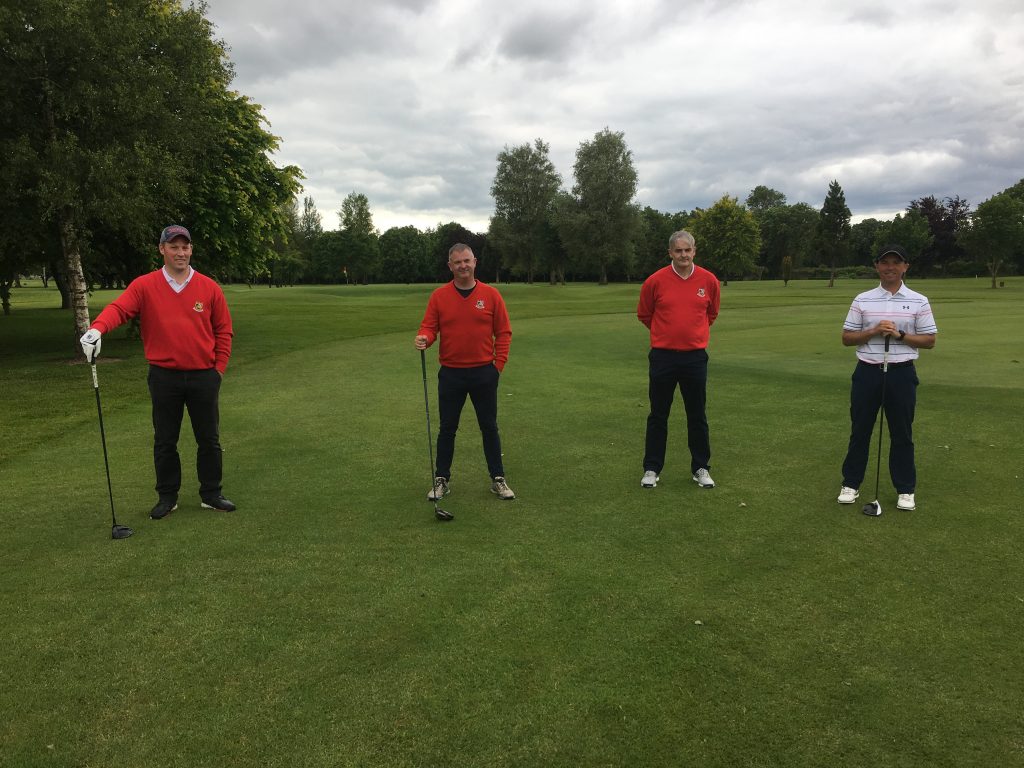 The Fred Perry Irish Seniors Club Tournament Trophy.  Home team that was successful in victory over Tipperary Town on Wed. 23rd. June.  L.R.  Liam Daly, Ted Kennedy, Tom McGrath, Team Manager Dinny Touhy, Padraig Moloney, Dinny Maher, Mick Keely.
Templemore Golf Club News.
 Another Sweet Victory For Templemore Versus Thurles Golf Club in the "Jimmy Bruen" Shield. On this Sunday 20th.    At 2pm. the competition commenced with 3 teams away and 2 at home.  The weather was very inclement but did not deter the ambition of the Templemore pairings in gaining a sweet victory over Thurles Golf Club.  Templemore won both sets at home and one away in Thurles that went to the 19th hole.  A tremendous victory for Templemore, the team manager Padraig Moloney and his ambitious team, (Home), Philly Ryan, John McGrath, Ciaran Hassett and Keith Morris.  (Away in Thurles), Tommy Murphy, Conor Sheedy. Declan Kennedy, Ger Clifford, Timmy Tuohy & Shane Russell.  A special congratulations to all.
 Competition Results.
4th. July.. 18 Hole Results.  1st. Trevor Quinn 42pts,  2nd, John Stapleton 41pts,  3rd, Frank Russell 39pts..  full results on Master Score Board.
 Ladies 18 Hole Stableford.
Tuesday 22nd. July.  1st. Mary All Maher 39pts. .  2nd. Mary Hayes 36Pts, . 3rd. Mary Butler 34pts.
 50/50 Draw;
4th, July,  50/50 lotto. Tom Quinlan €175.
Seniors Golf;
1st. July.  On a lovely sunny day on the golf course spirits were high and the 7 teams headed off to play the back nine for a change and in first place with 57 points,  Donal Golden, Les Mason, Tom Hogan and Tommy Deegan
In Second place with 55 points were, Paddy Fogarty, Eddie Butler, Jim Gleason and John Browne, And in Third place with 54 points, Gerry Keegan, Pat Maher, Phil Ryan and Seamus Ryan.  Well done for a great turn out and thanks to for supporting us on the front desk.  Congratulations to our teams Sweet Victory over Thurles in the Jimmy Bruin Shield.
Covid 19 Guidelines.
Reminder.  Players must sign in at the clubhouse door before teeing off.
 Membership Subs.
Reminder.  Fully paid Members only will be able to book play on the Tee Times Web Site. Options to pay are all on the website.   All visitors are welcome contact 0504-31400.
 Future Competition Dates;
18 hole stroke competition next weekend. 10th & 11th.
Captains & President Prize Dates;
Captains Prize weekend 16th. 17th. and 18th. July.
Presidents Prize 14th. 15th. August.
Social mixed. Every Wednesday.