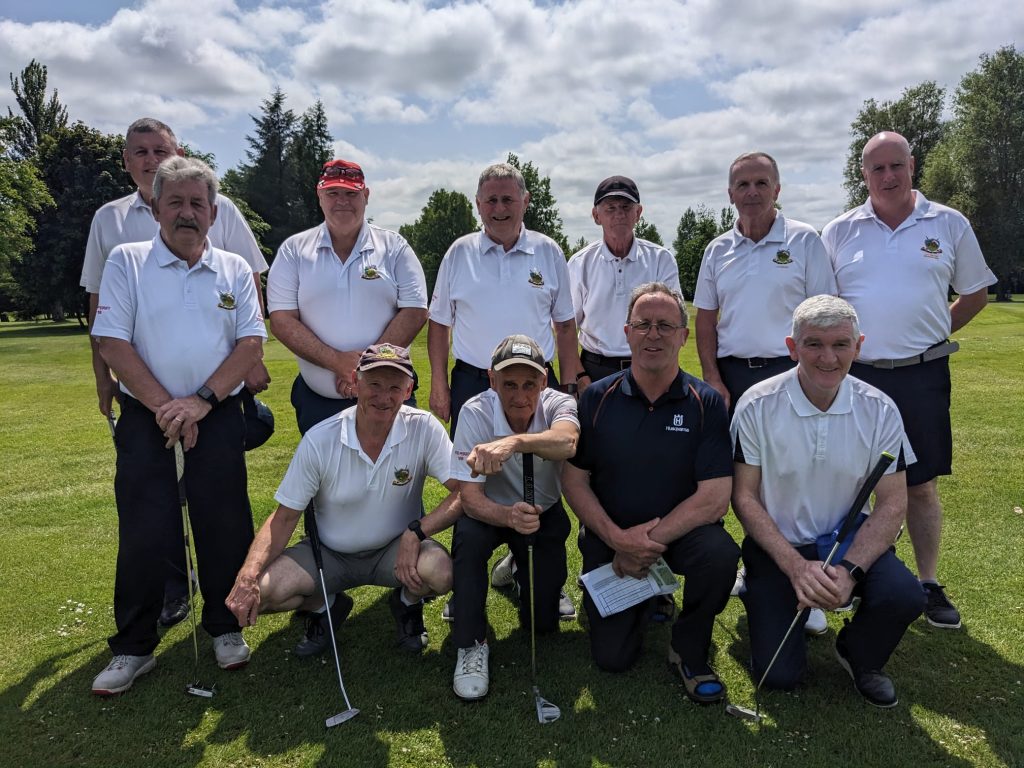 Templemore Golf Club. Fred Perry Team.  B.R.L.R.  Ted Kennedy. Dinny Tuohy, Declan Russell. Bertie Keane, Gerry Keegan, Dinny Maher,  Padraig Moloney.  F.R.L.R. Seamus Bourke, Joe Fahy,  Liam Leahy Manager, Pat Looby. (Photo by Seamus Bourke)
Golf Club Café.
A new innovation has developed for the club.  "Liz's Café" has opened its service upstairs in the club house.  Liz and her staff are to be congratulated for their efforts in delivering a 1st rate service to all who visit the club.  This service is also available to everyone.  Thursday, Fridays, Saturdays, Sundays from 10am to 5pm.
Fred Perry Interclub Competition.
28th. May.  Fred Perry Trophy Team victory over Mitchelstown, final result 4;1 wins for first 3 pairs, with back 2 up by 3 and 2 holes respectively.  Congratulations to Liam Leahy and all the players a great result. Templemore now travel away to play Cahir Park in the area semi-final.
Carr Team.
Congratulations to the management of the JB Carr team of Mick Carey and Liam Daly. The team had another great victory this evening in the second leg against Cahir and are now crowned Tipperary champions. They now meet the Limerick champions in the next round.
Vice Captain Date Change to 1st. and 2nd. July
To facilitate the completion of the Lady Captain's get into golf Initiative and the Revive Active Templemore Ladies v Thurles the Vice Captains prize has been rescheduled to the 1st. and 2nd. July names by 6pm on Thurs 29th June either on the sheets in Men's Locker room or here on WhatsApp please enter your name specify day Sat 08:00 to 10:00 or Sat 12:00 to 14:00 or Sun 08:00 to 10:00 or Sun 12:00 to 14:00. If you need a very specific time slot please indicate and the competition committee will make every effort to accommodate. I am sorry if you have already registered your names and preferred times but can you please confirm that you still require these slots. Thank you all for your support in this.
Women's Golf Competitions.
20th. May.  Templemore Jewellers, 1st. Sheila Delaney.  2nd. Lorraine Ryan. 3rd. Claire Fitzpatrick.
23rd. May.  18 Hole Stroke Competition, 1st. Niamh Connolly, Lorraine Ryan, 3rd. Breda O'Connell.
30th. May.  18 Hole Stableford.  Margaret Buckley, Ann Mary Maher, Breda O'Connell.
Women Getting Into Golf Programme.
3rd. June. The 9th. round of "Getting Into Golf" programme.  A continued dedicated turn out. On a fantastic day for golf, the Ladies  "Scramble with Club Members" on a full fairway.  The enthusiasm was fantastic and all were very pleased with their progress.  The programme will continue every Saturday morning from 10am to 12 noon up to June 10th.  The next leg on June 10th. will be the last event playing a scramble with current members.  A great development for all.  If anyone wants to join the programme contact Ladies Captain Mary Gilmartin. 087-7992355.
Seniors Golf.
1st. June.  On a bright sunny day reminiscent of Italian weather the seniors wandered out factor 50'ed up.  And the scoring matched the factor. So in first place with 53 points, Ollie Murray, Liam Daly, Tom Hogan and Tommy Deegan. In second on count back with 52 points Paddy Bourke, Seanie Gleeson, Colm Dooley and Jim Gilmartin and in Third place also with 52 points Jim Gleeson, John Greed, Jim Casey and Mick Cahill.  Please remember next week Thursday 8th June our first outing of 2023 at Roscrea Names by 6pm Tuesday 6th June. Cost €30 includes golf and dinner.
50/50 Draw.
COURSE/MACHINERY INITIATIVE.  50/50 Lotto revamp.  Next draw in the new 50/50 Lotto is Sunday 4th June. You can still join and support the Club's improvement plan.  50 euro gets you 1 entry to 26 draws while 100 euro gets you 3 entries to 26 draws.  Pay at the Clubhouse, through the bank or online.. 3 PAYMENT OPTIONS: (1) Usual envelope system of 2 euro per entry (three for 5 euro) in Clubhouse. (2). 50 euro for one entry to 26 draws (1 year). (3) 100 euro for 3 entries for same 26 draws. Please support this initiative. Funds to be used for Course works and machinery upgrades.  Payment options:  * Clubhouse; * Club Bank a/c – Bank of Ireland, Thurles ie21bofi 904456 78133532.  On Line Payment details on Club website, Templemoregolfclub.ie or to any Committee member.  If you're not in you can't win !!
Fees for 2023 need to be paid if one wants remain a member.
Full Member €350.  Couple €500.  Retired-unemployed couple €450.  Family (2Adults+their 2 children under 18yrs) €550.
Country Member €250. Beginner 2023 (1st.yr. 250) ( 2nd. Yr. 350).  Beginner Couple (1st.yr. 400) (2nd. Yr. €500). Students 3rdLevel College & Garda Students €125.  Juvenile (under 18yrs) €75.  Retired-Unemployed & Clergy €300.  Distance (outside 50k) €175.  Green Fees (no reduction for 9 holes) €20.
FEE Payment Options.
Club House: Use "FEE" drop box in Locker rooms.
On Line: http://templemoregolfclub.ie/membership/ [templemoregolfclub.ie]Select your Category and proceed by Pay Pal OR by Credit Card.
On-Line Banking Transfer; IBAN; IE21BOFI90445678133532, BIC; BOFIIE2D.
Contact any committee member.
Dates for your Diary. 
Social mix will continue on Wed's at 7pm.
Seniors.  Every Thursday 10am. Refreshments afterwards in new Club House "Liz's Café".
Inter Club Competitions.  Team Captains & Vice-Captains.
AIG Men's Jimmy Bruen Shield – Captain, Padraig Moloney , Vice- Captain, Denis Maher
AIG Men's Pierce Purcell Shield – Captain, Tom McGrath, Vice -Captain, Dinny Tuohy
AIG Men's Fred Perry Trophy Captain – Liam Leahy, Vice – Captain, (not picked)
Boys' Fred Daly Trophy – Captain, Pat O'Connell, Vice Captain (not picked)
6. J.B. Carr Tournament – Captain, Michael Carey,   Vice-Captain, Liam Daly
7. Munster Country Clubs Cup – Captain, Seamus Bourke
8. Mixed Foursomes Roscrea Golf Club – Captain's Declan Kennedy & Mary Gilmartin