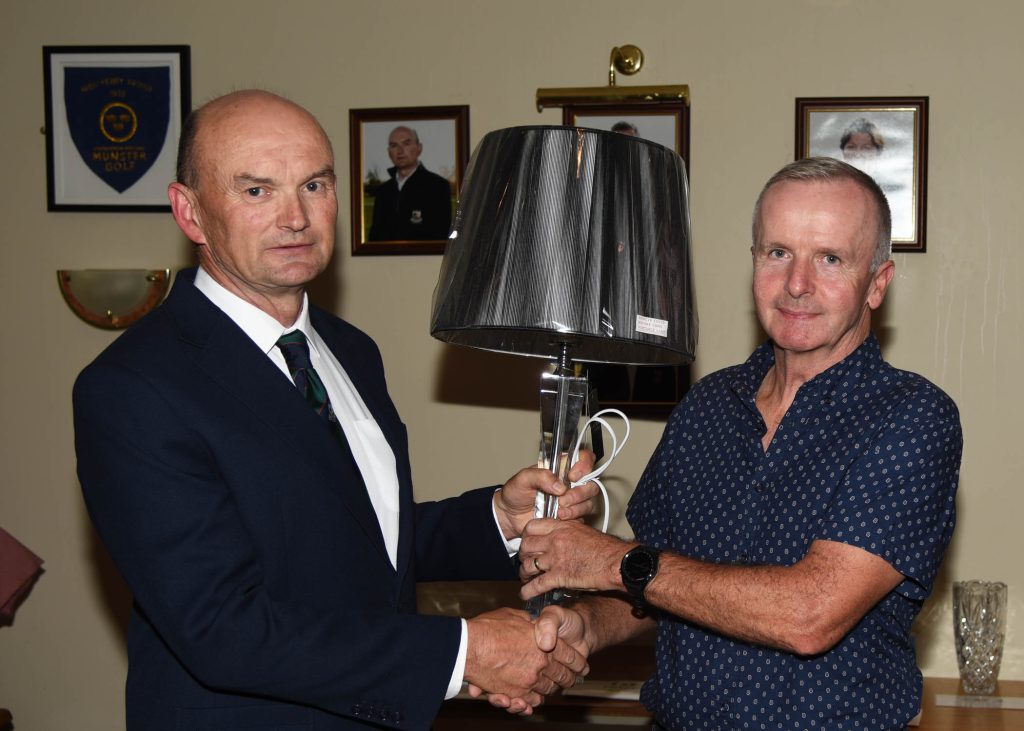 Templemore Golf Club, President Prize Presentation, by President Michael Purcell to the Winner Denis Maher.  (Photo by Seamus Bourke)
President Michael Purcell Appreciation.
It is an honour and privilege for me to be President of Templemore Golf Club for 2022. A special word of thanks to Bertie Keane for nominating me for the position as President.  I acknowledge and thank all of my fellow golfers for taking to the fairways and taking part in the President's Prize over the last two days.  Congratulations to Denis Maher, who played a great round of golf and had an excellent and impressive score. Well done to all the prize winners. The competition could not have taken place without the hard work and fantastic support of several people who deserve a special mention.  Special thanks to the competition committee – Seán Lee, Les Mason, Declan Russell and Michael Keely for running the competition.  I want to acknowledge the excellent job done to ensure that the competition ran smoothly over the weekend.   A special mention to the course team, Denis Maher, Tom McGrath, Michael Webster and Liam Leahy, for excellent work and having the course in perfect condition.  I also want to acknowledge the work of all the members who volunteered and helped out on the course prior to the competition.  Thanks to everybody for supporting the President's Prize and making this an enjoyable weekend of golf.   Finally, I am delighted to designate Rody Cawley to take over the position of Club President for 2023.   President Michael Purcell.
Presidents Prize Winners,
3rd. and 4th. September.  Winners.  1st. 45pts. Denis Maher.  2nd. 42 pt. Frank Russell.  3rd.  40pts. Paddy Bourke.  Best Gross, Declan Kennedy.  Past President. Liam Daly.  Cat.1 (1-18) John Maloughney. Cat. 2 (>18) Les Mason.  8th. 40pts. Brian Kennedy.  9th. 39pts. Johnathan Coleman.
President Designate 2023.
Congratulations to Rody Cawley in his appointment to President 2023.
Golf Classic Reminder.
Friday 16th. Saturday 17th. Sunday 18th. September. Fundraiser Classic in Celebration of Club Independence. Full support requested from all members to enter a team €120.  Members and visitors can now book their timeslots via Master score Board or www.templemoregolfclub.ie [templemoregolfclub.ie] Your support greatly appreciated.
Men's President Social Mix.
31st . Aug.  Result of mixed competition.  1st. Team,  Mary Butler, Jim Ryan, Lorca Reilly.  2nd. Team,  Margaret Buckley, Seamus Bourke, Brendan Russell.  Congrats to all.
Ladies 18hole Stableford.
30th.  Aug..  1st. Marie Rabbittee 41pts. 2nd. Margaret Costigan, 40pts.  3rd. Helen Hayes 38pts.
Juvenile School of Excellence.
The Juvenile School concluded on Tuesday 23rd. Aug.  after an excellent participation by the Juveniles.  "The future of Golf"   "GOLF IS FOR EVERYONE"
50/50 Draw.
Roll over to next week..
The 50/50 Draw is also available online for anyone who cannot make it to the club.  http://templemoregolfclub.ie/membership/ [templemoregolfclub.ie]
Ladies Seniors.
29th. Aug.  On  Monday 29th.  eighteen Senior Ladies played in the competition, sponsored by Templemore Jewellers    In First place were  Mary Nolan and Pauline Purcell    2nd. place were Noreen Whelan, Kathleen Cahill and Kaye Walshe.  A lovely tea was hosted by our Lady Captain Mary and Lady President Mary.   It was much enjoyed and appreciated.  Well done to everyone.  Senior ladies play every Monday morning at 10 30 and is enjoyed by all.
Men's Seniors .
1st. Sept.  Well some races are won by a nose some by a short head or a neck but on a lovely day for golf 7 teams went out and the winners by a distance on 63 (Sixty Three) points were Bernie O'Rourke, Mick Murphy, Michael Cahill and Roddy Cawley.  Second on 57 points were Paddy Bourke, Jim Casey and Paddy Nolan and Third on 54 points were John Kirwan, Pat Maher, Christie O'Rourke and Willie Haverty.  Great shooting lads. A reminder Next week the Seniors will be on Wednesday 7th September as there is an LMC outing on Thursday.
"Golf is for Everyone" Fees.
Green Fees;  Visitors, €15 for 9 or 18 holes.  Men, Women and Juveniles.  Full Membership will allow you to have access to Club Competitions, Master Score Board for Tee Bookings and Members WhatsApp.  Fees can be paid to any committee member, or placed in the FEE Box in the Locker room.  Alternative, you can pay on the web site.  http://templemoregolfclub.ie/membership/ [templemoregolfclub.ie]  All fee rates are on the Web Site.
Dates for your Diary.
Mixed Social.  Every Wed..
Seniors. Every Thursday 9 AM.
Golf Classic.  Fri. 16th. Sat. 17th. Sun. 18th. September.