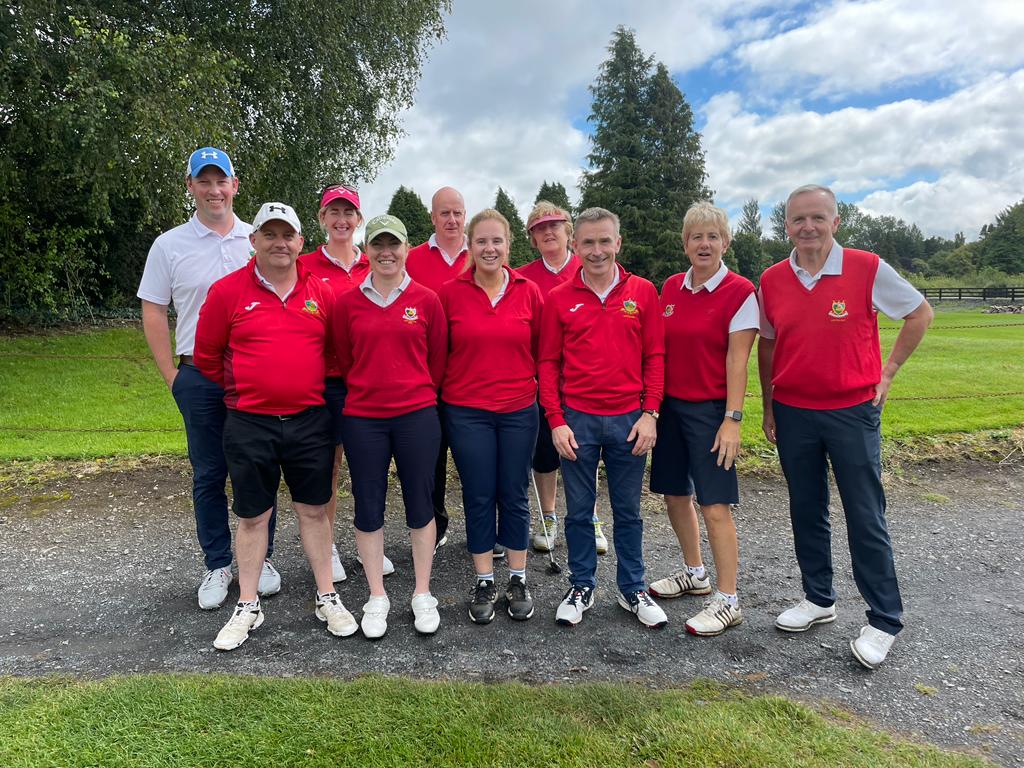 Templemore Golf Club. Heineken Diageo Mixed.  The Team. Ciaran Hassett, Michelle Hassett, Padragh Moloney, Josie Bourke, Dinny Maher, Mary Fitzpatrick, Timmy Touhy, Loraine Ryan, Declan Kennedy, Clare Fitzpatrick.
Templemore Golf Classic.
8th. 9th. 10th. Sept. Our annual Club Classic is on Fri 8th, Sat 9th and Sun 10th Sept.  Team of four entry is €120 euro.  This is a very important financial fundraiser for our club.  All members are encouraged to take part and also encourage golfers from outside our club to make up a team of four.  You can now book your tee time via Master Scoreboard or www.templemoregolfclub.ie [templemoregolfclub.ie]  Thanks for your support.  Regards Club Committee
Weekend Competition.
3rd Sept.  The weekend of the 2nd. and 3rd. September saw the Indian Summer arrive and the conditions were great for golf. The winner of the 18-hole Competition was Jody Boyle with 39 points and in Second was Ambrose Purcell with 37 points.
Fred Perry Team.
2nd Aug.  Congratulations to The Fed Perry team, who beat Lucan Golf Club in the All-Ireland Quarter Final in Callan 3.5 to 1.5. They now play the all-Ireland semi/final in Westport on the 22nd, 23rd. and 24th. of September.
Seniors Golf.
31st.  Aug.  On a day that started off miserable and dreek and with some shuffling of personnel the nine teams finished their rounds in great golfing weather. And the scoring once again was close across all the teams. In 1st Place with 54 points were Eamon Conolly, Frankie Shortt and John Stapleton. In 2nd Place on 53 points Ollie Murray, John Greed, Les Mason, and Jim Middleton. In 3rd place with 52 points were Bernie O'Rourke, Mick Murphy, and Christy O'Rourke. Well played all.
Seniors Contribution to the Club.
31st. Aug.  The Seniors contribution to Rody Cawley's Presidents prize is handed over to the Competitions Secretary Sean Lee by the Seniors Treasurer Les Mason
Ladies Golf.
15th. Aug.  18hole Stableford,  1st. Marian Keely, 2nd. Michelle Hassett, 3rd.  Claire Fitzptrick.
22nd Aug.  18 hole Stableford Sponsored by Templemore Jewelers.  1st. Claire Fitzpatrick, 2nd. Mary Ann Maher, 3rd. Mary Hayes.
29th. Aug.  18 Hole Stableford.  1st. Shelia Delaney.  2nd, Mary Ann Maher, 3rd. Evelyn Lyons.
50/50 Draw.
27th. Sept.  President prize 50/50 draw winner of the 50/50 was Pat Dunne who pocketed € 170.
Dates for your Diary. 
8th. Sept.  Fri, Sat, 9th. Sun, 10th., Sept. Classic Weekend.
22nd, 23rd. and 24th. of September.  Fred Perry all-Ireland semi/final in Westport.
Social mixed will continue on Wed's at 6pm.
Seniors.  Every Thursday 10am. Refreshments afterwards in new Club House "GreenView Restaurant".