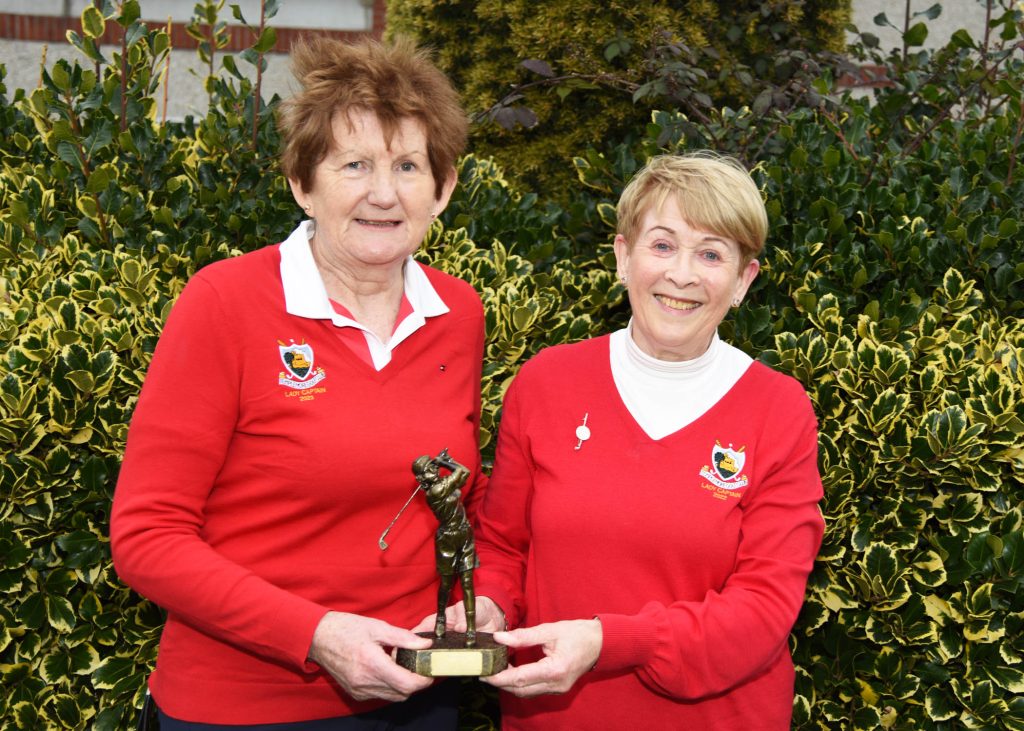 Templemore Golf Club Lady Golfer of the year 2022.  Presentation by current Lady Captain Mary Gilmartin to Former Lady Captain Mary Hogan (Photo by Seamus Bourke)
Lady Golfer of the year 2022.
Mary Hogan former Lady Captain been presented with a Golf Statuette by Lady Captain Mary Gilmartin.  Congratulations to Mary on a hard earned prize due the very competitive performance from all the Ladies during 2022.  Well done for your consistence Mary.
Spring League.
4th. March.  Reminder,The dates for the spring league are. Round 1.  27th. February, Finish 12th. March.  Round 2, 6th. March, Finish 19th. March.  Round 3, 13th. March,  Finish 26th. March.  Round 4, 20th. March,  Finish  2nd. April. Teams are now posted in the men's locker room and via WhatsApp. Entry fee is €20 to be paid on start of 1st round, €3 per re-entry.  If you have any queries please contact Sean Lee on 087 221 8506 good luck and enjoy. The Competitions Committee.
Week-end Results.
25th & 26th February, saw a great turnout for first 14-hole competition of the year. The winner on countback with 32 points was Michael Fogarty in second also on 32 points was Tom Quinlan and third with 30 points was Sean O'Sullivan.
Seniors.
2nd Mar.  On a grey slightly cool but great day for golf Eight teams participated in the latest episode of Templemore Seniors Do Thursday. In First Place with a fantastic 57 points were John Kirwan, John Galvin, George Collins, and Colm Dooley. In second, on countback, with 51 points, Tom McGrath, Ger Hayes, Micheal Healy, and Phil Ryan (Snr) and in 3rd also with 51 points Ambrose Purcell, John Mullally, Paudie Butler and James Murray. Great Day all and thanks to President Rody for preparing the refreshments afterwards.
50/50 Draw.
The 50/50 Draw is also available online for anyone who cannot make it to the club. http://templemoregolfclub.ie/membership/ [templemoregolfclub.ie]   Scroll down to the end of the FEE categories and select the 50/50 Buy Now.
Fees for 2023 are now due.
Full Member €350.  Couple €500.  Retired-unemployed couple €450.  Family (2Adults+their 2 children under 18yrs) €550.
Country Member €250. Beginner 2023 (1st.yr. 250) ( 2nd. Yr. 350).  Beginner Couple (1st.yr. 400) (2nd. Yr. €500). Students 3rdLevel College & Garda Students €125.  Juvenile (under 18yrs) €75.  Retired-Unemployed & Clergy €300.  Distance (outside 50k) €175.  Green Fees (no reduction for 9 holes) €20.
FEE Payment Options.
Club House: Use "FEE" drop box in Locker rooms.
On Line: http://templemoregolfclub.ie/membership/ [templemoregolfclub.ie]Select your Category and proceed by Pay Pal OR by Credit Card.
On-Line Banking Transfer; IBAN; IE21BOFI90445678133532, BIC; BOFIIE2D.
Contact any committee member.
Dates for your Diary. 
SPRING League. Round 1.  Commenced on 27th. February, Finish 12th. March.
Seniors.  Every Thursday 10am. Refreshments afterwards in Club House.