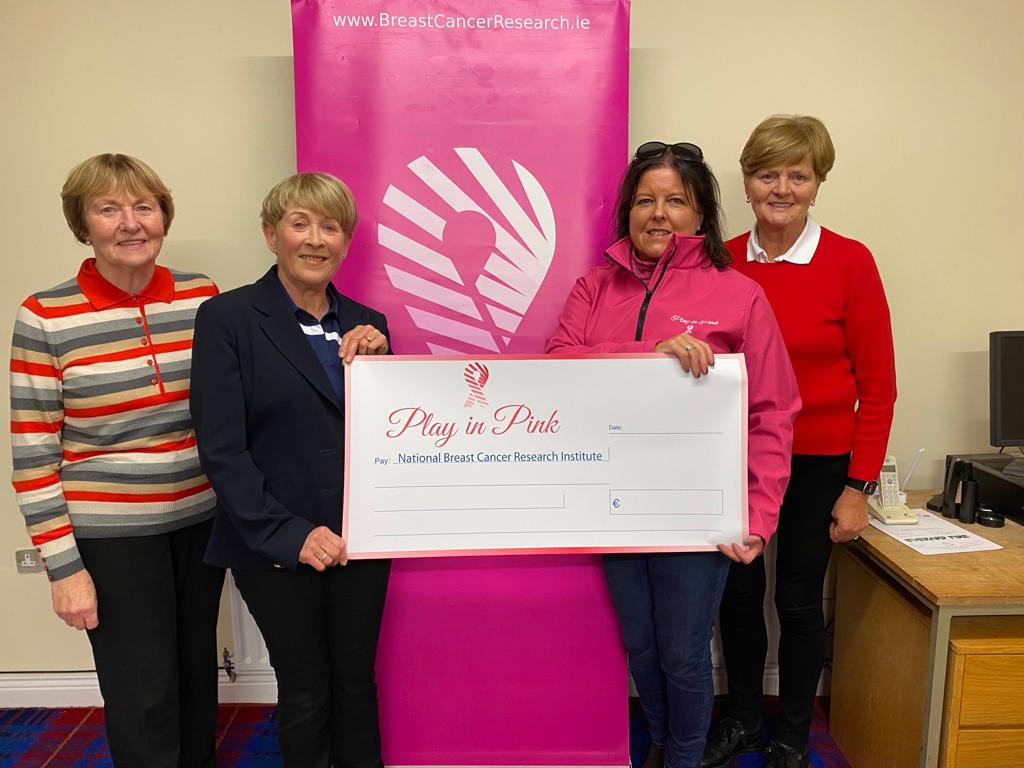 Templemore Golf Club, Brest Cancer Awareness, "Play in Pink"  L.R. Margaret Buckley Club Treasurer, Mary Hogan Club Captain, Francis Boyle Organiser, Marian Keely Club Competition. Secretary
Cancer Awareness "'Play in Pink' 
Lady Captain Mary Hogan on behalf of the ladies committee, presented funds raised for Breast Cancer Ireland 'Play in Pink' week £1,255, a testament of the club generosity . A sincere thanks to all of you who supported this very worthy cause.
Winter League.
Reminder:- the competition committee has deferred the start of the Winter League. Further review will be made on Tuesday 8th November.  Please have your names in no later than 5pm On that day. Names can be submitted on this WhatsApp group or for those that prefer old school on the sheet on the notice board in the locker room at the clubhouse.
Course Update. 
Due to constant torrential rain over the last two weeks, the course has been closed intermittingly for play.  Hopefully, next week 8th. Onwards there will be competitions and great results.
50/50 Draw.
23rd. 30th. Oct. and 6th. Nov  50/50 draw is carried over due to the inclement weather.
The 50/50 Draw is also available online for anyone who cannot make it to the club.  http://templemoregolfclub.ie/membership/ [templemoregolfclub.ie]
Men's Seniors  
3rd. Nov. With the weather forecast and the course remaining closed it is with regret that we will cancel this weeks seniors. Next week all will be in action again. stay dry lads
Ladies Golf; 
All activities cancelled due to the inclement weather. Further updates on the 8th. Nov. On the members WhatsApp.
"Golf is for Everyone" Fees.
Green Fees;  Visitors, €15 for 9 or 18 holes.  Men, Women and Juveniles.  Full Membership will allow you to have access to Club Competitions, Master Score Board for Tee Bookings and Members WhatsApp.  Fees can be paid to any committee member, or placed in the FEE Box in the Locker room.  Alternative, you can pay on the web site.  http://templemoregolfclub.ie/membership/ [templemoregolfclub.ie]  All fee rates are on the Web Site.
Dates for your Diary. 
Winter League.
Registrations for Winter League are now been collected.  The application notice list is available in the locker room.  You can also register on the Members  WhatsApp channel by 6pm on Tuesday 8th. Nov.  Teams of 4. Entry €20 (covering 4 rounds) re-entry €3
Round 1:  4th – 18th November
Round 2: 11th – 25th November
Round 3: 18th November – 2nd December
Round 4: 25th November – 09th December
Seniors. Every Thursday 9 AM.