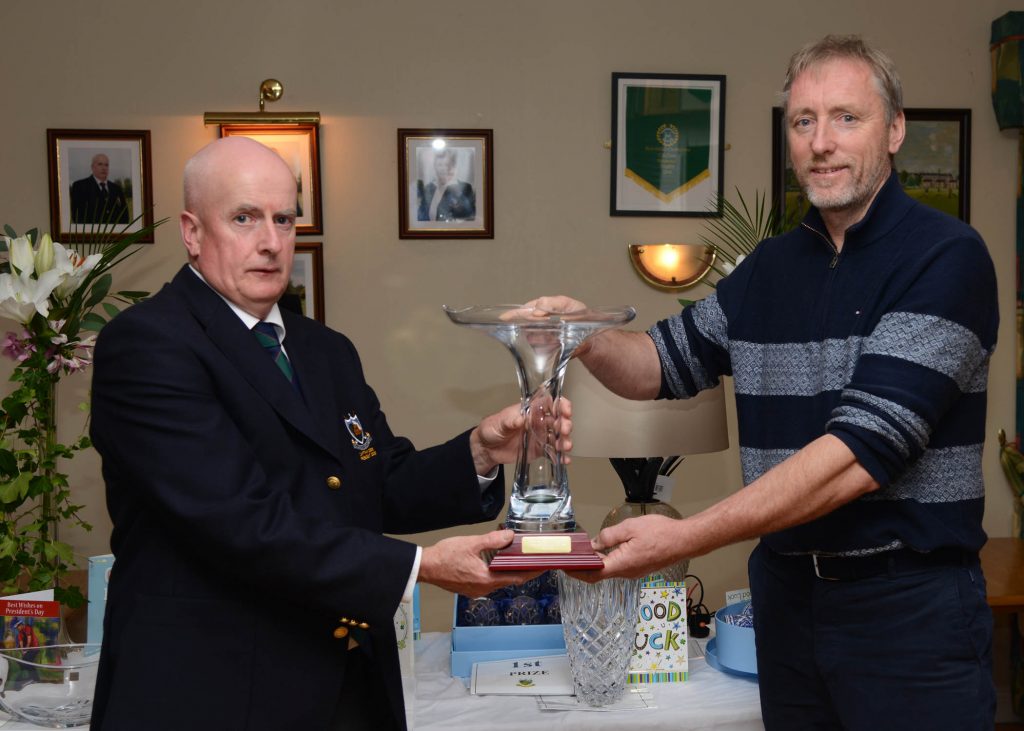 (Attached Photo;  Templemore Golf Club President Prize Winner presentation from Pádraig Moloney to Michael Delaney (Photo by Seamus Bourke)
Templemore Golf Club News; 
Presidents Prize;  With glorious weather, President Pádraig Moloney and lady President Breda Murphy Prize weekend was a major success with unprecedented number competing.  The scoring was very tight with only one stroke separating all 7 top winners.  A fantastic exciting competition.  The winners were;  1st. Michael Delaney 41pts.   2nd Joe Kennedy 41pts.  3rd.  Johnny Coleman 41pts.  4th. Jerry Keegan jnr.  5th. Ciaran Hassett 40pts.  6th. John McGrath 40pts.  7th. Sean Gleeson 39pts..  Front 9, Tom Kennedy, Back 9 Denis Tuohy.
President Prize presentations congratulations from President Pádraig Moloney.
Congratulations to the winner Michael Delaney and to all the other prize winners.  A special thanks to Michael Keely for nominating me as President. To all our members for attending the presentations and for supporting the club during covid-19 by continually playing golf.  Thanks to Tony O'Toole and Jim Ryan for informing all through the WhatsApp so efficiently and expanding to the "Master Scoreboard" bringing the club members closer and actively aware on playing opportunities and moving the club forward. The course was maintained in excellent condition, considering over 7000 games of golf have been played since Covid-19 restrictions were lifted on 18th. May, thanks to the Course Keepers, Course Manager, Liam Leahy, Vice-Captain, Dinny Maher. Green Keeper Jack Alexander for a super course layout.  Thanks to all volunteers in recent weeks for helping out.  A special thanks to Competition Secretary, Dinny Tuohy, Dinny Maher and Sean Lee for organising the President Prize and all other competitions.  Thanks to Pat O Connell for his work as Covid-19 officer, diligently at front desk.  I congratulate Lady President Breda Murphy on her prize table and to all Ladies prize winners. Thanks to Maura Sheehan for catering for men while we ran Presidents. A special support thanks to my wife Ann also for picking the prizes and for setting the table and my sons Patrick and Niall for their support.
Lady President Prize;  Congratulation to Lady President Breda Murphy on a successful week end of competitive golf, The winners were;  1st. Mary Guilmartin, 2nd. Mary Fitzpatrick, Gross, Shelia Delaney, 3rd. Lorraine Ryan.  Congratulations to all.
Seamus Cody Memorial Trophy;   The final "match play" between Bernie O'Rourke and John Hassett was contested evenly with Bernie overcoming John on the 16th. hole to win the Seamus Cody Memorial Trophy.  Congratulations to Bernie on his continues winning format.  An interesting competition as both final contestants were "Lefties" as also was Seamus.  A wonderful legacy of Seamus memory on his dedication to the club over years.  The trophy was presented to the club by Seamus family.  May his eternal memory be always with us.
Ladies Seniors;  1st. Kathleen Collier, 2nd. Mary O'Connor.  Congratulation to all.
50/50 Lotto;  Presidents 50/50 Lotto winner, Kay Boyle.  Congratulations Kay.
Seniors;  A nice turnout again on Thursday  3rd. with nine teams taking part returning some great scores. 1st. with 54pts. Seamus Bourke, Sean Gleeson, Frankie Shortt, James Murray.  2nd. with 52pts. Pat Dunne. George Collins. Mick Connell. Philip Ryan. And in 3rd. place with 50pts. Denis Tuohy, Liam Leahy, Oliver Murray.
New On-Line Tee Booking System;   The club new "Online Booking System" can be accessed on our Web site; www.templemoregolfclub.ie  no access to the course will be allowed without booking through the new system also registering on the "Covid-19 Tracing Register".  Visitors can contact info@templemoregolfclub.ie to request Tee times or link up with an existing member.
Seniors Results;  Seniors on Thursday   20th. and Thursday 27th. were cancelled due to the continued Storm Ellen Weather.  Next Seniors Outing will be in Tipperary Golf Club on Contact Phil, 087-0668060, Pat. 087-0668060. or P.J. 086-8828947.
New Members are more than welcome.
Select the "New Members" tab on the web site and complete the ONLINE application form and select submit.
Then select the "FEE" tab and proceed with payment.
If any difficulty contact Tony by text @ 086-8209991.
Make Golf a Life Changing Gift;   Give a life changing Sport experience to someone.  The Ideal gift for anyone who would like to take part in an active exercise sport.  Golf is that Ideal Gift.  Buy a membership Voucher now.  Contact Pat O'Connell 087-9205821 or any of the committee for to purchase the "Ideal Active Present".
Golf Active in Retirement for 2020;  For the active retirement, this is an excellent activity.  You will be more than welcome.
Why Join;
Good Outdoor Exercise; 9 holes + 2hrs.  18 Holes = 4hrs.
Good Social occasions, Presentation Nights, Social Mixed, Senior Events and Away Trips.
The Handicap System allows members of different abilities an equal chance of winning.
Various Category of Memberships are available at different rates.  ( see Membership rates on our web site).
The club will assist you in starter clubs to get you going.  Contact any current member for assistance and you will be looked after.
Private Donations for Course Development;  Donations, sponsorship, will be greatly received now that the club will have its own autonomy and will be used exclusively for Course Development.  Put your stamp on the course making a special contribution.  For Donations, Just select the "FEE" tab and then select "Make a Donation" tab on the Club Web Site http://templemoregolfclub.ie/membership/ , or in confidence contact; Club Captain Tom McGrath 087-1147666.
Future Competition Dates;
Weekly 9 hole S/ford;  Monday to Sat..