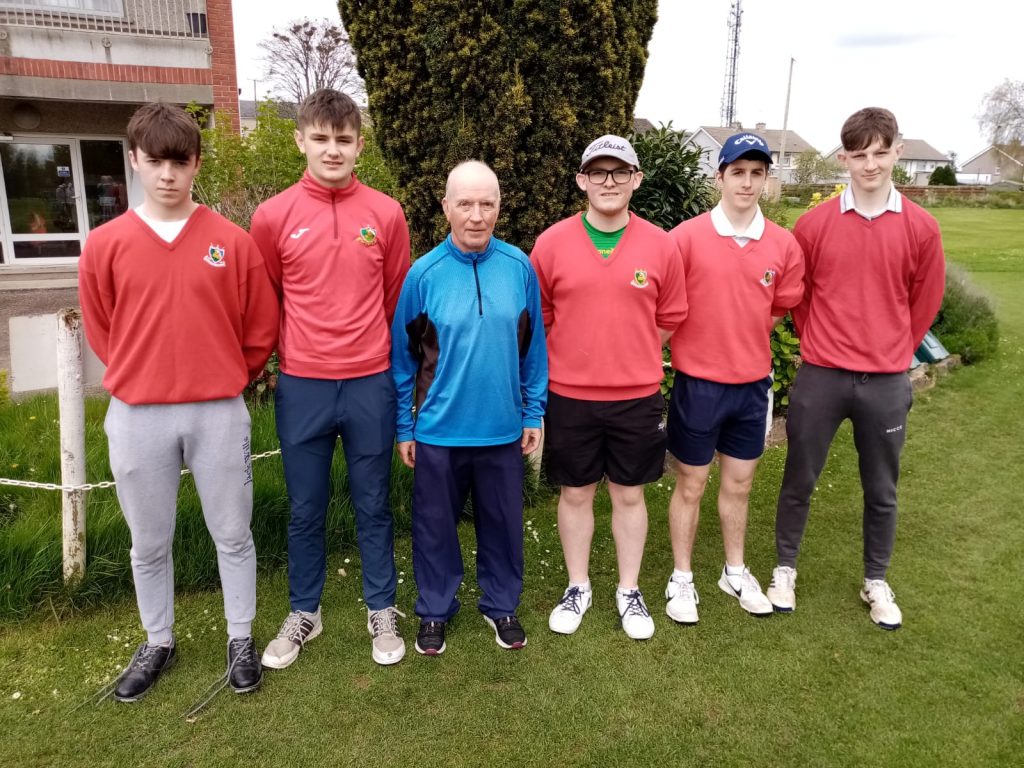 Templemore Golf Club. Fred Daly Team V Faithlegg Golf Club Waterford. L.R. Daniel Joyce, Ned Delaney, Pat O Connell manager, Eoin Kelly, Jamie Ormond, Ciaran O Shea. (Photo by Seamus Bourke)
25th. April.  Congratulations to Liam Daly and Mick Carey Managers of the J.B. team Templemore, on successfully beating Ballykisteen.
29th. April.  Well done to our Fred Daly team who were narrowly defeated by a very strong "Faithlegg Golf Club, Waterford," team. On behalf of the Club Pat O'Connell Manager expressed gratitude to the lads for representing the club in the manner they did. The Club can be proud of their efforts and the future looks bright for new competitive players also the best of luck to the Faithlegg team going forward.
30th. April.  Congratulations Tom McGrath and Dinny Touhy managers, and to the Pierce Purcell Team with a great victory against Slievenamon.   It was nail biting stuff with one win on the 19th and the last match winning on the 18th.
Ladies Getting Into Golf Programme.
6th.May, was the 5th. round of "Getting Into Golf" programme.  A continued dedicated turn out of over 70 ladies who never played this wonderful game before.  The programme covers a wide range of required skills to play the game comfortable.  Also included are golf technical instructions from a local golf Pro Shane Ryan.  The programme will continue every Saturday morning from 10am to 12 noon up to June 10th.   If anyone wants to join the programme contact Ladies Captain Mary Gilmartin. 087-7992355.
18 Hole Stableford Competition.
1st. May.  Bank holiday weekend. The weather was good and the course was in excellent condition thanks to Dinny Maher and Pat Shelly. These excellent conditions led to some good scoring. In first place with 42 points was Joe Hennessy; In second with 39 points was John Galvin and in Third place with 36 points, on count-back, was Michael Fogarty. Well done all.
6th.May. On a the first May weekend, The weather was still stuck in April and the 18 hole stableford was played in showery conditions. It was a close finish with the first three places separated on countback. In 1st. place with 36 points was Michael Purcell in 2nd. place also on 36 points was Donal Hayes and in 3rd place with 36 points was Brian Kennedy. Well done all.
Seniors Golf.
26th. April. So even on a Wednesday we got a great turnout and the weather was better than forecast which highlighted the fantastic condition the course is in. There was mixed scoring from the seven teams. In First place with 54 points were Eamonn Connolly, Tony O'Toole and Donal Golden. In Second Place with 53 points Liam Leahy, Pat O'Connell, John Egan and Pat Maher and in Third place with 51 points were Bernie O'Rourke, Gerry Hayes, George Collins and Colm Dooley. Hopefully we will be back to our usual Thursday next week. Well done all
4th.May.  The force was with the Eight Seniors teams that ventured out on the course this morning, and there was good scoring across the board. In First place with 53 points was Jim Gleeson, John Egan, Tom Kenny and Rody Crawley. In Second place was John Galvin, Pat Maher, Les Mason and Pascal Whelan. In Third place on count-back with 51 points was Eamon Conolly, Pat O'Connell, Phil Ryan Snr. and Tommy Deegan.  A particular thanks to the Course team for doing the vital drainage work around us and allowing the Seniors to play.. Thank You
50/50 Draw.
1st.May. The past president Padraig Moloney dipped his hand in the bucket and pulled out Mick Murphy's envelope, Mick will be the recipient of €150.
The 50/50 Draw is also available online for anyone who cannot make it to the club. http://templemoregolfclub.ie/membership/ [templemoregolfclub.ie]   Scroll down to the end of the FEE categories and select the 50/50 Buy Now.
Fees for 2023 are now due.
Full Member €350.  Couple €500.  Retired-unemployed couple €450.  Family (2Adults+their 2 children under 18yrs) €550.
Country Member €250. Beginner 2023 (1st.yr. 250) ( 2nd. Yr. 350).  Beginner Couple (1st.yr. 400) (2nd. Yr. €500). Students 3rdLevel College & Garda Students €125.  Juvenile (under 18yrs) €75.  Retired-Unemployed & Clergy €300.  Distance (outside 50k) €175.  Green Fees (no reduction for 9 holes) €20.
FEE Payment Options.
Club House: Use "FEE" drop box in Locker rooms.
On Line: http://templemoregolfclub.ie/membership/ [templemoregolfclub.ie]Select your Category and proceed by Pay Pal OR by Credit Card.
On-Line Banking Transfer; IBAN; IE21BOFI90445678133532, BIC; BOFIIE2D.
Contact any committee member.
Dates for your Diary. 
Getting into Golf. The next stage of the programme will be on Sat. April 29th..
Seniors.  Every Thursday 10am. Refreshments afterwards in Club House.
AIG Men's Fred Perry Trophy.  Upcoming game v Tramore fixed for 27th May at 2pm. In Tramore.
Inter Club Competitions.  Team Captains & Vice-Captains.
AIG Men's Jimmy Bruen Shield – Captain, Padraig Moloney , Vice- Captain, Denis Maher
AIG Men's Pierce Purcell Shield – Captain, Tom McGrath, Vice -Captain, Dinny Tuohy
AIG Men's Fred Perry Trophy Captain – Liam Leahy, Vice – Captain, (not picked)
Boys' Fred Daly Trophy – Captain, Pat O'Connell, Vice Captain (not picked)
6. J.B. Carr Tournament – Captain, Michael Carey,   Vice-Captain, Liam Daly
7. Munster Country Clubs Cup – Captain, Seamus Bourke
8. Mixed Foursomes Roscrea Golf Club – Captain's Declan Kennedy & Mary Gilmartin