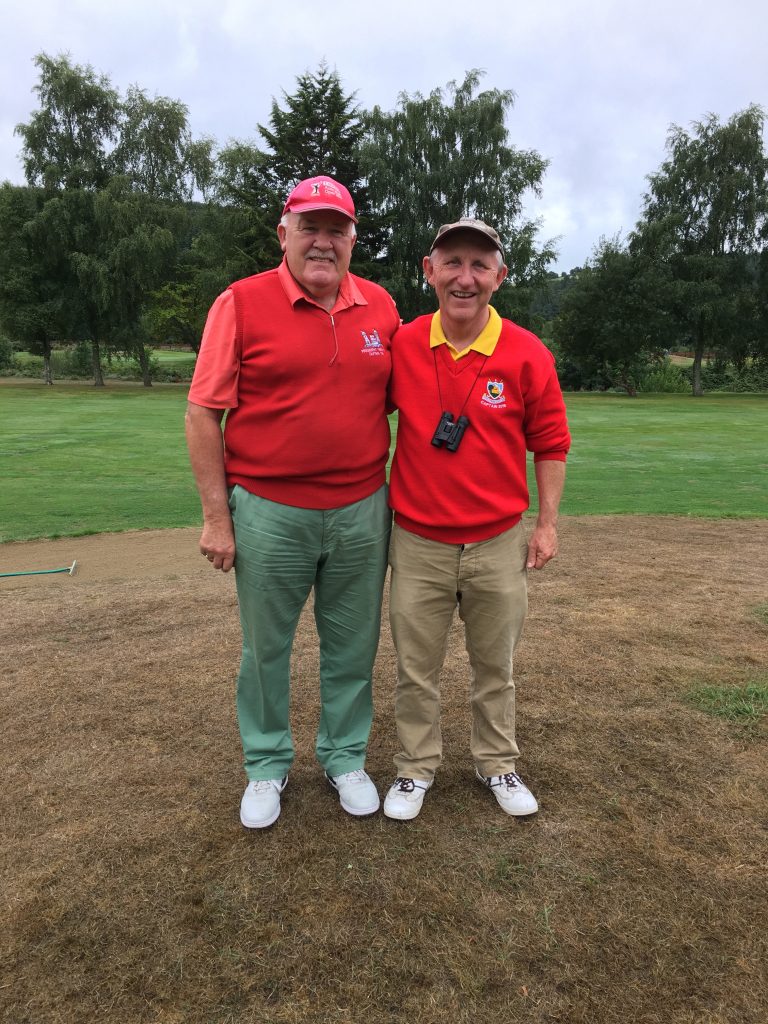 ( photo above;  Mahon Golf Club JB Carr Team Manager Tom Daly and Templemore Golf Club Captain Tommy Foley at Woodenbridge J.B.Carr all Ireland Final.
Templemore Golf Club News;
Great appreciation;  Templemore Golf Club Captain Tommy Foley expressed great delight to met the manager of the Mahon Golf Club, J.B. Carr team who travelled  from Cork to Woodenbridge in the Avoca valley to support the Templemore Team and Munster in the final at Woodenbridge.  Mahon gave Templemore the victory to continue in the tournament for the All Ireland title.  It was fantastic to experience all the travelled support and the accolades to all the players since arriving home.  Tommy wished all the members, ladies and gents all the best in golf for the remainder of the year.
Ladies Golf;  The 3T competition was held on Tuesday August 28th, 1st Sadie Tynan(17) 40 pts, 2nd Margaret Deegan 33pts. Results of social mixed, best gross Timmy Tuohy, Joe Tynan, Mary Ryan; best net.  Joe O' Connor, Donal Golden, Kay Brennan.
Congratulations;  to the Tipperary League team on their win over Tipperary GC in Cahir, they will now meet Nenagh in the next round.
Congratulations to the J B Carr team on a great performance in Woodenbridge,  it was a great honor to have our small club representing Munster and coming in at 3rd.  place was no mean achievement.  We didn't bring home the silverware this year, but everyone was mighty proud of ye !
Men's Seniors;  Results are as follows for Thursday, 30th.  Aug:  1st.Team;  Eddie Butler, Paddy Nolan, PJ. Leahy, Frankie Sgortt.  2nd. Team;  Michael Stapleton, Pascal Whelan, Mick Carey, Ollie Murrey.  3rd. Team;  Mick Murphy, Noel Stanley, John Galvin, Mick Maher.
Results are as follows for Thursday, 6th.  Sept.  1st.Team;  Dinny Tuohy, Phil Ryan, Willie Haverty, Pat O' Connell.  2nd. Team;  Sean Lee, Mick Connell, Seanie Gleeson, Seamus Ryan.  3rd. Team;  Pascal Whelan, John Mullaly, Pat Costello.
The Seniors is a fantastic event for retired golfers to return to the game with like-minded golfers.  If you are over 55 or retired, from any distance or Club you will be more than welcome.
Congratulations;  To the JB Carr team on their success at the Ireland final in Woodenbridge.
Next Seniors on Thursday 13th. Sept. at usual time.
Club Fixtures;
22nd. and 23rd. Sept. 18H S/F.
29th. and 30th. Sept. GOY 18H Stroke.
6th. and 7th. Oct. 18H S/F.
13th. and 14th. Oct. 18H S/F.
20th. and 21st. Oct. GOY 18H S/F.
20th. and 21st. Oct. GOY 18H S/F.
27th. and  28th. Oct. W/D Soc 18H S/F.
November. TBA.