Templemore Golf Club Notes;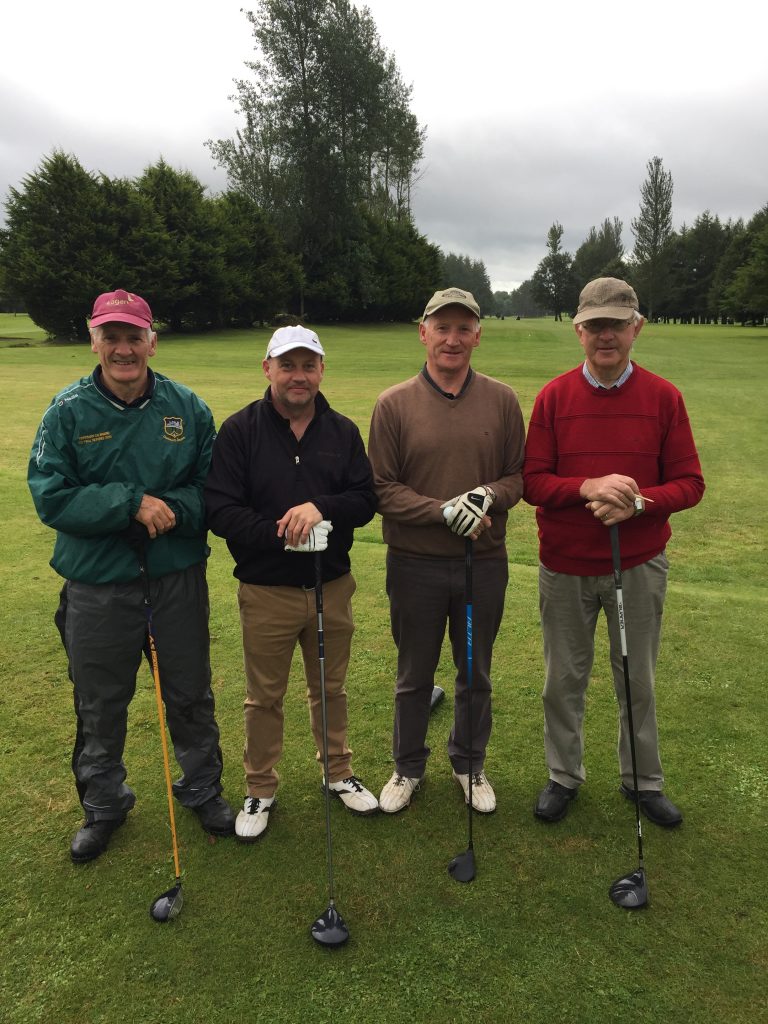 Templemore Golf Club Classic, August 26th. Sat.;  The format will be on a ratio of 2+1 team of 3.  For every 2 members it will be expected to have a minimum of one player from outside. This is Your Club, both Ladies and Gents, therefore it is important to be pro-active in raising funds for the maintenance of the course, equipment service, replacement, and the purchase of new equipment required to continue the upkeep of this wonderful course.  There will be future series of fundraising projects coming up as subs alone will not be sufficient to expand on the requirement that will give you the members, a first class Golf Course.  This is your golf course, be proud of it, and supportive of it, in whatever way you can by raising sponsorship, donations or helping out on the volunteer team.  Donations can be made online on our web site www.templemoregolfclub.ie
Captains Prize Results;  (Correction); 1st. Dessie Hennessy.  2nd. Ted Kennedy.  3rd. Denis Touhy.
Men's Singles Match play;  Is progressing well.  Check out the current match list from the notice board as some changes have been made due to some players not been available.
The Diageo Mixed Foresomes V's  Birr,  The date is now agreed to play on Sat. 12th. August.  Home Pairings will be 3 and away Pairings will be 2.  The Panel is; Tom McGrath, Denis Tuohy, Denis Maher, Martin Bohan, Seamus Bourke, Mick Keely, Joe O' Connor, Tim Tuohy, Padraigh Moloney.  Sile Keely, Sadie Tynan, Josie Bourke, Kathleen Maher, Mary Lou Carroll, Anne O' Rourke, Sara Hearne, Sheila Delaney, Mary Ann Maher, Mary Hayes.  If anyone is unavailable contact Captain @ 087-0509278.  The best of Luck to all.
Juvenile Golf Lessons;   There will be Juvenile competitions on the Friday 11th. and Friday 18th. August. This will be a great opportunity for the Juveniles to demonstrate their new found professional Golf Skills.   For any further details Contact; Pat O'Connell 087-9205821.
Time Sheets;   Don't be without your Sunday game!   Place your name on the Sunday time-sheet so that you can link up with other players.
Web Site;  All photos on the web site are also featured on the "Templemore Golf Club Facebook".   Do select the "Share" button to share them with your friends.  This is great platform opportunity to record all events both current and past in Ladies and Gents Golf.  It's Important to record any historical events, competition results, Members photos of past activities of the Club.  This is an important opportunity to promote the Club as a Vibrant and Active Club for almost 40 years via the web and Facebook.  Contact; Tony 0868209991.
Fixtures:
2nd.   Aug.  Wednesday Social Mixed. The Draw will commence at 6.30pm. Sharp.
6th.   Aug. Sunday 18H S/F
11th. Aug. Juvenile Competition.
18th. Aug. Juvenile Competition.
26th. Aug. Saturday, Templemore Golf Club Classic.
30th. Aug. Wednesday;  "A DATE FOR YOUR CALANDER"  A Golf Outing Day has been arranged in Athlone Golf Club for Templemore Golf Club ;  For further details contact John Stapleton 086-0894718.
30th. Sept. Saturday. President Prize
Golfer of the Year;  Important!  All members should compete in all competitions throughout the year.  This will Increase your "Golfer of the Year" points.
Away Scoring Recording Form;  Important!  All away scores are to be recorded on the "Away Record Form" on the notice board, for Non Qualifying,  Society,  Fourball and Team Events.  All members are requested to respect this request so that a better accuracy can be applied to the formation of handicaps.
Ladies Golf;  Last week was a busy week at Templemore Golf Club as members competed in both the Ladies and Men's Captain's Prize. The new format was a tremendous success and ran as Captain's week, starting on Sunday 23rd with a champagne scramble and culminating on Sunday 30th with the final 18 hole competition for the Ladies and the 9 hole play-off for the Men. The Ladies competition began on Monday with the 9 hole Senior/Beginners and the sun continued to shine on Tuesday 25th for the first 18 of the 36 hole stroke competition for Josie's prize. Some fantastic scores were returned with Lorraine Bourke as leader in the Clubhouse with a 63 nett., Kathleen Maher, Sara Hearne and Shiela Delaney were following close behind with  many others in close contention and the stage was set for an exciting day on Sunday.  The weather was not as kind to us on Sunday but that didn't hinder the efforts of our leaders, Lorraine once again played superb golf with a nett score of 60 and emerged a very popular  winner of the coveted prize. It was particularly nice as the beautiful prize was presented by her mother.  The presentation of all prizes took place in the Templemore Arms on Sunday night. With music songs and dancing, the singing talent in our club appears to be going from strength to strength whatever about the Golf !!.  The course was in excellent condition throughout the week. our thanks to the green keeper and to the great work done by our voluntary groundsmen.  Thanks also to the members who assisted in catering and preparation for the events and to Murphy's who provided the catering on Sunday.  Our thanks to Josie and her family for all the hospitality shown to us throughout.  In conclusion, congratulations to our Captains and to all the prize winners and thank you to Josie and Martin for presenting such wonderful prizes.
Golf Mix Results;  Wed. 2nd. Aug.  1st. Team; Liam Daly, Matty Bourke, kay Brennan.  2nd. Team;  Dinny Tuohy, Brendan Russell,
New Members are always Welcome!      Why Join;
Good Outdoor Exercise; 9 holes + 2hrs.  18 Holes = 4hrs.
Good Social occasions, Presentation Nights, Social Mixed, Senior Events and Away Trips.
The Handicap System allows members of different abilities an equal chance of winning.
Various Category of Memberships are available at different rates.  ( see Membership rates on our web site).
Full Annual Membership €370 = Approx. to only €1 per day.
New members are the lifeline of the club, so all existing members are encouraged to tell all your friends to take up membership and test their skills on this challenging Golf course.  Registrations Forms for new members are now available on line on our new web site, or at the club house or contact Martin Bohan 087 0509278.  All are welcome, tell all friends.
Volunteers;   Volunteers are always welcome, just check in with the course Volunteer organiser, John Stapleton 086-0894718 to offer any skills that will make improvements i.e. Grass Cutting, Bunker Raking, Strimming of all edges, Drains, Pat-ways and Bunkers, Carpentry, Maintenance or others, or just turn up at your own convenience.  All will be appreciated.
Seniors Report and Results;  Thurs. 3rd Aug.  1st. Team;  Ed Butler, Michael Maher, Sean Lee, Pat Maher.  2nd. Team;  Bertie Keane, Paddy Nolan, Michael Webster, Willie Haverty.  3rd. Team; Denis Toohy, Mick Connell, John Mulally, Paul Blanch.  There was a great turn out of seniors and an enjoyable day was had by all.  Especially with banter and service from the new cuisine chef, John Stapleton.
New Seniors Members;  If you are a Senior Golfers or visiting Golfer 55+ or anyone in retirement that want a social sport activity are more than welcome to enjoy an excellent social opportunity to play this great game with like-minded golfers.  Just turn up on Thursday mornings at 10am. Or contact; John Stapleton @ 086-0894718
Senior Fixtures;  Next Seniors, Thursday 10th. Aug.
LMC Winners;   Acknowledgement from the LMC committee on Sat. 22nd. July in Templemore;  "Templemore Club must be complimented for having the course in tip top order and much praise to Club Captain Martin Bohan and John Stapleton for making all the necessary arrangements". Class 1; 3rd Place, Tom Kenny, 33pts.  Class 2;  2nd Place, Bernie O'Rourke 34pts. 3rd. Place, Liam Daly 33pts.  Class 3; 2nd. Place, Mick Carey 34pts.  A fantastic day of Golf for Templemore Golf Club.  Also congratulations to the following LMC   "Golfer of The Year" placings with 5 more Outings only;  1st place; Liam Daly, 289 pts.  2nd. Place;  Mick Carey, 271 pts.  6th. place; Bernie O' Rourke, 252pts.  "Watch this space".
LMC Next Fixture;  Ballinasloe Golf Club on the 31st. July.  Was cancelled due to bad weather.  Next Scheduled Fixture; Adare Manor Golf Club, Monday 14th. Aug.  All LMC fixtures are on the notice Board in Club House or on the LMC web site.
Golf thought for the week;   "They call it golf because all the other four letter words were taken.".- Ray Floyd.