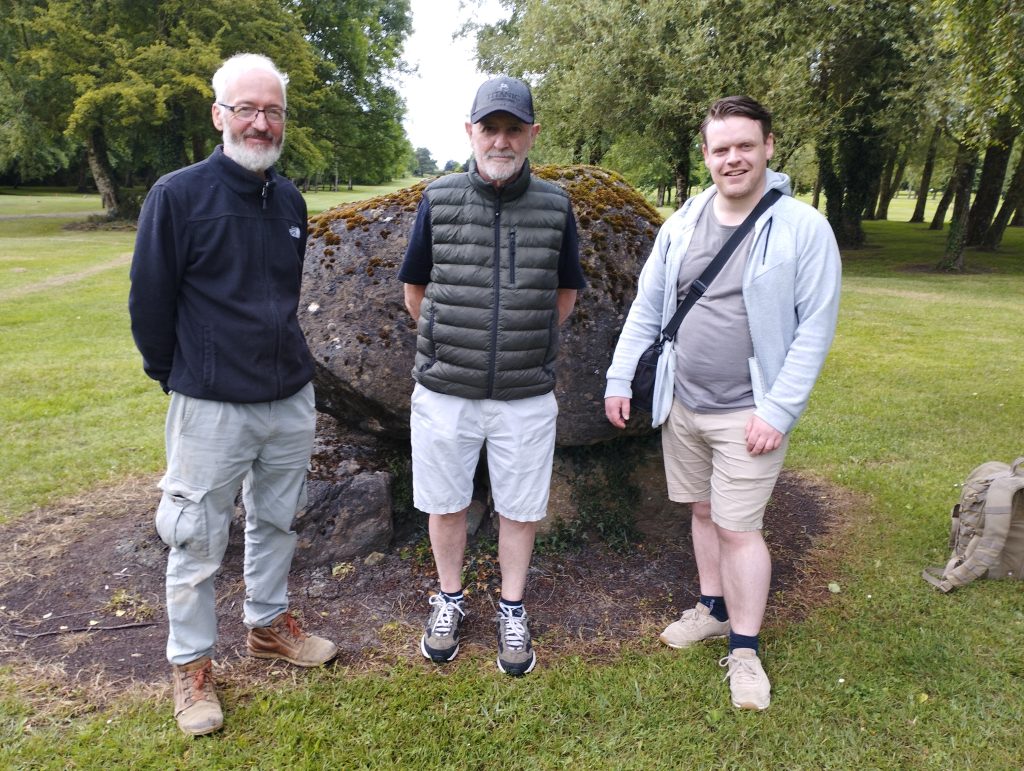 Templemore Golf Club Historical Find.  L. R. Archaeologist Gerard Dowling, Club President Rody Cawley, Geophysics Stephen Callaghan. Behind is a fossilised Boulder.
Historical Find on Templemore Golf Course
19th. June.  A preliminary geophysical survey and followed by an Archaeological Survey was carried out on the course ground to identify WW1 training trenches.  The survey was carried out by Stephen Callaghan Geophysical and Gerard Dowling Archaeological.  The Survey is in conjunction with Tipperary County Council and Department of Tourism, Culture, Arts, Gaeltacht, Sport and Media. We look forward to full report and photos in the near future.
Juvenile lessons
3rd July.   Lessons will commence on Monday at 10 am. Cost €5. Lessons for Beginner Ladies will follow at 11 am. It is hoped to run the lessons for 6 or 7 weeks.
Vice captains
1st. and 2nd. July.  Entries must be on the board in the locker room or on WhatsApp by 6pm Thursday 29th
Diageo Mixed Foursomes
24th.June.  Congratulations to the Diageo Mixed Foursomes team with a very comprehensive victory over Mitchelstown. We won the 2 home matches and 1 away match, with another going down the 19th. and the last match 3 up with 3 to play. First time for many of the team playing foursomes and who were all fantastic. Semi-finals on Friday 11th. or Saturday 12th. of August in Roscrea.
JB Carr Team.
19th. June,  Well done to the JB Carr Team last night who won the first leg 3 to 2 V Limerick.  Very impressive golf played by all. The home leg date is yet to be fixed.
Week End Golf.
18th. June Results of 18 hole S/F .  1st. Joe Kennedy 43 pts.  2nd. Pat O'Connell 40 pts.
50/50 Draw.
18th. June.  The winner of the Fortnightly draw. Liam O'Donovan €125.  PAYMENT OPTIONS: 1. Usual envelope system of 2 euro per entry (three for 5 euro) in Clubhouse. 2. 50 euro for one entry to 26 draws (1 year). 3. 100 euro for 3 entries for same 26 draws. Please support this initiative. Funds to be used for Course works and machinery upgrades.  Payment options:  * Clubhouse; * Club Bank a/c – Bank of Ireland, Thurles ie21bofi 904456 78133532, * Pay Pal details on Club website or to any Committee member.   If you're not in you can't win !!
Women's Boyne Team
17th. June. Congratulations to the Women's Boyne Team who had a great win against Abbeyleix.
Women's Minor Team
18th. June,  Hard luck to the Women's Minor Team who went down narrowly to Tramore.
Women's Golf Competitions.
20th. June.  "Play In Pink" 18 Hole Stableford.  1st. Breda O'Connell, 2nd. Josie Bourke, 3rd. Margaret Buckley.
"Play in Pink" Wed Mixed Social.
21st. June.  Wed Mixed Social.  A fantastic Afternoon of golf to celebrate our biggest turn-out since records began in support of the Play-In-Pink initiative by the ladies the Senior Men..  Play in Pink is for Raising funds for Breast Cancer Research through pink-themed golfing events. 'Play in Pink' has been growing from strength to strength over the years with enormous support for Brest Cancer…Thank you all for your support.  1st Team. John Kirwan, Liam Daly, Kathleen Cahill.  2nd, Mary Fitzpatrick, Frances Stapleton, Michael Purcell, Dinny Touhy.  3rd, Seamus Bourke, Tom Stapleton, Anna Cashman, 4th. John Hassett, Mary Ryan, Ton Ryan.
Seniors Golf.
22nd. June,  On a warm sunny day with the course in great condition a fantastic 11 (Eleven) teams took part and the team that lead us in with 54 points was Eamon Connolly, Bernie O'Rourke, Tom Hogan and Jim Middleton then came three teams on 53 points so on count back we had Paddy Bourke, Mick Maher, Michael Healy and Phil Ryan (Snr) and in Third place on count back Bertie Keane, Frankie Shortt, Jim Gilmartin and John Egan. A good turn out for the after round chat in the GreenView Restaurant.
Dates for your Diary. 
Vice Captain Date Change to 1st. and 2nd. July
Social mixed will continue on Wed's at 6pm.
Seniors.  Every Thursday 10am. Refreshments afterwards in new Club House "GreenView Restaurant".