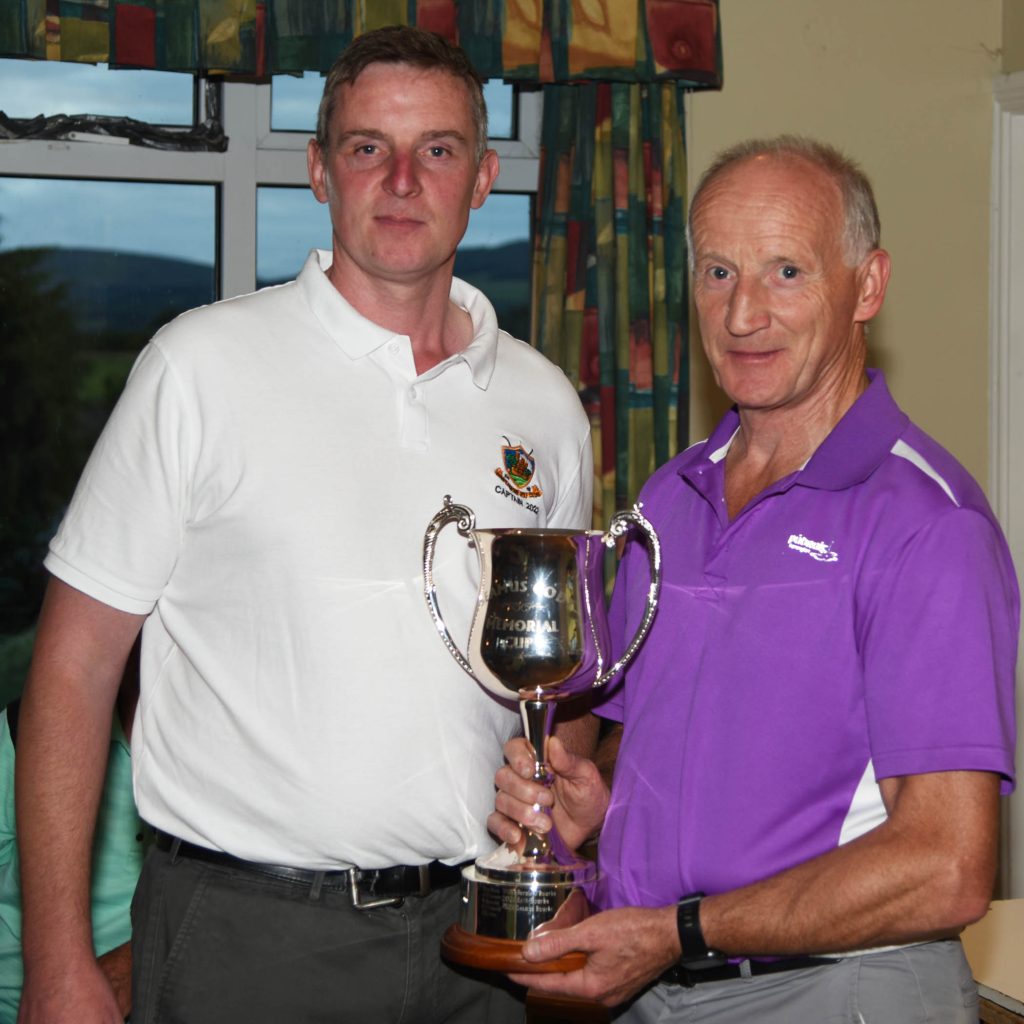 Templemore Golf Club, Seamus Cody Perpetual Trophy Winner, Seamus Bourke, Presentation by Captain Jim Ryan.
Seamus Cody Perpetual Trophy.
Presented to the club by Andrew Cody, son of Seamus in 2019 on behalf of the Cody family as a recognition of the commitment and legacy from Seamus to the club.  Seamus was Captain in 1977 and President in 2005.  His dedication to the club is unquestionable in the landscaping and development of the course which is the foundation of the current course layout. Winner.  Seamus Bourke, Runner up, Declan Russell.
Men's Week-end Competition.
24th. and 25th. Sept. the course was closed due to upgrading of the greens.  Next competition will be on 1st and 2nd. Oct.  Course manager Liam Leahy complemented all those that gave up their time and costs to complete this project in a limited time.
Ladies 18hole Stableford.
20th. Sept.  1st. Margaret Costigan 38pts.  2nd. Mary Ryan 35pts.  3rd. Kay Brennan 35pts..
50/50 Draw.
25th Sept. Roll over to next week 2nd Oct..
The 50/50 Draw is also available online for anyone who cannot make it to the club.  http://templemoregolfclub.ie/membership/ [templemoregolfclub.ie]
Ladies Seniors.
19th. September. Eighteen Senior ladies played in the Club Classic on a beautiful, pleasant morning    Winners were Kathleen Cahill,  Josephine Lyons and Gertie Kelly.  2nd. place, Breda Murphy, and Frances Stapleton.    Well done to everyone.  A lovely lunch was enjoyed by everyone after the golf.   Special thanks to Pat OConnell and Les Mason for looking after everyone so well.  Senior ladies play every Monday at 11oc.   New members always welcome.  A special thanks to Mary O'Connor for her diligent work in promoting the seniors. Contact Mary on 086 8813898.
Sympathy.
The Golf Club extends sincere sympathy to the family of Bridie Griffin (nee O'Connell) one of our Senior Golfers.  May she rest in peace,
Men's Seniors Club Classic.
22nd. Sept.  On a day when nature granted our seniors exclusive use of Roscrea, the day dried and we had 6 teams that had the sun shine on them eventually. First with 101 points, Seamus Bourke, Ollie Murray and Joe Hennesey.  Second with 99 points, Bertie Keane, Pat O'Connell, Frankie Shortt and Pascal Whelan. Third, on count back, with 98 points, Jim Gleeson, Seanie Gleeson, Les Mason and James Murray. Well done all.
LMC (Leinster Munster Connaught Seniors).
Templemore Golf Club were delighted to host the LMC on Wednesday and Thursday 21st & 22nd.  Wed. was a good day for golf but the weather changed and it was too inclement on Thursday to continue. It is now postponed for another date ASAP.
Golf Classic, Borrisoleigh Primary School Fundraiser.
Oct. 7th.. and 8th.   Scoil Naomh Cualan, (Borrisoleigh Primary School)  In Templemore Golf Club. Teams of 3, Fee €90.  Great prizes and snack pack.  For further information contact John (The Saint) Stapleton 086 0894718.  Full support appreciated.
Juvenile School of Excellence.
The Juvenile School concluded on Tuesday 23rd. Aug.  after an excellent participation by the Juveniles.  "The future of Golf"   "GOLF IS FOR EVERYONE"
"Golf is for Everyone" Fees.
Green Fees;  Visitors, €15 for 9 or 18 holes.  Men, Women and Juveniles.  Full Membership will allow you to have access to Club Competitions, Master Score Board for Tee Bookings and Members WhatsApp.  Fees can be paid to any committee member, or placed in the FEE Box in the Locker room.  Alternative, you can pay on the web site.  http://templemoregolfclub.ie/membership/ [templemoregolfclub.ie]  All fee rates are on the Web Site.
Dates for your Diary.
Seniors. Every Thursday 9 AM.
Fri. and Sat Oct. 7th. and 8th.   Golf Classic Fundraiser for Borrisoleigh Primary School.