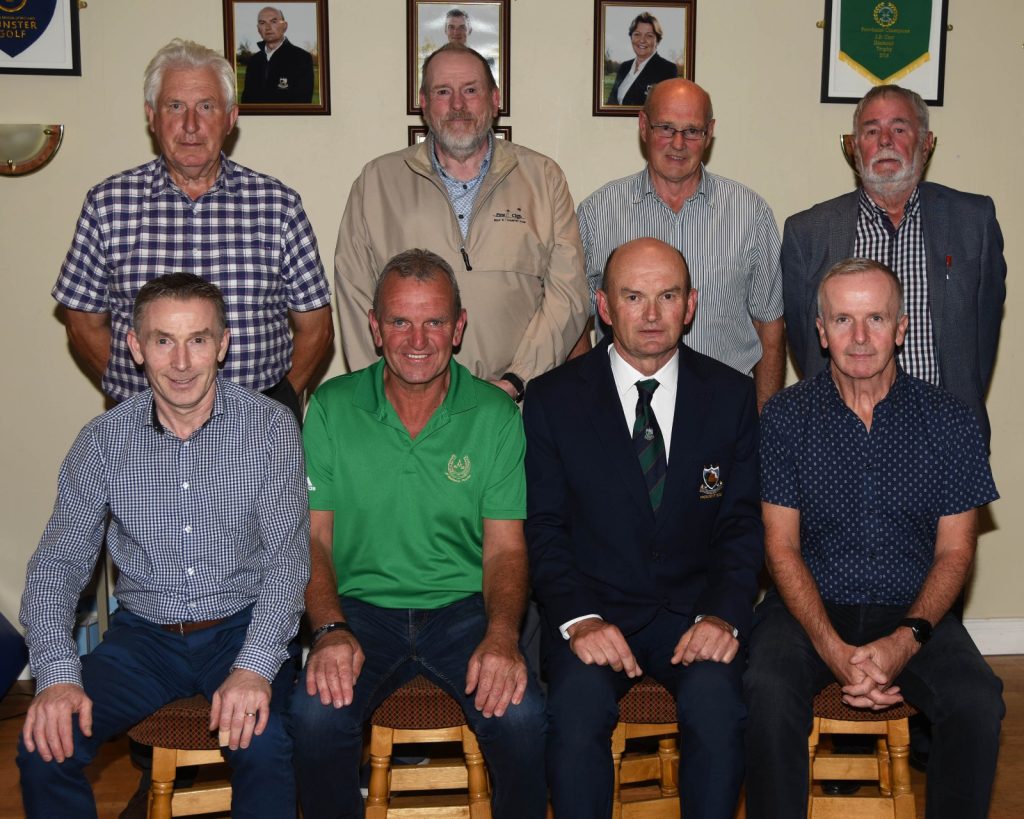 President Prize Presentation, BR. LR.  John Moloughney, Les Mason, Paddy Bourke, Competition Secretary, Sean Lee.  FR.LR. Vice Captain Declan Kennedy, Frank Russell, President Michael Purcell, The Winner. Denis Maher.  (Photo by Seamus Bourke)
Vice Captain Elect 2023.
Les Mason has been nominated as Vice Captain for 2023.  Les is well known for his contribution to the Seniors Club and also to the Competition committee for his expert IT knowledge in cronologing all result's and competition draws.  His wit is also a great source to the synergy of the club members.  We all wish Les all the success and support from all the Members.
President Elect 2023. 
Rody Cawley has been nominated as President 2023.  Rody is a long-time devoted member in the club with the ethos of constant promoting the club and, also his dedication to the development of the club.  Rody has also contributed to the moral of the club and especially to the Seniors.  The club members are delighted with both of these appointments and look forward to a great year ahead.
Competition Results.
Sat 10th Sept.  1st. Brendan Russell 36pts.  2nd. Ciaran Hassett 35pts.
Golf Classic Reminder.
The annual club golf classic is on Fri 16th, Sat 17th & Sun 18th Sept. This is a really important financial fundraiser for our club.  It would be great if most members could play. If your short numbers to make a team of four, use this Whatsapp group to link up.  Team of four 120 euro entry, competition format to be finalized later. Tee time slot can be prebooked via Master Score Board or www.templemoregolfclub.ie [templemoregolfclub.ie]
 Men's President Social Mix.
31st . Aug.  Result of mixed competition.  1st. Team,  Mary Butler, Jim Ryan, Lorca Reilly.  2nd. Team,  Margaret Buckley, Seamus Bourke, Brendan Russell.  Congrats to all.
Ladies 18hole Stableford.
Juvenile School of Excellence.
The Juvenile School concluded on Tuesday 23rd. Aug.  after an excellent participation by the Juveniles.  "The future of Golf"   "GOLF IS FOR EVERYONE"
50/50 Draw.
Roll over to next week..
The 50/50 Draw is also available online for anyone who cannot make it to the club.  http://templemoregolfclub.ie/membership/ [templemoregolfclub.ie]
Ladies Seniors.
A Fantastic response from all the senior ladies in promoting the Lady seniors.  A special thanks to Mary O'Connor for her diligent work in promoting the seniors. Contact Mary on 086 8813898.
Men's Seniors .
7th. Sept. Well on a lucky day when the heavy, car park flooding, rain held off till after the last group came in 6 teams came in on 52 or 53 points. But the 7'th…so the result was in first place with a fantastic 59 points was John Hassett, Mick Maher, Colm Dooley and Seamus Ryan. Second on count back with 53 points Michael Purcell, John Galvin and Joe Hennesey. Third also with 53 points Jim Gleeson, Mick Murphy and Tom Kenny.  Next week we move back to our normal day, Thursday, and will be the senior classic it will be a great way for the seniors to support the club so all support will be greatly appreciated. Details will be published next week.
"Golf is for Everyone" Fees.
Green Fees;  Visitors, €15 for 9 or 18 holes.  Men, Women and Juveniles.  Full Membership will allow you to have access to Club Competitions, Master Score Board for Tee Bookings and Members WhatsApp.  Fees can be paid to any committee member, or placed in the FEE Box in the Locker room.  Alternative, you can pay on the web site.  http://templemoregolfclub.ie/membership/ [templemoregolfclub.ie]  All fee rates are on the Web Site.
Dates for your Diary.
Mixed Social.  Every Wed..
Seniors. Every Thursday 9 AM.
Golf Classic.  Fri. 16th. Sat. 17th. Sun. 18th. September.