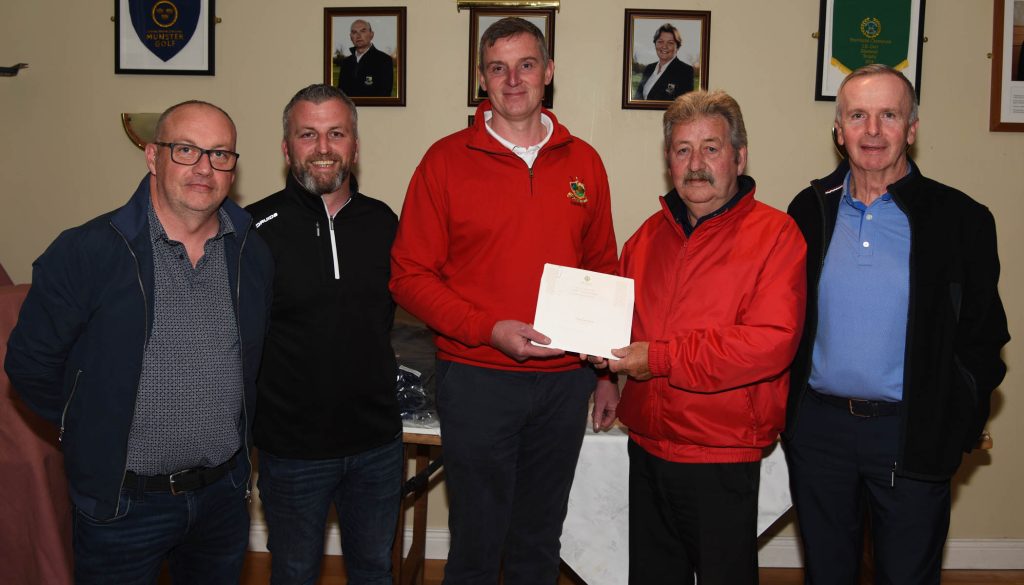 Templemore Golf Club Classic Winning Team. L.R.  Timmy Tuohy, Paul Tuohy, Presentation by Captain Jim Ryan, Denis Tuohy, Denis Maher. (Photo by Seamus Bourke)
Classic Appreciation by Captain Jim Ryan.
A fantastic weekend of golf.  Our 2022 Club Classic saw great weather and great golf.  Templemore Golf Club recently signed a 21 year lease with the OPW giving the Club its own Autonomy.  This gives Templemore Golf Club great stability and a very positive future going forward.  But it will also bring its own financial challenges, that's why the Annual Club Classic is very important for our Club.  40 teams played over the weekend, the Senior Men played on Thursday and Senior Ladies played on Monday.  I'd like to thank the team sponsors, members and visitors that played in the Club Classic.  Also a huge appreciation to local commercial sponsors and to the overwhelm support from Golf Clubs all over the country.   A lot of work goes into the running of the Classic, organising prizes, catering, registering's players and tallying the results, checking the lotto, getting the course ready.  Thanks to the Club Committee especially the Competition and Course management teams.  We look forward to your continued support.  All very much appreciated by the Club.  Captain Jim Ryan.
Classic Competition Results.
18th Sept.  A fantastic extended weekend of golf in our 2022 Classic saw great weather and great golf.
In first place with 116 points, Denis Tuohy, Paul Tuohy, Denis Maher, and Timmy Tuohy.
In Second place with 113 points, David Hogg, David Coleman, Cathal Leahy, and Brian Mason.
In Third place with 110 points. Pat O'Connell, Les Mason, John Kirwan, and Michael Cahill.
Best Non-GUI with 110 points. Pat Shelly, Frank Russell, Walter Byrne, and Joe Shelly.
In Fifth place, on count back, with 109 points. Martin Gleeson, Patrick Gleeson, Seanie Gleeson, and Biddy Gleeson.
In Sixth place with 109 points. Seamus Bourke, Johnny Coleman, Joe Fahey, and Liam Daly
In Seventh place with 108 points. Michael Walsh, Joe Fahey, Martin Walsh, and Michael Walsh.
In Eighth place, on count back, with 105 points. Ciaran Hassett, Shane Hassett, Jerome Ryan and John Hassett.
In Ninth Place also with 105 points. Matt Gleeson, John Mcloughney, Leo Miles and Bertie Keane.
Best ladies team with 101 points. Mary Hayes, Margie Costigan, Mary-Anne Maher and Mary Ryan.
Ladies 18hole Stableford.
13th. Sept.  1st. Mary Butler 28pts.  2nd. Margaret Costigan 28pts.  3rd. Mary Ann Maher 27pts.
50/50 Draw.
18th Sept. Winner of the 50/50 prize draw, Thomas Keogh wins €200.
The 50/50 Draw is also available online for anyone who cannot make it to the club.  http://templemoregolfclub.ie/membership/ [templemoregolfclub.ie]
Ladies Seniors.
A Fantastic response from all the senior ladies in promoting the Club Classic.  A special thanks to Mary O'Connor for her diligent work in promoting the seniors. Contact Mary on 086 8813898.
Men's Seniors Club Classic.
14th. Sept. In a show of support for the Club Classic 8 teams took to the course and the scoring reflects that we are moving into Autumn. In first place with 54 points were Bertie Keane, Mick Maher, George Collins and Willie Haverty.  In second on count back with 51 points, Liam Daly, Tom Kenny and Rody Cawley. In Third also on 51 points, John Kirwan, Pat Maher, Gerry Hayes and Phil Ryan (Snr).  Well played Gentlemen and a great turn out for the club.
Men's Seniors Outing.
As the LMC are playing at Templemore on Wednesday and Thursday 21st & 22nd.  the course will closed for essential maintenance on the Friday we have arranged an outing on Thursday 22nd. September in Roscrea. We have tee times between 09:00 and 10:30 the cost will be €30 this will include 18 holes and Lunch.
Golf Classic, Borrisoleigh Primary School Fundraiser.
Oct. 7th.. and 8th.   Scoil Naomh Cualan, (Borrisoleigh Primary School)  In Templemore Golf Club. Teams of 3, Fee €90.  Great prizes and snack pack.  For further information contact John (The Saint) Stapleton 086 0894718.  Full support appreciated.
Course Availability Update.  LMC Golf Society.  Wednesday 21st. and Thursday 22nd. Sept. The course is booked by the LMC golf society, no casual play on these days please.  MAINTANENCE WORK.  Friday 23rd. Sept. the course will be closed for maintenance work to be done on the greens.
Juvenile School of Excellence.
The Juvenile School concluded on Tuesday 23rd. Aug.  after an excellent participation by the Juveniles.  "The future of Golf"   "GOLF IS FOR EVERYONE"
"Golf is for Everyone" Fees.
Green Fees;  Visitors, €15 for 9 or 18 holes.  Men, Women and Juveniles.  Full Membership will allow you to have access to Club Competitions, Master Score Board for Tee Bookings and Members WhatsApp.  Fees can be paid to any committee member, or placed in the FEE Box in the Locker room.  Alternative, you can pay on the web site.  http://templemoregolfclub.ie/membership/ [templemoregolfclub.ie]  All fee rates are on the Web Site.
Dates for your Diary.
Seniors. Every Thursday 9 AM.
Oct. 7th.  Golf Classic Fundraiser for Borrisoleigh Primary School.