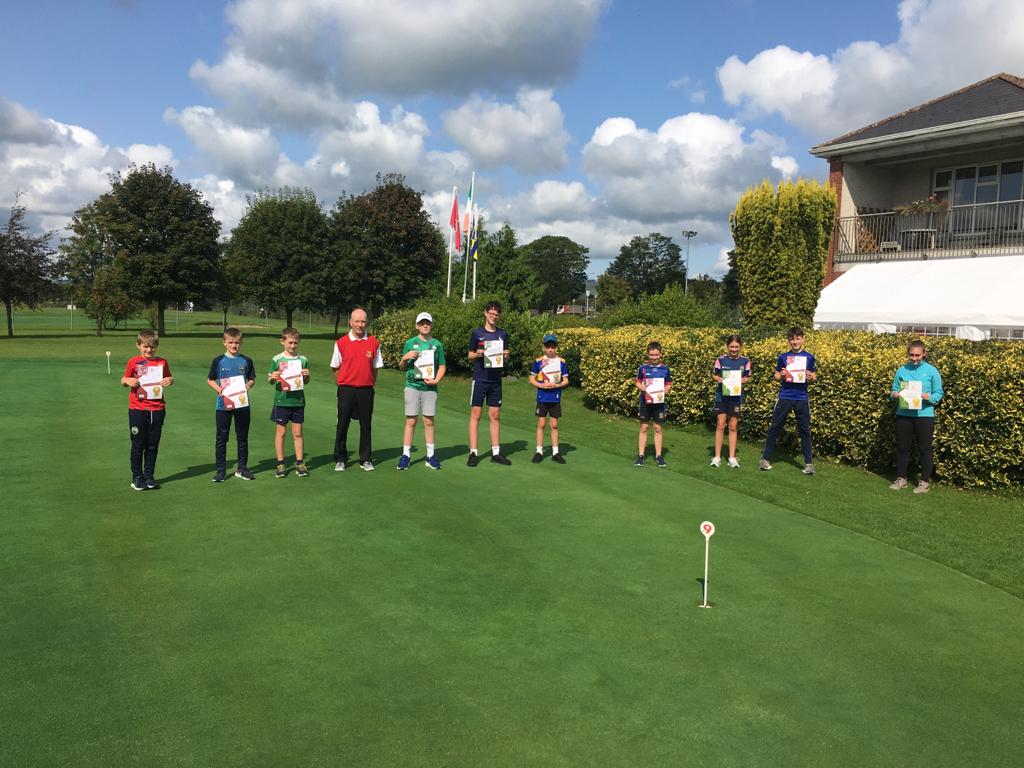 Templemore Golf Club Juvenile Liaison Officer Pat O Connell (centre) with Junior Golf Cadets Competency Certification presentation having completed their Summer Golf Coaching.
 Templemore Golf Club News.
 Junior Golf Cadets Training.
This Summer camp training was a fantastic success due to the commitment and enthusiasm of the cadets who continually engrosses in the coaching by golf PRO Seamie Ryan.  Over the summer one could identify the fantastic improvements in the necessary Golf Skills.  Truly these cadets now have the groundwork done to continue playing and competing for the club in the future.  All thanks to the club Juvenile Liaison Officer Pat O'Connell for his diligence in making this a successful event every year.  Also, thanks to Tony O'Toole and Les Mason who gave their continued commitment to the project.  This project is a significant benefit to the club in securing new competitive members for the future.
 50 Year Historical Anniversary Classic.
Time Sheet will be active this week.  All are advised to select their team times as soon as its available due to the enormous interest.   Reminder dates. Fri. 24th, Sat. 25th and Sun. 26th. of September this Special Golf Classic will commemorate a historical occasion for the club.  Since 1971 the club has developed to a unique standard as one of the best 9hole golf courses in the country.  A proud occasion for some of the original members that are still active within the club.  The activities of the day will include the unveiling of a Plaque as a reminder to players, visitors, and members of the future where it all started.  Support will be expected from all members to field a team and to invite outside non-members and all sporting clubs likewise. Prizes will be in excess of €3000, including, Ladies, Seniors and Non-GUI.   Also, every participant that takes part will be included in a draw for a free 2022 membership.  This is a call for all Golf and Sporting Clubs in the region to support this project by entering a team and will be greatly appreciated.  Fee.  €100 for a Fourball team, €50 to sponsor a Tee Box and €25 for re-entry.
Fred Perry All-Ireland Trophy
Templemore team are trough to the quarter finals having beaten East Cork in the East Munster Final.  The All-Ireland Quarter final will take place in Knightsbrook Golf Club on Friday 3rd. September "VERSUS"  Connemara Isle Golf Club, Lettermore, Co Galway.  We wish all the team the best of luck.
 18hole S/F Competition.
28th. / 29th Aug.  Results 1st. Matty Stapleton 40pts. 2nd. Oliver Murray 39pts. 3rd. Mick Murphy 35pts. Full results on Master Score Board.
Ladies 18 Hole Stableford.
Tuesday 24th Aug.  1st Mary Ann Maher 37pts.  2nd. Mgt. Deegan 37pts.  3rd. Margaret Costigan 37pts.
Social Mix.
25th. Aug.   Social Mixed Winners,  1st, Joe O'Connor, Ann Hogg, Pat O'Connell.
50/50 Draw.
Your continued support to the 50/50 is deeply appreciated as it is funding the purchase of new equipment.
29th. Aug. Mary Hogan €100 euro
 Seniors Results.
Thursday 26 th. Aug.  The Seniors first outing this year took place in Roscrea golf club this morning. With excellent warm weather the scoring was expected to be good, and the players did not let us down. In first place with 102pts. were Seamus Bourke, George Collins, John Egan, and Christy O' Rourke. In 2nd. place with 100pts. were Liam Daly, Sean Gleeson, Michael Healy, and Tom Hogan. and 3rd. with 98pts. were John Kirwan, John Galvin, Michael Murphy and Tony O'Toole. Congratulations to all who took place in our first outing in two years.
Bereavement.
Gerry Reilly passed away on Friday 27th.  Peacefully at his home.  Sympathy is extended to his wife Sheila and all his family. There will be a Guard of Honour at the Sacred Heart Church on Monday 31st..  All available to assembly at 11.15 with full colours and captains and presidents to ware blazers. The course will be closed on Monday till 1pm.  Gerry was Captain in 1974 and President in 1983.  May he rest in peace.
 Covid 19 Guidelines.
Reminder.  Players must sign in at the clubhouse door before teeing off.
 Future Competition Dates.
Club Classic.  Fri. 24th.  Sat. 25th. Sun. 26th.  September
Seamus Cody Cup. Date TBC.
Social mixed. Every Wednesday 5.30 to 6 PM.
Seniors. Every Thursday 9 AM.