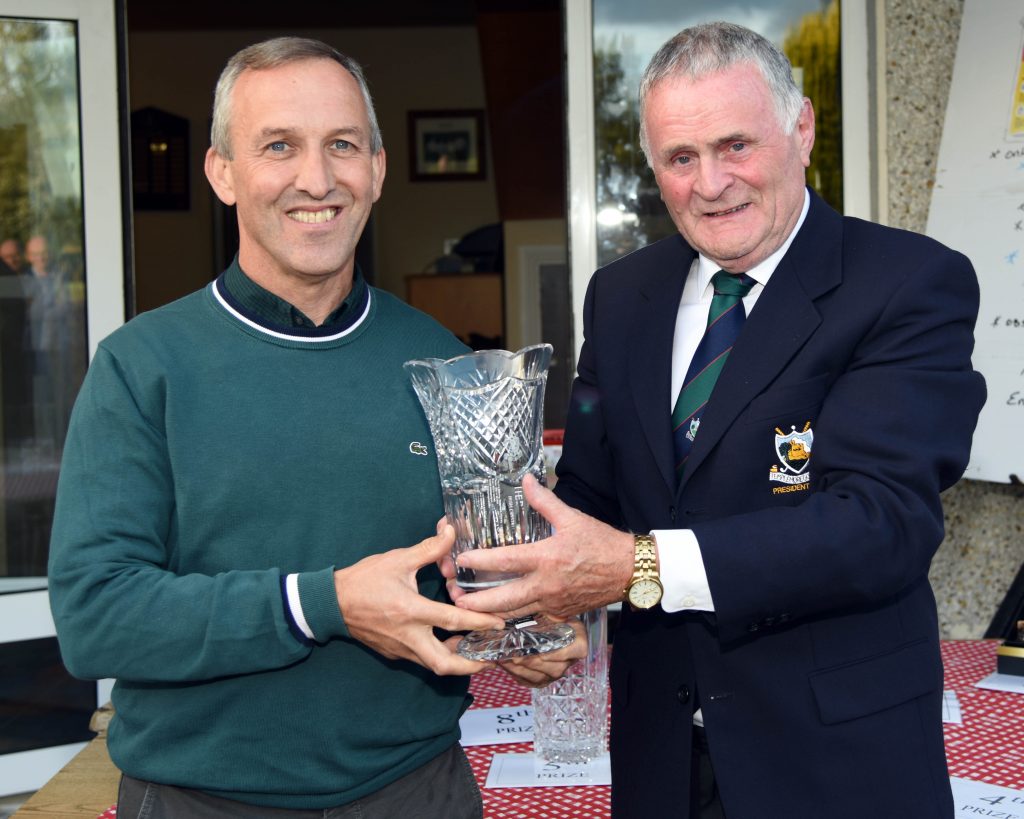 attached photo
Templemore Golf Club President Bertie Keane, Presenting the President Prize to Eamonn Connolly (Photo By, Seamus Bourke)
Templemore Golf Club News.
Bertie Keane President Prize.
The competition Tee off on Sat. 14th. with weather conditions not too favourable but with the gods on Bertie side it cleared for most of the play in the afternoon on Saturday and Sunday became the best day.  This did not deter the competitive nature of the Templemore Members as the winner Eamonn Connelly tee off was early on Sat Morning in the worst of the weather.  Both days were fully booked to maximum capacity which demonstrated the high esteem by members for President Bertie Keane.  Commencing the presentation, the competition Secretary Dinny Touhy complemented Bertie for his dedication and commitment as a team player on many victorious occasions. President Bertie acknowledged that is was a great honour to represent his club as president he then complemented all that took part in the competition the volunteers and in particular the Club Captain Dinny Maher and Green Keeper Jack Alexander for their fantast work over the years in developing the course to its current high standard.  Bertie also thanked his wife Shelia for giving him the time and space to pursue his commitment to the club and to his son John who performed well to take 4th. prize.   President Bertie also mentions the historical occasion of the 50th. Anniversary and looks forward to all giving their commitment to this great event.  Finally, President Bertie nominated his successor for 2022 Michael Purcell. A raptures applause from all for Michael as a well deserving diplomat for the club. The President Prize Winners.  1st. Eamon Connolly 43pts. better back 9.  2nd. Gary Russell 43pts.  3rd. Padraig Moloney 40pts.  4th. John Keane 39pts.  5th. Joe O'Connor 39pts.  6th. Johnny Coleman 39pts.  7th. Mattew Ryan 38pts.  8th. Tommy Foley 38pts.  9th. Declan Kelly 37pts.
50 Year Anniversary Classic.
Our Golf Classic will take place on Fri. 24th.  Sat. 25th. Sun. 26th.  September.  Teams of 4 @ €100 per team.  This is a special and historical occasion for the Club.  The support of all members is required in getting as many teams as possible trough clubs, Sponsors or donations. The Classic will be open to all other Sport Clubs and Businesses to present teams and make this a great occasion.
Seamus Cody Cup.
16 qualified for match play and the last leg was completed today 11th. Aug.   Seamus Bourke -V- Paddy Fogarty resulting in a win for Seamus Bourke.  Coincidentally Owen Bourke also qualified for the final with a win over Bernie O'Rourke.  Father and son in the final.  Seamus Cody would indeed be very happy with that result.
President Social Mix.
Results, 1st. Brede Murphy, Seamus Bourke, Mick Carey: 25.9.  2nd. Ann Hogg, Tom McGrath, George Collins:26.4.   3rd. Biddy Gleeson, Tony O'Toole, Jerome Ryan: 27.0. 
Mixed Team Victory.
Congratulations to the mixed team on their win over Mitchelstown. Next up Tipp Town on or before 20th August. With Templemore having home advantage. Well done, great effort by all.
Seniors Results.
Thursday 12 th. July.  On an soft day 29 determined seniors headed out to brave the elements.  On the day there were still some good scores. In first place with 50 points were, Ambrose Purcell, John Mullally, Tom Hogan and Paddy Nolan.  In Second on count back with 48 points Paddy Bourke, Pat O'Connell,  Tommy Deegan and Phil Ryan (Snr).  Third with 48 points, Donal Golden, Pat Maher, Tommy Dedham and Seamus Ryan.  Good news, our first outing will be in Roscrea on Thursday August 26th. tee times between 09:30 to 11:00 Golf and Dinner €30
Juvenile and Beginner Ladies Golf Lessons.
Juvenile Golf Lessons every Monday @ 10am.
Beginner Ladies will continue afterwards @ 11am approx.
Details & Registrations;   Contact Pat O'Connell 087-9205821 or 0504-31400.
Bereavement.
John Crowe passed away peacefully on Fri. 13th. Aug.  John was a member of Templemore Golf Club and will be remembered for his generosity and support to the club over the years.  Our deepest sympathy to Phyllis and to all his family.  May he rest in peace.
Covid 19 Guidelines.
Reminder.  Players must sign in at the clubhouse door before teeing off.
Membership Subs.
Reminder.  Fully paid Members only will be able to book play on the Tee Times Web Site. Options to pay are all on the website.   All visitors are welcome contact 0504-31400.  
Future Competition Dates.
Club Classic.  Fri. 24th.  Sat. 25th. Sun. 26th.  September
Seamus Cody Cup. Date TBC.
Social mixed. Every Wednesday PM.
Seniors. Every Thursday AM.
Coaching Juniors and Ladies 10am Mondays.