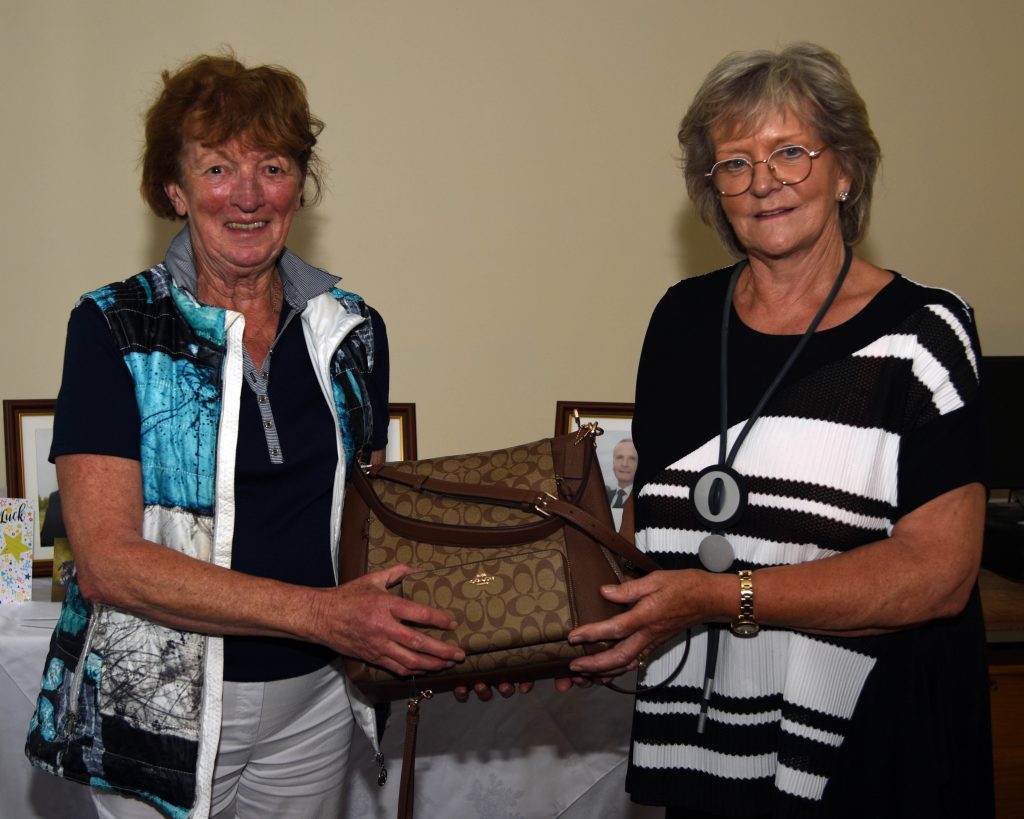 attached photo
Templemore Golf Club Ladies President Prize Winner Mary Ryan. Presented by Lady Captain Josie Moloney (Photo By, Seamus Bourke).
Templemore Golf Club News.
Ladies President Prize.  
Saturday 7th. was a very successful day for the Ladies President Prize.  After a week of torrential rain, the heavens remained clear for President Josie and all the ladies resulting in a wonderful coulourful day of Golf. Congratulations to all and especially to President Josie.   The winners were. 1st. Mary Ryan 41pts.  2nd. Kathleen Maher 38pts.  3Rd. Margaret Costigan 38pts.
Men's President Prize.
Sat 14t. and Sunday 15th. July, President Bertie Keane will host his President weekend of Golf.  A very competitive golfer for Templemore Golf Club over the years, representing the club on many occasions with some great victories.  We all wish him well this weekend for presenting his Presidency competition to us all.  
Fred Perry Cup.
Tuesday 3rd July.  Well done to manager and team for a great win in Fred Perry. Fantastic effort and commitment from everyone. Congratulations to all.  Templemore are now in the All Ireland quarter finals to be played in Knightsbook on 3/4th September as East Munster Champions. Templemore will face the Connaught Champions.   Well done and best of luck to all the team and Manager.
Pierce Purcell competition.
Friday 6th. July.  Templemore – V – Thurles. 3home 2away.  Another great performance in inclement weather conditions by the Templemore Team.  Unfortunately, Thurles snatched the victory with a 3/2 win.  Congratulations to Thurles.
18h. Men's Completion.
8th. July 1st. Liam O'Donovan 38pts.  2nd. Oliver Murray 36pts.  3rd. Ciaran Hassett 35pts.
Social Mix.
28th. July. Results:  1st. Liam Daly, Barry Spearman, Mary O'Connor-27.3.  2nd. Seamus Bourke, George Collins, Kay Brennan 28.5.
Seniors Results.
Wed. 4th. July.  After an initial cancellation due to extreme weather conditions, it did not deter our senior members and so many hardy golfers take on the course that morning. Some excellent scoring with one team returning a great 58pts. In first were Joe O'Connor, Pat Maher, Jim Gleeson, and John Egan. 2nd. on a count back with 52pts. were Paudie Butler, John Mullally, Pascal Whelan and Mick Connell.  And in 3rd. place were Gerry Keegan, Tom Kennedy, Tommy Deegan, and John Browne.  Congratulations to all for their continued support to Seniors Golf.
Juvenile and Beginner Ladies Golf Lessons.
Juvenile Golf Lessons every Monday @ 10am.
Beginner Ladies will continue afterwards @ 11am approx.
Details & Registrations;   Contact Pat O'Connell 087-9205821 or 0504-31400.
Covid 19 Guidelines.
Reminder.  Players must sign in at the clubhouse door before teeing off.
Membership Subs.
Reminder.  Fully paid Members only will be able to book play on the Tee Times Web Site. Options to pay are all on the website.   All visitors are welcome contact 0504-31400.  
Future Competition Dates;
Men's President Prize, Saturday 14th. and Sunday 15th. Aug.
Seamus Cody Cup
Social mixed. Every Wednesday PM.
Seniors. Every Thursday AM.
Coaching Juniors and Ladies 10am Mondays.