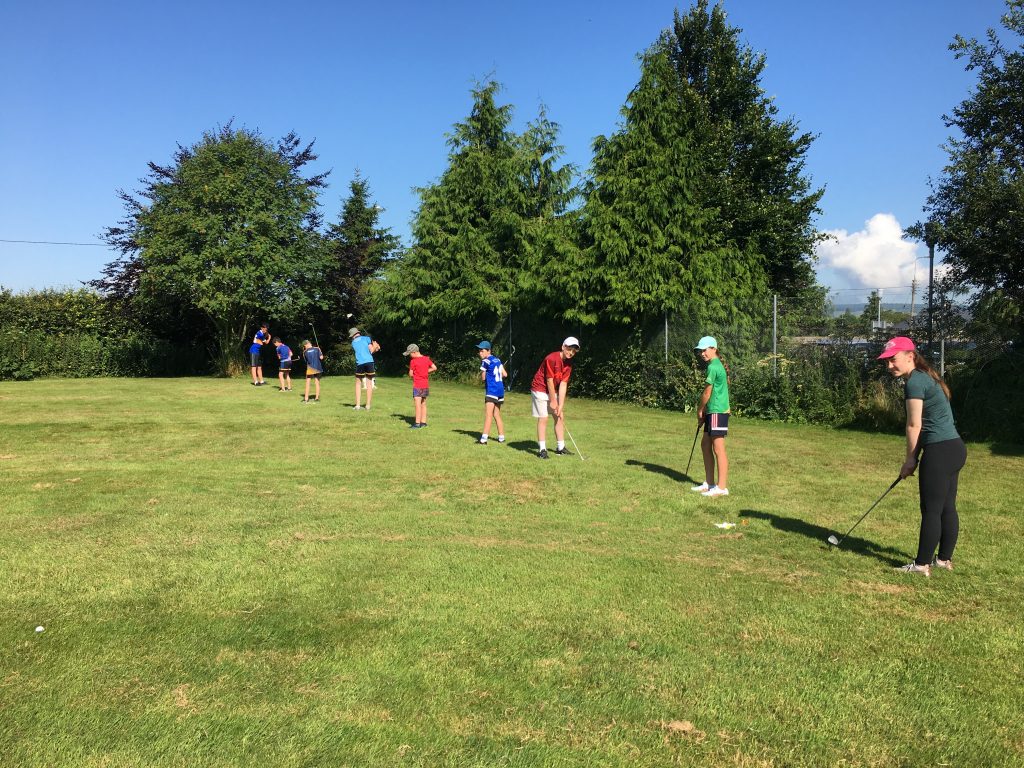 Future Golf Olympians in action at Templemore Golf Club.
Templemore Golf Club News.
Templemore Golf Club Junior Coaching.
Junior members have never been more important to the future of golf.  Similarly, never before have juniors had more variety and opportunity in terms of alternative activities, all competing to occupy their spare time and attract their talent. These factors present a challenge for golf to offer and encourage young people to start and stay in this great game.  Templemore golf club has a very competitive membership, this can be identified with all the recent victories in senior and junior competitions therefore it is important to have Junior Cadet Coaching in progress to secure future competitive membership.  Summer Cadet training is on Mondays at 10am to 11am followed by Beginner Ladies Coaching.   To be involved call into the club at the coaching time or contact our Juvenile Liaison Officer Pat O'Connel 087-9205821 by text.
Captains Congratulations to winning teams.  Another great week for Templemore golf club with victories for the men in Pierce Purcell over Mitchelstown, and Fred Perry over Dungarvan . Victories also for the lady's intermediate team. Huge effort and commitment from everyone. Well done to managers players and supporters of all teams. Best of luck to the ladies today against West Waterford. Captain Dinny Maher.
18h Competions.
25th. July 1st. John Kirwan 46pts. 2nd. Les Mason 38pts. 3rd. Pat McCormack 38pts. full results on Master Score Board.
1st. Aug.  1st. Matty Stapleton. 38pts.  2nd. Dónal Hayes.38pts. 3rd. Tony Lanigan.38pts.
Social Mix.
28th. July. Results:  1st. Liam Daly, Barry Spearman, Mary O'Connor-27.3.  2nd. Seamus Bourke, George Collins, Kay Brennan 28.5.
Seniors Results;
22nd. July. With so much activity on the team front it was great to see so many out this morning. We wish all the teams that are still in the Inter Club competitions plenty more success. Getting back to this morning's event, where seven teams took part. In first place with a great score of 59pts were Donald Golden, Les Mason, Tom Hogan and Paddy Nolan. In second place on a count back with 57pts. were Liam Daly, Frankie Shortt, John Egan, and Eddie Butler. In 3rd. place also with 57pts. were Paudie Butler, Jim Gleeson and Tommy Deegan. Congratulations to John Galvin on winning the 50/50 last weekend.
29th. July.  After some excellent golf this morning and great weather to go with it ,was not surprising that scoring was close. 1st. place with 57pts. were Paddy Bourke, Pat O'Connell, Oliver Murray, and Paddy Nolan. In 2nd. place with 56pts. were Joe O'Connor, and Frankie Shortt, John Galvin and in 3rd. place with 52pts. were Donald Golden, Mick Murphy, Tom Hogan and Michael Ryan.
50/50 Draw.
25th, July,  Catherine Ryan 100 euro.
1st. Aug.     Ann Hogg 135 euro.
Juvenile and Beginner Ladies Golf Lessons.
Juvenile Golf Lessons every Monday @ 10am.
Beginner Ladies will continue afterwards @ 11am approx.
Details & Registrations;   Contact Pat O'Connell 087-9205821 or 0504-31400.
Covid 19 Guidelines.
Reminder.  Players must sign in at the clubhouse door before teeing off.
Membership Subs.
Reminder.  Fully paid Members only will be able to book play on the Tee Times Web Site. Options to pay are all on the website.   All visitors are welcome contact 0504-31400.
Future Competition Dates;
Seamus Cody Cup
Lady President's prize will take place on Aug 7th
Presidents Prize 14th. 15th. August.
Social mixed. Every Wednesday PM.
Seniors. Every Thursday AM.