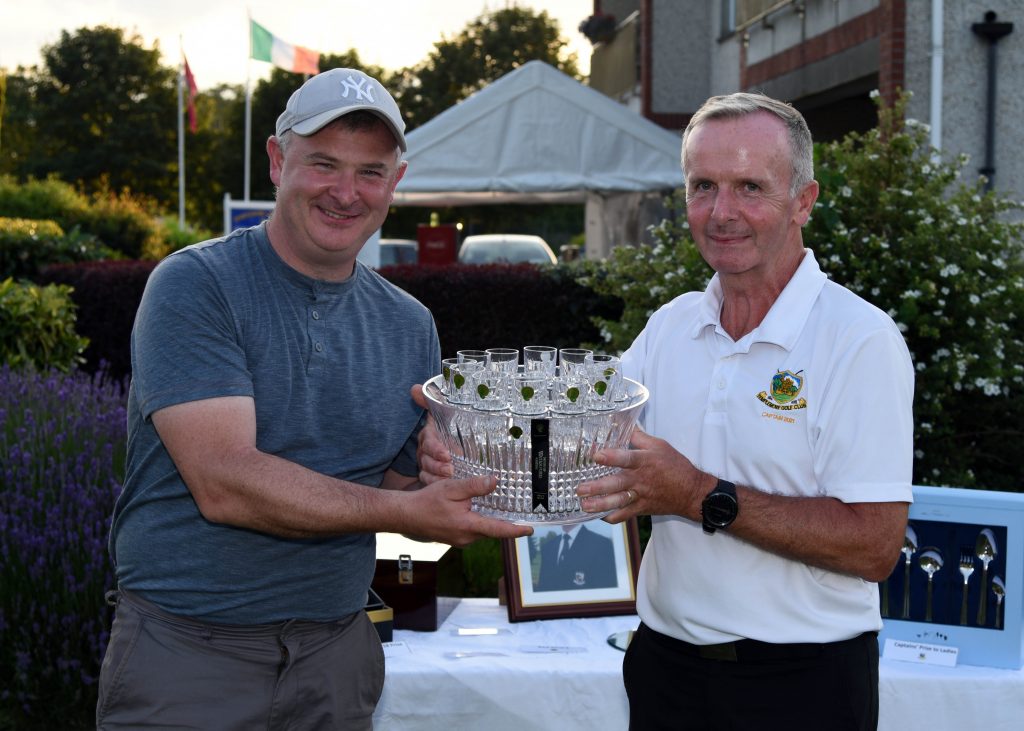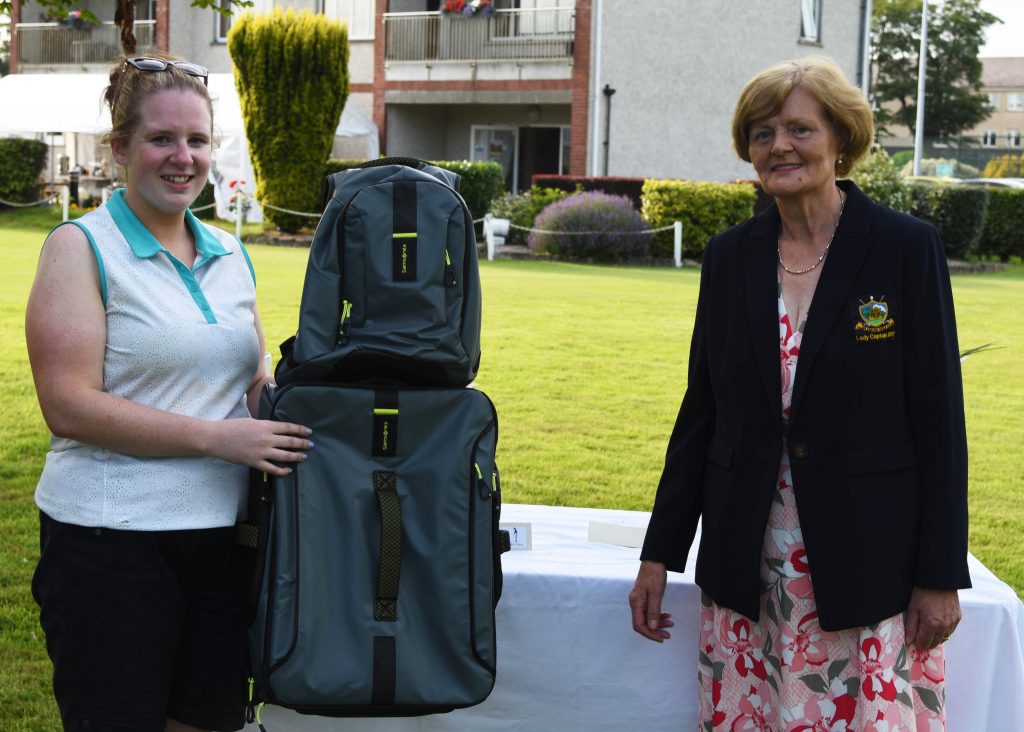 Photo 1.  Templemore Golf Club Captains Prize winner Philip Ryan (Jnr) presented by Club Captain Dinny Maher.  (Photo by Seamus Bourke)
Photo 2.  Templemore Golf Club Lady Captain Prize winner Claire Fitzpatrick presented by Lady Captain Marian Keely.  (Photo by Seamus Bourke)
 Templemore Golf Club News.
 Captains Prize Week-end.
The weather was magnificent and brought a lot of outdoor activity to the Club House.  The catering provided by the club was excellent for all that played and visited.   The course conditions contributed to some brilliant golf.  There is no doubt that Templemore Golf Club is one of the best 9hole golf courses in the country.  This has been lauded not only by visiting casual players but also by visiting competition teams.  The presentation of the Captains Week winners was presented on the Golf Course amid glorious sunset and very appreciative members, visitors, and families.
 Captain Address.
Captain Dinny Maher thanked all the competitors, numerous people who volunteered in the making of this weekend of golf very successful. He also thanked his reliable, devoted colleague on the course which is appreciate by all members for his skills on the upkeep of the greens, the course and equipment.  Complements were also extended to the Club Competition Secretary Dinny Touhy and his assistant Sean Lee.  He extended a special tribute to his wife MaryAnn and his family for giving him the space to contribute all the time that is required in performing the functions of Club Captain.  Captain Dinny also congratulated Lady Captain Marian Keely on a very successful Lady's weekend of Golf.  He also presented to the Lady Captain Marian with a special gift from the men.  He then proceeded with the announcement of the winners.  1st. Philip Ryan (Jnr) .  2nd. Padraig Moloney.  3rd. Club President Bertie Keane.
 Competition Secretary address.
Competition Secretary Dinny Touhy congratulated Captain Dinny on his successful weekend of golf and all the competitors.  He especially congratulated Captain Dinny for all his continued hard work on the upkeep of the Course making it one of the best courses in the country that is enjoyed by all the members and visitors.
Ladies Captain Prize Results.
1st. Clare Fitzpatrick.  2nd. Bridget Gleeson.  3rd. Lorraine Ryan.
Fred Daly Boys Competition.
A fantastic performance by all the team in giving their all.   Tipperary town was a highlight drama account of superb golf by Ned Walsh and Eoghan Kelly.  Eoghan had a tremendous game with steady play and bringing the match to the 20th hole for the final decider in favour of Tipperary by one put.   Without doubt "Man of The Match" for steadiness and superb iron play.  A bright future ahead for these boys.  Away.  Eoghan Kelly, Ned Walsh.   Home, Daniel Joyce. Janie Ormond. Ned Daleney
50/50 Draw.
18th, July,  50/50 lotto. John Galvin €200.
Juvenile and Beginner Ladies Golf Lessons.
Juvenile Golf Lessons every Monday @ 10am.
Beginner Ladies will continue afterwards @ 11am approx.
Details & Registrations;   Contact Pat O'Connell 087-9205821 or 0504-31400.
Seniors Golf and Social Mix.
Both were cancelled as a mark of respect to Lorcan and Jennifer Reilly on the passing of their son Josh age 6, also to the grandparents Joe and Ellen O'Connor.  May they all find peace in their hearts.
Covid 19 Guidelines.
Reminder.  Players must sign in at the clubhouse door before teeing off.
 Membership Subs.
Reminder.  Fully paid Members only will be able to book play on the Tee Times Web Site. Options to pay are all on the website.   All visitors are welcome contact 0504-31400.
Future Competition Dates;
Seamus Cody Cup 1st Round 25th. July.
Lady President's prize will take place on Aug 7th
Presidents Prize 14th. 15th. August.
Social mixed. Every Wednesday PM.
Seniors. Every Thursday AM.