Templemore Golf Club Notes;
Templemore Golf Club is always open and would welcome new members to join. Our membership rates are very competitive and payment arrangements can be made to suit personal circumstances. "We know that if you choose to visit us that you will be assured of a friendly welcome from members and staff and that you will enjoy the experience that is Templemore Golf Club."  Measuring 5,443 meters for the 18-holes. The course has 12 different tee boxes. The course has a Par of 70 and a standard scratch of 68, this SSS also represents the course record shot by none other than Richie Coughlan who gained his card for both the PGA and European Tour on his first attempt. Thus indicating that Templemore golf course is no pushover. Junior members are also catered for with a specific program during the Summer and holiday periods where coaching is provided in the skills of the game and in the etiquette and rules of Golf. The Junior Officer sees the development of young boys and girls as a vital lifeline to the growth and development of the Club in the future.  Application Forms can be download from our membership page on our web site.
Competition Results;
May 27th.  Pierce Purcell Team Played Mitchelstown in Cahir Park Golf Club on Sat 27th. The weather was very bad on Saturday and despite great efforts Mitchelstown were the champions 4/1.  It continued on the Sunday against Clonmel and again Clonmel were the better team 3/2.  The Templemore team were, Tom McGrath, Liam Daly, Timmy Touhy, Mick Kealy, Dennis Ryan, Jim Connelly, Gerry Keegan, Sean Lee, Denis Ryan, Michael Purcell, Bernie O'Rourke, John Greed, Joe O'Connor, Liam Leahy, Martin Bohan, John Galvin.  A great turn out of players and both management and team are to be congratulated for their efforts.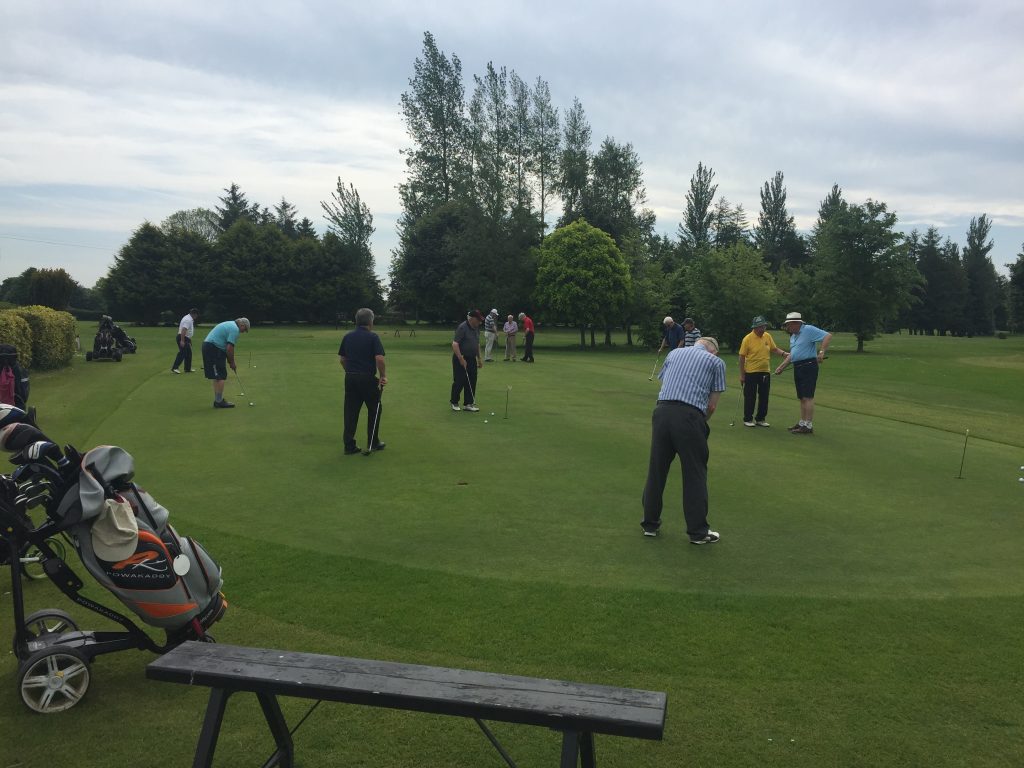 Social Event; Templemore Golf Club Social Nite will be on Friday June 2nd. In Polly's Pub.  There will be a presentation of prizes, and all prize winners are to attend in both Men and Ladies League for all week-end prizes to date. Entertainment will be provided.  This is always a great Social event and everybody is invited including non-golfers Ladies and Gents.  Make this your Social Nite Out.  The entertainment and Banter is always second to none. Commencing 9.30 till late!!!.
Sunday Time Sheet;  It was great to see a number of golfers out this Sunday AM and especially now that there is longer daylight and summer in the air. The Club encourages all players to take part in this competition and make Sunday a great day of Golf.  It is Important that players select their times and enter it on the timesheet to avoid hold up in play.  Also to have all details completed on their card especially their Membership Number.
Member Subs are now due, so please pay A.S.A.P.
IMPORTANT; Payment of Subs are now requested and can now be paid online on the club web site by PayPal or with Debit or Credit Card. You can also make a donation payment on line and all will be appreciated.  There is a list on the Club notice board of those that have paid and those that still have to pay.  Subs are the backbone of the club so payment is expected as soon as possible.
Web Site;
Our new web site is constantly been added with new features on all sectors relating to the Golf Club activities and the course.  The site is now connected to "Facebook" so that members on face book will get an automatic notification of any news posted on the web page.  We encourage all to select the "LIKE" button so that the news will also go to all of your friends.  Photos are been added regularly into the photo gallery, so have a look you may be in the mix.  Any historical photo's and competition photo's would be welcomed, contact Tony 0868209991.
Fixtures:
June 4th.Inter Club 4 Ball in Cahir Park Vs Cahir. There is an eligible players list posted on the Notice Board.  Entries are requested before 4th June. Or Contact John Stapleton 086 0894718.
The Singles League competition will continue throughout the weeks, Fee €5 Re-entry €3.
Social Mixed on each Wed Evening. The Draw will commence at 6.30pm. Sharp.
Sunday's 18 hole Competition, see time sheet for details.
Singles League is currently ongoing, one each week. Round 1, 9 Holes. Round 2, 9 holes. Round 3, 11 Holes.  Round 4, 11 Holes. See Notice Board for details, Entry fee €5 re-entry €3.
Golfer of the Year;  Participating in all competitions throughout the year will Increase your "Golfer of the Year" points.  All away scores are to be recorded on the "Away Record Form" on the notice board.
Ladies Golf; The Ladies Social Mix is gathering momentum.  All members should make a special effort to participate in this great Social event each Wednesday evening at 6.30pm. Followed by their hospitality of Tea, Sandwiches, scones and banter. A wonderful event and all the Ladies are to be congratulated for organising this event.  Keep it up Ladies and well done.
Ladies Results;   
Tuesday 16th. May.  1st. Mary Ann Maher 34 points.  2nd. Lorraine Bourke 33 points.
Social Mixed Wed. 17th. May. 1st. Team, Seamus Bourke, John Greed, Eileen Curtin.  2nd. Team, Jerry Keegan, Frank Shortt, Maura Sheehan.
Tuesday 23rd.  1st. Olivia Collins 34 pts.  2nd. Shiela Delaney .34 pts. and 3rd. Sadie Tynan. 34pts.
Social Mixed Wed. 24th. May. 1st. Team.  Ann Kennedy, Joan Short, Martin Gleeson.  2nd. Team, Seamus Bourke, Maura Sheehan, Margaret Deegan.
New Members;
Why Join;
Good Outdoor Exercise; 9 holes + 2hrs.  18 Holes = 4hrs.
Good Social occasions, Presentation Nights, Social Mixed, Senior Events and Away Trips.
The Handicap System allows members of different abilities an equal chance of winning.
Various Category of Memberships are available at different rates.  ( see Membership rates on our web site).
Full Annual Membership €370 = Approx. to only €1 per day.
New members are the lifeline of the club, so all existing members are encouraged to tell all your friends to take up membership and test their skills on this challenging Golf course.
Registrations Forms for new members are now available on line on our new web site, or at the club house or contact Martin Bohan 087 0509278.  All are welcome.
The Golf Course:
The course is in great shape under the guidance of Course Manager Liam Leahy, our Green Keeper John Alexandre and our "Volunteer" organiser John Stapleton who organises the team of voluntary workers which is always appreciated in profiling this vibrant Golf Club amenity.
Volunteers;
URGENT; "Adopt a Bunker" The adopt a bunker plan is a great success in keeping them in great condition.  All volunteers are welcome, just check in with Liam Leahy, Course Manager, 087 4115773  or our course Volunteer organiser John Stapleton 086-0894718 to offer any skills that will make improvements i.e. Grass Cutting, Bunker Raking, Strimming of all edges Drains, Patways and Bunkers, Carpentry, Maintenance or others, or just turn up at your own convenience.  All will be appreciated.
Miscellaneous Events;
The Kevin Fogarty Home to Home Run;  The Home2Home Run was officially launched by former Republic of Ireland footballer and Sky Sports pundit Niall Quinn; Tipperary hurling star Noel McGrath; and Clane native and accomplished jockey Mark Walsh. Commenting at the launch, Niall Quinn said: "My family comes from Tipperary and, like Kevin, I have made Kildare my adopted home.  His death at such a young age is devastating for his wife and children, and for his relatives and many friends. Noel McGrath said: "Kevin grew up not far from me in Tipperary.  For somebody who was so talented and enthusiastic about sports, it is a fitting tribute to hold a fundraising run in his honour. Tickets to support the Home2Home Run are now on sale, priced €25, or donations can be made through the campaign's GoFundMe web page.  All money raised will go directly to support Kevin's family.
Unwanted Golf Clubs are still wanted, to help those that want to start playing this wonderful game, but do not have Golf Clubs. This project is ongoing in conjunction with  Templemore Lions Club. To donate to this very worthwhile project, please contact any member of the Lions Club or The Templemore Golf Club Juvenile Officer, Pat O'Connell; 087 9205821 or just leave them into the Golf Club. This is a great opportunity to help young people and others to become active in the great sport of Golf.  Have a look into your old Golf Bags/closet, and it doesn't matter what condition the clubs are in, they will all be appreciated.
Seniors Report and Results Fri. 26th May.
The results are as follows; 
1st.  Team. Pat Dunne, Mick Connell, Sean Lee.  2nd. Team, George Collins, Sean Ryan, PJ Leahy, Tom Harris. 3rd. Team, Donal Golden, Seanie Gleeson, Liam Daly, Paddy Nolan.
New Seniors Members;
All Senior Golfers and visiting Golfers 55+ are more than welcome to enjoy an excellent social opportunity to play this game with like-minded golfers.
Fixtures;
Next Seniors, Thursday 1st June.
Usual time 10am. for entries to start no later than 10-30am. Fee €5 which include Golf, Tea, Sandwich's and the Banter.  1st. away event is in Rathdowney, on the 8th. June. There is great interest in this event and the list is already showing a full members participation. Contact John Stapleton 086-0894718 to secure your entry.
LMC Fixtures. East Clare, 12th. June. Templemore on Saturday 22nd. July.  All LMC fixtures ore on the notice Board in Club House or the LMC web site..
Golf thought for the week;   "A golfer has to train his swing on the practice tee, then trust it on the course" – Dr. Bob Rotella.