Templemore Golf Club News;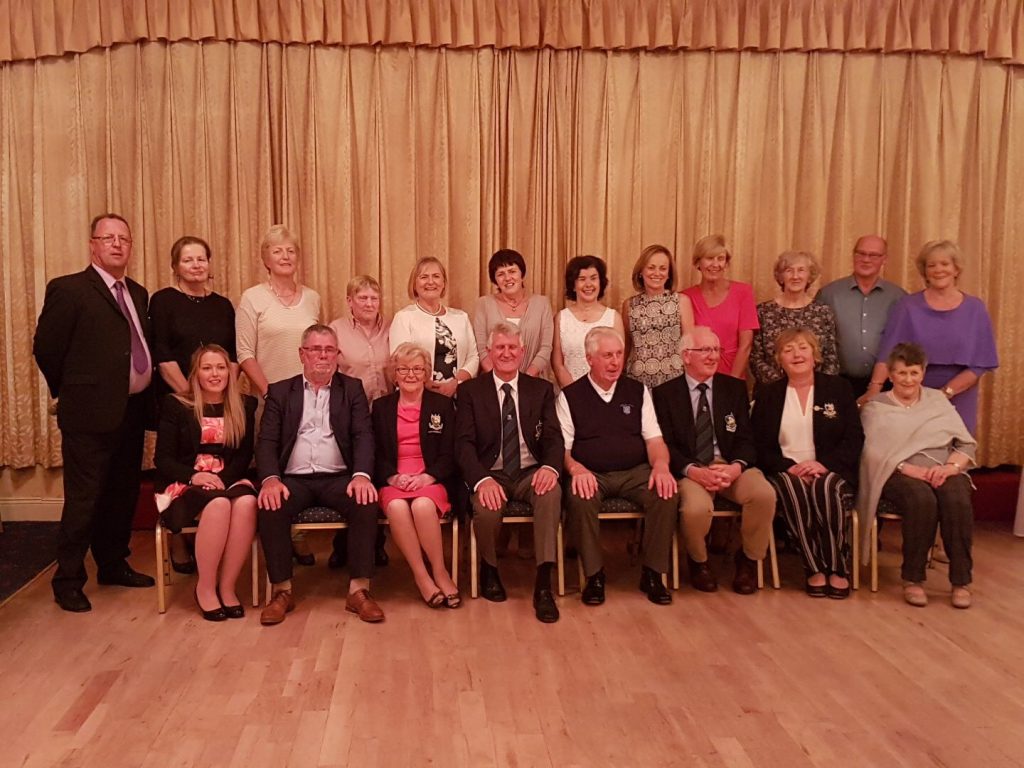 President's Prize, Saturday 30th. Sept.  The weather was great and held up well for the event over Friday and Saturday, The course was in excellent condition which resulted in great golf scores.  There was a great attendance. The competition was so competitive that it required several count backs to determine the winners and the overall winning congratulations went to Sean Lee (The Club Handicap Secretary). The Ladies also competed on the Saturday afternoon and had continental weather for their event also with a great attendance.  The scoring was also very also competitive and the winning congratulations went to Josie Bourke (Lady Captain)  A magnificent week end of golf. Congratulation to all who took part which shows that this club is very vibrant and active.
Prizegiving Social Nite;  This event took place in the Templemore Arms with a great attendance.  Both Presidents Tony and Maura were piped in be Mr John McLoughney.  A wonderful spectacle to start off the event.  Captain Martin Bohan commenced the presentation with thanks to all who took part and a mark of respect to the passing of P.J. Moran on Tuesday 19th. September.  Former Club President, 1988-1996.  " May he rest in Peace".  The baton was then handed to the Lady President Maura Sheehan who gave a great account and thanks to the Ladies and all who took part and a reminisce to all the her past Captaincy and Presidency.  The baton was then handed to Club President Tony O'Toole.
President Speech; I welcome you all here tonight with a special welcome to our Club Captain; Martin Bohan. Lady Captain; Josie Bourke. Lady President;  Maura Sheehan, our Competition Secretary; Liam Leahy, fellow golfers, families and friends.
I feel very proud and honoured, to be president of Templemore Golf Club.  As I know Ann would also have felt the same if she were here today.  And any other member that has the opportunity to ware this Jacket representing this club.  I want to thank former President 2016, Mr. John Stapleton for asking me to succeed him, I do hope John that I lived up to your expectations.  A very special welcome to the Golf Union of Ireland incoming president Mr. John McLoughney and to Golf Union of Ireland, Munster Branch Official, Mr. Pat Dunne.  The club can be very proud that two of its members reached these prestigious National Golf positions. This is a great legacy to our club.  A special welcome to Vice-Captain of Roscrea Golf Club, Mr. John Maher also a very special welcome to Mr. Jack Kennedy representing "Templemore Sports Forum".  I'm Delighted to see so many here tonight including past Captains and Presidents an indication that there is a strong interest in the success of the club.  I was told to have a short speech, but with this opportunity, there are sectors that need to be complemented.
Club ambassadors; I want to express a special thanks to all the Ladies and Gents Golfers that represented our club against other clubs, both at home and away.  They are the real club ambassadors.  Thank you all.
Juvenile Golf; Thanks to Pat O Connell for overseeing the summer mixed Juvenile Golf Training Camp.  A job well done, as some of these juveniles are competing well at their own level, and are also winning some adult competitions.  An indication that Juvenile involvement with professional training will be the future and lifeline of the Club. Well done Pat.
Volunteers; Templemore Golf Club volunteers are a special breed of passionate golfers going about the preservation and presentation of this Golf Club.  Every day, every event, every occasion their there.  A special thanks to all and especially to John Stapleton and his aide Rody Cawley for organising the volunteer work schedules and to both for their continued support to me over the year, thank you both.  Also, all Non-members who volunteered their time and skills, with a special thanks to Ken O'Toole who set up the technical framework for our new web Site and social media and also to Darren O'Toole who's technical team designed our new Club "Welcome" sign.  A very special thanks to all.
The Seniors;  Thanks to the Seniors committee for continuing with this event and for their contributions to the Club towards equipment and other expenditure.  Also for their volunteer help on the course throughout the year.  This is a typical example of integration appreciation for the success of the club.
Ladies Golf;  The Ladies have always been supportive and are an integral part of Templemore Golf Club. Their specialised event "The Social Mixed" is a great revenue and promotional asset to the club.  Thanks to all the ladies who make this event the success it is.  Long may it continue successfully.
Media;  Thanks to the Tipperary Star, The Nenagh Guardian and "The Finest" local paper, for the media exposure they gave us over the year.
Sponsors; Thanks to all our sponsors and especially to Centenary DIY Co Op. for their generous sponsorship to your classic, and also to our local sponsors who are always there to support our club and especially tonight to the Templemore Arms, Dan and his staff.
The Golf Course:  A very special thanks to our Course Manager Liam Leahy, who's depth of knowledge on course management is always welcome and always vigilant to the upkeep and presentation of the course.  "Thank you Liam".  also a special thanks to our Green Keeper John Alexandre.  John you have made excellent improvements to our greens and to the upkeep of our machinery, a very special thanks to you.
Family;  Thanks to all my family for their support and encouragement over the year to allow me time to engage and be proactive during this Presidency.  Unfortunately my Mum cannot be here tonight to celebrate this great occasion in my life.  Also a special thanks to my very good friend Catherine Canavan who helped me in the selection of this wonderful "Tipperary Crystal Silverware" Catherines family are well renowned in the "Headfort Golf Club" Kells, Co. Meath.  Thank you Catherine.
Best wishes to; Incoming Captain for 2018 Tommy Foley and incoming Lady Captain  Sarah Ahearne (daughter of PJ Leahy).  You can both be assured that you will have my full support and of all the club members.  The best of luck to you both.
Club Committee;   A special thanks to our Club Captain Martin Bohan, who has steered a steady ship for the Club throughout the year.  With Martins Calibre and Golf knowledge the club is in safe hands.  Also thanks to all our committee members and sub-committee, in their decision making, that protects the lifeline of the club.
Finally and very important;  This is Your Club the members, both Ladies and Gents, therefore be proud and supportive of it, in whatever way you can that will make a difference.  Be positive and protective of its future, so that the youth and next generations of Templemore will inherit the legacy and asset of this great sport facility,     "Templemore Golf Club".
The Prize Presentations; The night concluded with the presentation of prizes by Competition Secretary's Liam Leahy and Josie Moloney and followed by great dance and entertainment.
Well done to all.