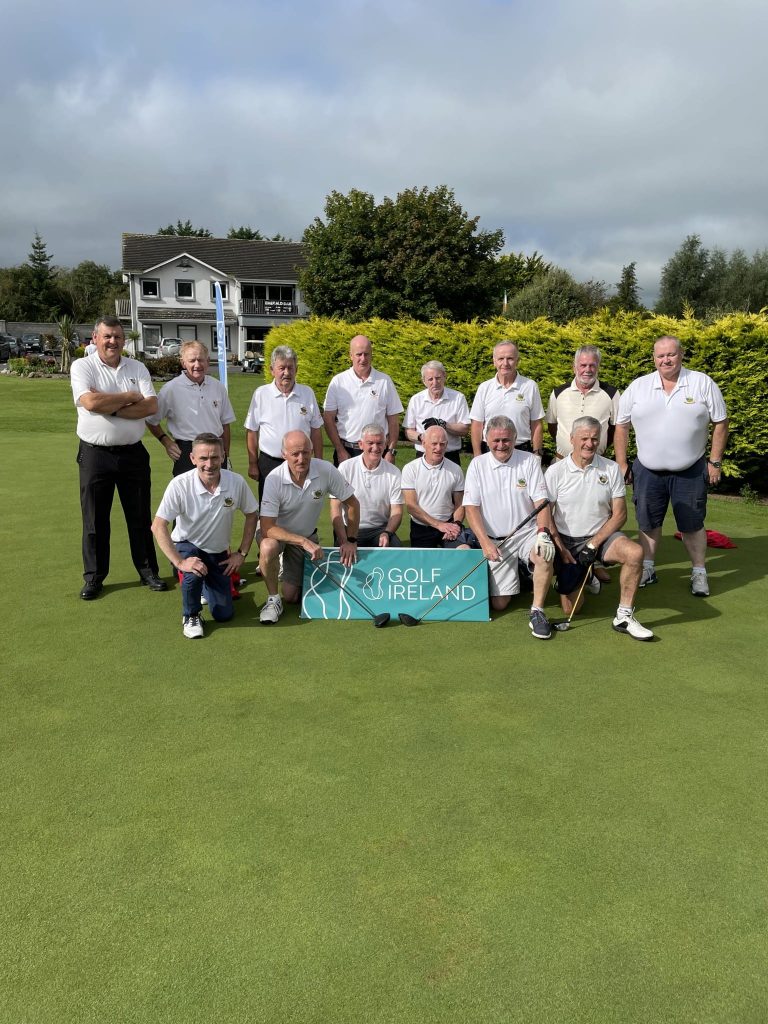 Templemore Golf Club. J.B, Carr winning team.   B.R. L,R. Ted Kenned, Jerry Keegan, Timmy Touhy, Padraig Moloney, Liam Daly, Dinny Maher, Hon. Competition Secretary, Sean Lee, Declan Russell.  F.R, L.R. Declan Kennedy Club Captain, Seamus Bourke, Pat Looby , Sean Cashman, Bertie Keane, Tom McGrath.
Templemore Golf Classic.
8th. 9th. 10th. Sept. Winners.  1st Team,  Ted Kennedy, Pat Looby, Dessie Hennessy, Sean Lee.  2nd. Team, Dylan Carey, Leigh Carey, Kenny Lee, Sean Lee.  3rd. Team.  Joe Fahy, Paddy Bourke, Seamus Bourke, Liam Daly.  This weekend Friday 8th, Sat 9th and Sunday the 10th was the Classic a major fundraiser for our club and the support from all is appreciated.  The Classic was not only open for Club Members but friends and family from other clubs and to also Non-GI players.  It was a brilliant success due to the great condition of the course, the sponsors and especially the competition organizing team.  All the players endured heat up to 30 degrees which was a test on the ability of the teams to endure.  Some great prizes included a 4 ball voucher to some amazing courses including Royal Tara, Doonbeg plus other great prizes.  Also, The Greenview Restaurant was in full swing for refreshments during the days and enjoyed by all.
Fred Perry Team.
2nd Aug.  Congratulations to The Fed Perry team, who beat Lucan Golf Club in the All-Ireland Quarter Final in Callan 3.5 to 1.5. They now play the all-Ireland semi/final in Westport on the 22nd, 23rd. and 24th. of September.
Social Mixed.
30th. Aug.  Was the last Social mixed of the season and all involved are to be congratulated for their endeavors to continue this great fundraised event for the club. The winners were.  1st.  Seamus Bourke, Ambrose Purcell, Margaret Buckley.  2nd. Place, Timmy Touhy, George Murrey, Josie Bourke.
Seniors Golf.
6th.Sept.  Well, the good weather from last week blessed us again today as the Seniors showed their continued support for the club and participated in the Seniors Classic in 1st. place a 3 ball that really shot the lights out with 57 points Ollie Murray, Seanie Gleeson, Rody Cawley. In 2nd. place with 53 points ( on Countback) Eamon Connolly, Tom Ryan, Michael Healy, and Pascal Whelan and finally in 3rd. place also with 53 points Bernie O'Rourke, John Mullally, John Stapleton and James Murray. An appreciated thanks to all.
Dates for your Diary. 
22nd, 23rd. and 24th. of September.  Fred Perry all-Ireland semi/final in Westport.
Seniors.  Every Thursday 10am. Refreshments afterwards in new Club House "GreenView Restaurant".