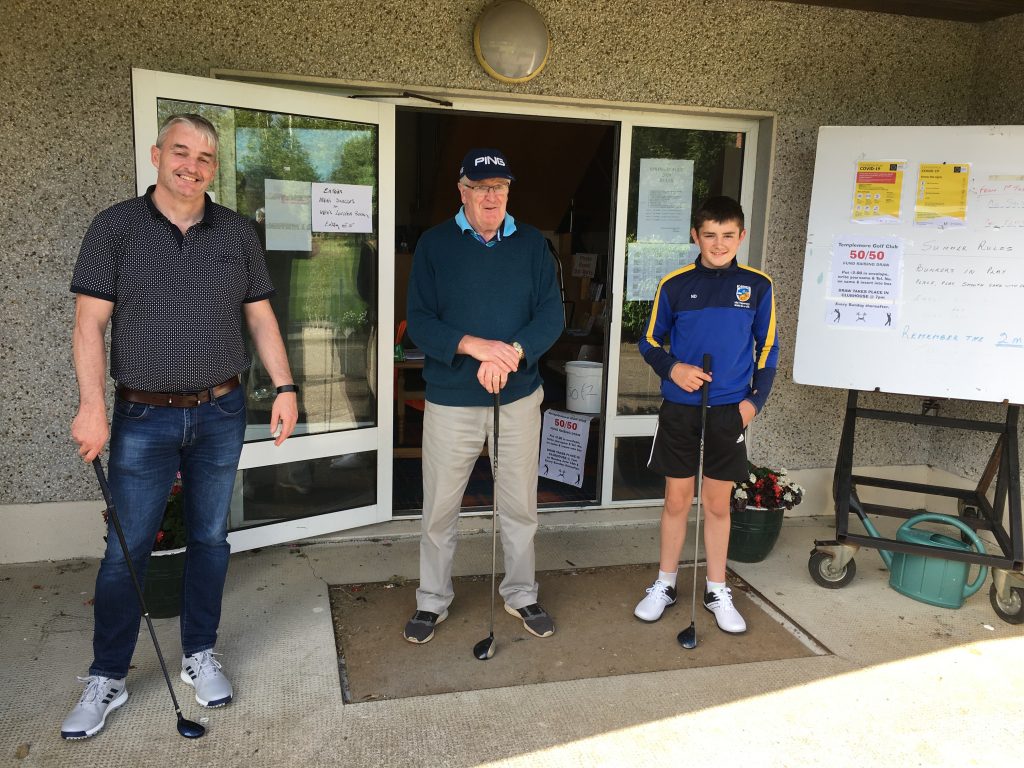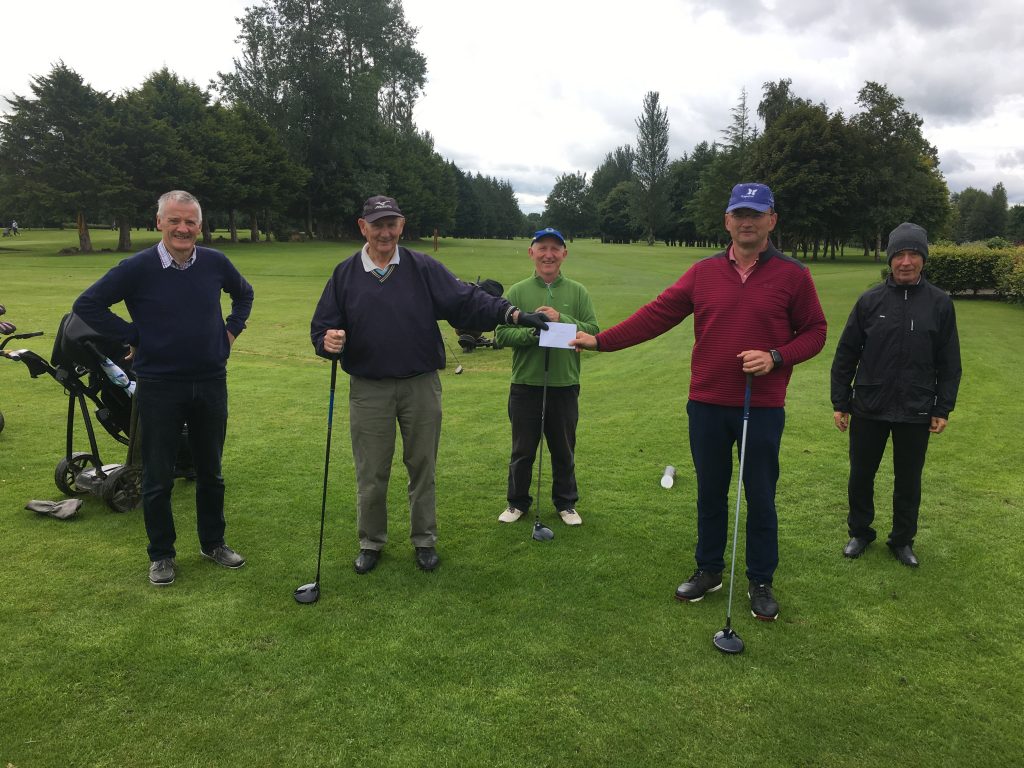 1st. Photo. Templemore Golf Club, 3 Generation Family Golfers,  Gerry McGrath Captain 1985 & 1997.  President 2009, with Son John McGrath and Grandson Ned Delaney Golf Cadet.
2nd. Photo.  Templemore Golf Club, 50/50, 4th. draw winner Michael Purcell Presented by 2nd, Draw Winner Michael Murphy, also Captain Tom McGrath, Captain 2018 Tommy Foley and Club Secretary Pat O'Connell.
Templemore Golf Club News; 
Dates for our "Majors";  Due to the delayed start to our regular year, dates for our "Majors" have had to be reviewed. The Captain's will not be going ahead next week with new dates to be confirmed asap This may also impact on other events. Thanks to all for your support of the Club in so many ways. This holds true for Competitions, work on the Course and Clubhouse with all areas doing really well. Great to see so many visitors around to sample our wares. No doubt they enjoyed themselves and we will see them back again.  Continue to enjoy the game but do so in a safe manner and we will all come through these strange times together.  Club Captain Tom McGrath.
18 hole Singles;  Sat. 11th./Sun. 12th.  18H S/F.  1st. Peter Wrenn 40pts. 2nd. Lyndon Fairbrother 37pts.  3rd. Donal Hayes 37pts. all results are posted on "Master Score Board", web site, go to "my golf" then "hole analysis" and you can see your score card.
18hole S/F 18/19th. July. Will be an 18 hole S/Ford competition. Top 16 to qualify for Seamus Cody memorial matchplay competition.
Spring League;  Scores for week 2. League. Individual winner Week 2, Declan Kelly 31pts. Teams now split into Division 1 and Division 2 for weeks 3 and 4. Week 3 holes 1 to 11. Week 4 holes 3 to 16. Re-entries @ €3 each week. Results for round 1 is now on display in the club house and on the club "WhatsApp"  Anyone not able to play and substitutes that want to play Contact Competition Secretary. Dinny Tuohy 085-2842067.  Continued Best of luck to all.
Ladies Seniors;  Monday. 6th. July; .  1st. Sally Kilcommon, 2nd.  Mary Nolan.
New On-Line Tee Booking System;   The club new "Online Booking System" can be accessed on our Web site; www.templemoregolfclub.ie  no access to the course will be allowed without booking through the new system also registering on the "Covid-19 Tracing Registar".  Visitors can contact info@templemoregolfclub.ie to request Tee times or link up with an existing member.
50/50 Lotto Winners;  1st Draw.   Biddy Gleeson.  2nd Draw.  Mick Murphy.  3rd. Draw.  Patricia King.  4th. Draw. Michael Purcell.  Special congratulations to all from Club Captain Tom McGrath and thanks expressed to all for supporting this venture.
Cadet Golf;  All Cadets will be notified as soon as we can resume "Collective Training".  In the mean-time Cadets can play in the company of an Adult Member.  Contact Pat O'Connell for more information. 087-9205821.
Seniors Results; Thursday 9th. Seniors results after this morning's Golf with 9 team's participating and the weather been so kind. Apart from the winners it was a close call for the minor placings. The wìnner's with 50pts. were Liam Daly, PJ Leahy, Jim Gleeson, and Paddy Nolan. In second place with 47pts. Denis Tuohy, John Browne, Willie Haverty, and John Galvin.  3rd place also with 47pts. were Mick Keely, George Collins, Les Mason, and Paudie Butler.
Seniors Away outing;  Greetings to our Senior members. The good news is that our first away outing of 2020 will take place on Thursday 23rd. of July in Rathdowney G/C .Tee off at 10am. The usual 4 man teams, with two scores to count. The cost per player is €30   This covers Golf, 2 course meal,  and prizes. Those interested in playing can give in their names next Thursday. Last day and date will be Tuesday the 21st July.  Contact P.J. Leahy 086-8828947.
New Members are more than welcome.
Select the "New Members" tab on the web site and complete the ONLINE application form and select submit.
Then select the "FEE" tab and proceed with payment.
If any difficulty contact Tony by text @ 086-8209991.
Make Golf a Life Changing Gift;   Give a life changing Sport experience to someone.  The Ideal gift for anyone who would like to take part in an active exercise sport.  Golf is that Ideal Gift.  Buy a membership Voucher now.  Contact Pat O'Connell 087-9205821 or any of the committee for to purchase the "Ideal Active Present".
Golf Active in Retirement for 2020;  For the active retirement, this is an excellent activity.  You will be more than welcome.
Why Join;
Good Outdoor Exercise; 9 holes + 2hrs.  18 Holes = 4hrs.
Good Social occasions, Presentation Nights, Social Mixed, Senior Events and Away Trips.
The Handicap System allows members of different abilities an equal chance of winning.
Various Category of Memberships are available at different rates.  ( see Membership rates on our web site).
The club will assist you in starter clubs to get you going.  Contact any current member for assistance and you will be looked after.
Private Donations for Course Development;  Donations, sponsorship, will be greatly received now that the club will have its own autonomy and will be used exclusively for Course Development.  Put your stamp on the course making a special contribution.  For Donations, Just select the "FEE" tab and then select "Make a Donation" tab on the Club Web Site http://templemoregolfclub.ie/membership/ , or in confidence contact; Club Captain Tom McGrath 087-1147666.
Future Competition Dates;
Sat. 18th. Sun. 19h.  18hole Stableford, 2-3 Ball only. Top 16 to qualify for "Seamus Cody" memorial matchplay competition.
Spring League 3rd. Round, Ongoing to 18th. July.
Spring League 4th. Round, Final Week, 13th. to 25th. July.