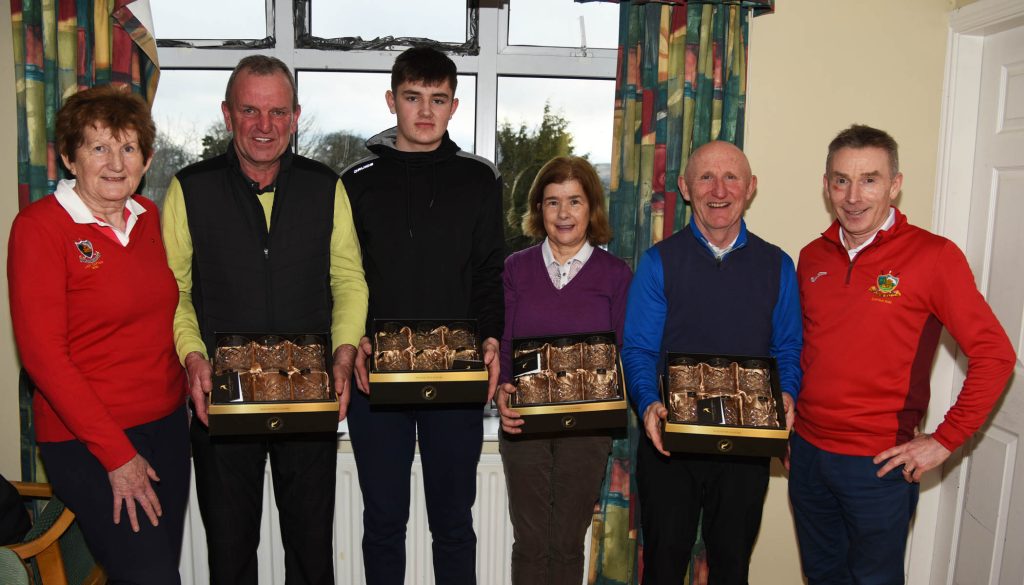 Templemore Golf Club, Captains Drive-in winning team, L. R. Lady Captain Mary Gilmartin, Frank Russell, Ned Delaney, Mary Anne Maher, Tommy Foley, Captain Declan Kennedy. (Photo by Seamus Bourke)
Spring League.
Due to the extended bad weather round 1 of the spring league will be extended through to Sunday 19th March.  Any change to the end date of Round 2 will be announced in progress.  Round 2, 6th. March, Finish 19th. March.  Round 3, 13th. March,  Finish 26th. March.  Round 4, 20th. March,  Finish  2nd. April. Teams are now posted in the men's locker room and via WhatsApp. Entry fee is €20 to be paid on start of 1st round, €3 per re-entry.  If you have any queries please contact Sean Lee on 087 221 8506 good luck and enjoy. The Competitions Committee.
Week-end Results.
5th. March.  Even with the spring league in full flow there was still a good turnout for the Weekend 14 hole. There were two 34 points returned Eamonn Connolly winning on countback from Shane Cashman.
Seniors.
9th. Mar.  Due to continued wet weather it was no possible to play Seniors.  Hopefully next week the weather will improve.
50/50 Draw.
The 50/50 Draw is also available online for anyone who cannot make it to the club. http://templemoregolfclub.ie/membership/ [templemoregolfclub.ie]   Scroll down to the end of the FEE categories and select the 50/50 Buy Now.
Fees for 2023 are now due.
Full Member €350.  Couple €500.  Retired-unemployed couple €450.  Family (2Adults+their 2 children under 18yrs) €550.
Country Member €250. Beginner 2023 (1st.yr. 250) ( 2nd. Yr. 350).  Beginner Couple (1st.yr. 400) (2nd. Yr. €500). Students 3rdLevel College & Garda Students €125.  Juvenile (under 18yrs) €75.  Retired-Unemployed & Clergy €300.  Distance (outside 50k) €175.  Green Fees (no reduction for 9 holes) €20.
FEE Payment Options.
Club House: Use "FEE" drop box in Locker rooms.
On Line: http://templemoregolfclub.ie/membership/ [templemoregolfclub.ie]Select your Category and proceed by Pay Pal OR by Credit Card.
On-Line Banking Transfer; IBAN; IE21BOFI90445678133532, BIC; BOFIIE2D.
Contact any committee member.
Dates for your Diary. 
SPRING League. Round 2, 6th. March, Finish 19th. March.
Seniors.  Every Thursday 10am. Refreshments afterwards in Club House.