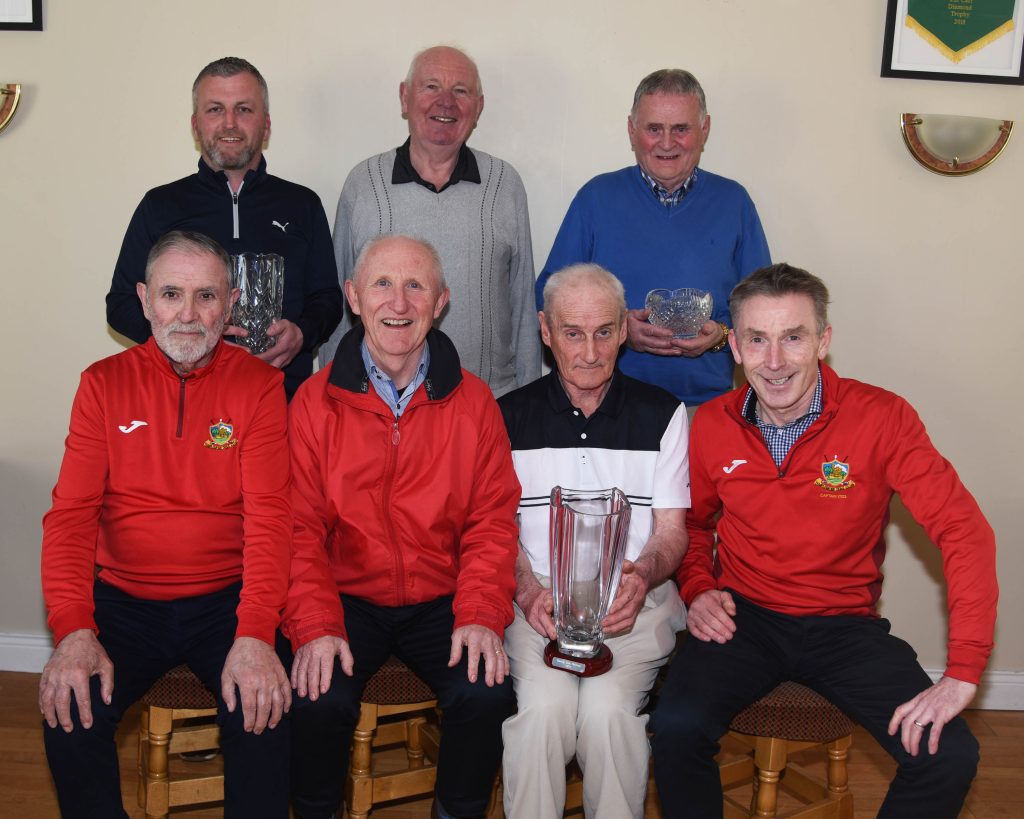 Templemore Golf Club. Doonbeg Social Golf Winners.  Back Row, L.R. Paul Touhy winner, Tom Kenny Assist. Organiser, Bertie Keane winner. Front Row, L.R.  Club President Rody Cawley, Tommy Fowley Organiser, Joe Fahy Overall Winner, Club Captain Declan Kennedy. (Photo by Seamus Bourke)
Doonbeg Social Golf.
Captain Declan Kennedy expressed appreciation on behalf of the club to Tommy Foley for organising the golf outing in Doonbeg for club members last month. This was a very successful and enjoyable event for all. The smooth running of the event was also contributed to Tom Kenny and his Son Kevin who is the course manager in Doonbeg. A contribution of €130 was raised from the event and presented to the Templemore Golf Juveniles. Congratulations to the winner Joe Fahy and all prize winners.  Also, a thank you to all who played and contributed to the occasion. Kind regards, Club Captain Declan Kennedy.
J.B. Diamond Trophy Team.
13th.May.  Congratulations to the J.B. team and managers Mick Carey and Liam Daly, on successfully beating Cahir Park in Templemore.  A great victory of 3 to 2, following another great win over Ballykisteen.   Well done to all. the return leg in Cahir on Sunday 21st. Winning this, Templemore will be County Champions.  The panel is – S. Bourke, P. Bourke, J. Fahey, B. Keane, G. Keegan,  M. Keely, L. Leahy, P. Looby, D. Maher, T. McGrath, B. O'Rourke, A. Purcell, J. Russell, D. Tuohy.  The J.B. Carr Diamond Trophy was inaugurated by Woodenbridge Golf Club in 1996. This popular event has effectively become the Senior Club Championship of Ireland (Over 60's) with some 200 or so clubs from every corner of Ireland participating. The semi-finals and finals are held each year in Woodenbridge Golf Club, usually over the second weekend of September.  Templemore were successful in achieving 3rd. place in 2018. Narrowly beaten by Portumna who were defeated by the winners, The K Club.  A very memorable occasion.
Ladies Getting Into Golf Programme.
13th.May, was the 6th. round of "Getting Into Golf" programme.  A continued dedicated turn out of over 70 ladies who never played this wonderful game before.  The programme covers a wide range of required skills to play the game comfortable.  Also included are golf technical instructions from a local golf Pro Shane Ryan.  The programme will continue every Saturday morning from 10am to 12 noon up to June 10th.  The next leg on May20th. will consist of playing with current members.  A great development for all.  If anyone wants to join the programme contact Ladies Captain Mary Gilmartin. 087-7992355.
18 Hole Stableford Competition.
14th. May.  On a warm Saturday and cooler Sunday there was a good turnout for the 18 hole Stableford.  On Sat 13th. and Sunday 14th. May.  In First place with 42 points, John Keily.  In Second with 39 points, Oliver Murray.  In Third place with points, Tom McGrath.  Well done to all.
Seniors Golf.
11th. May. Well on what looked like an iffy morning rain gear in fashion, 8 teams set out and were stripping off after the first hole. We got in before the rain started again for a convivial cuppa and the results were, in 1st. place with 51 points, Pat O'Connell, Mick Maher and Jim Casey in 2nd. place on count-back with 50 points, John Hassett, Liam Daly, Tony O'Toole and Jim Gilmartin, and in 3rd. place also with 50 points, Bertie Keane, Bernie O'Rourke and Tom Hogan.  Well done all and a special thanks to Mrs Hogan for the wonderful Cakes.
50/50 Draw.
25st.May. COURSE/MACHINERY INITIATIVE.  50/50 Lotto revamp.  From 21st May draw will be fortnightly. 3 PAYMENT OPTIONS: (1) Usual envelope system of 2 euro per entry (three for 5 euro) in Clubhouse. (2). 50 euro for one entry to 26 draws (1 year). (3) 100 euro for 3 entries for same 26 draws. Please support this initiative. Funds to be used for Course works and machinery upgrades.  Payment options:  * Clubhouse; * Club Bank a/c – Bank of Ireland, Thurles ie21bofi 904456 78133532.  On Line Payment details on Club website, Templemoregolfclub.ie or to any Committee member.  If you're not in you can't win !!
Fees for 2023 are now due.
Full Member €350.  Couple €500.  Retired-unemployed couple €450.  Family (2Adults+their 2 children under 18yrs) €550.
Country Member €250. Beginner 2023 (1st.yr. 250) ( 2nd. Yr. 350).  Beginner Couple (1st.yr. 400) (2nd. Yr. €500). Students 3rdLevel College & Garda Students €125.  Juvenile (under 18yrs) €75.  Retired-Unemployed & Clergy €300.  Distance (outside 50k) €175.  Green Fees (no reduction for 9 holes) €20.
FEE Payment Options.
Club House: Use "FEE" drop box in Locker rooms.
On Line: http://templemoregolfclub.ie/membership/ [templemoregolfclub.ie]Select your Category and proceed by Pay Pal OR by Credit Card.
On-Line Banking Transfer; IBAN; IE21BOFI90445678133532, BIC; BOFIIE2D.
Contact any committee member.
Dates for your Diary. 
31st.May. Social mix will resume on Wed 31/05/23 details of same to follow nearer the date
20th.may. Golfer of the year has been deferred to the 20th and 21st May
20th. May. Getting into Golf. The next stage of the programme will be on Sat. 29th. May..
27th. May. AIG Men's Fred Perry Trophy.  Upcoming game v Tramore fixed for 27th May at 2pm. In Tramore.
Seniors.  Every Thursday 10am. Refreshments afterwards in Club House.
Inter Club Competitions.  Team Captains & Vice-Captains.
AIG Men's Jimmy Bruen Shield – Captain, Padraig Moloney , Vice- Captain, Denis Maher
AIG Men's Pierce Purcell Shield – Captain, Tom McGrath, Vice -Captain, Dinny Tuohy
AIG Men's Fred Perry Trophy Captain – Liam Leahy, Vice – Captain, (not picked)
Boys' Fred Daly Trophy – Captain, Pat O'Connell, Vice Captain (not picked)
6. J.B. Carr Tournament – Captain, Michael Carey,   Vice-Captain, Liam Daly
7. Munster Country Clubs Cup – Captain, Seamus Bourke
8. Mixed Foursomes Roscrea Golf Club – Captain's Declan Kennedy & Mary Gilmartin