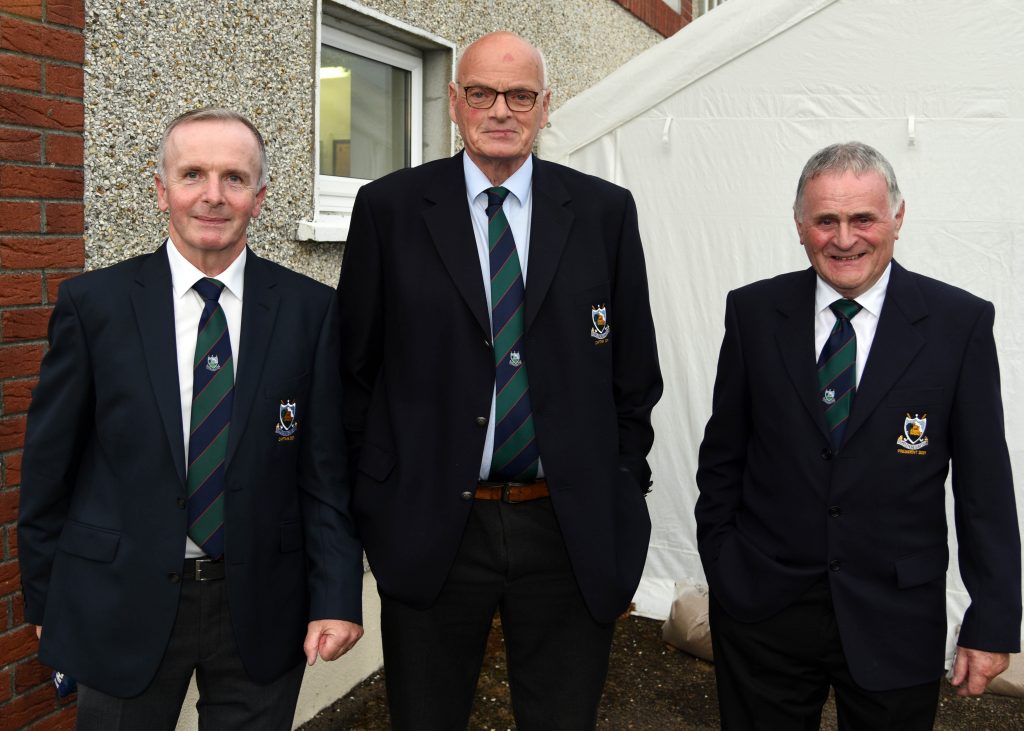 Templemore Golf Club.  Enjoying the 50th. Anniversary.  L.R.  Dinny Maher Captain 2021.  Mick Carey Captain 2011.  Bertie Keane President 2021. (Photo by Seamus Bourke)
Ladies Committee and Officers 2022.
Captain: Mary Hogan.  President: Mary Butler.  Competition Secretary: Marian Keely.  Handicap Secretary: Josie Bourke. Secretary: Kay Brennan. Treasurer: Margaret Buckley.  Committee Members:  Mary Ryan.  Maura Sheehan.  Breda Murphy.  Josie Moloney.  Margie Costigan.
15th. & 16th. Jan Competition.
Due to inclement weather. the results of the 9hole competition on the 15th. and 16th.  will be posted on the members WhatsApp.
50/50 Draw.
The results from Sunday 16th. will be posted on the Members WhatsApp.
Seniors Results.
13th. Jan.  5 teams took part with great scoring all round. 1st. 59 pts. Liam Daly, Seanie Gleeson, James Murray, Seamus Ryan.  2nd. 57 pts. Paddy Bourke, Pat O Connell, Jim Gleeson, Jim Casey.  3rd. 55pts. John Mullally, Frankie Shortt, Michael Healy, Paudie Butler.
Covid 19 Guidelines.
Reminder. Players must sign in at the clubhouse door before teeing off.
Future Competition Dates.
Seniors. Every Thursday 9 AM.
Week-end Competitions will be on announced on the Members WhatsApp.