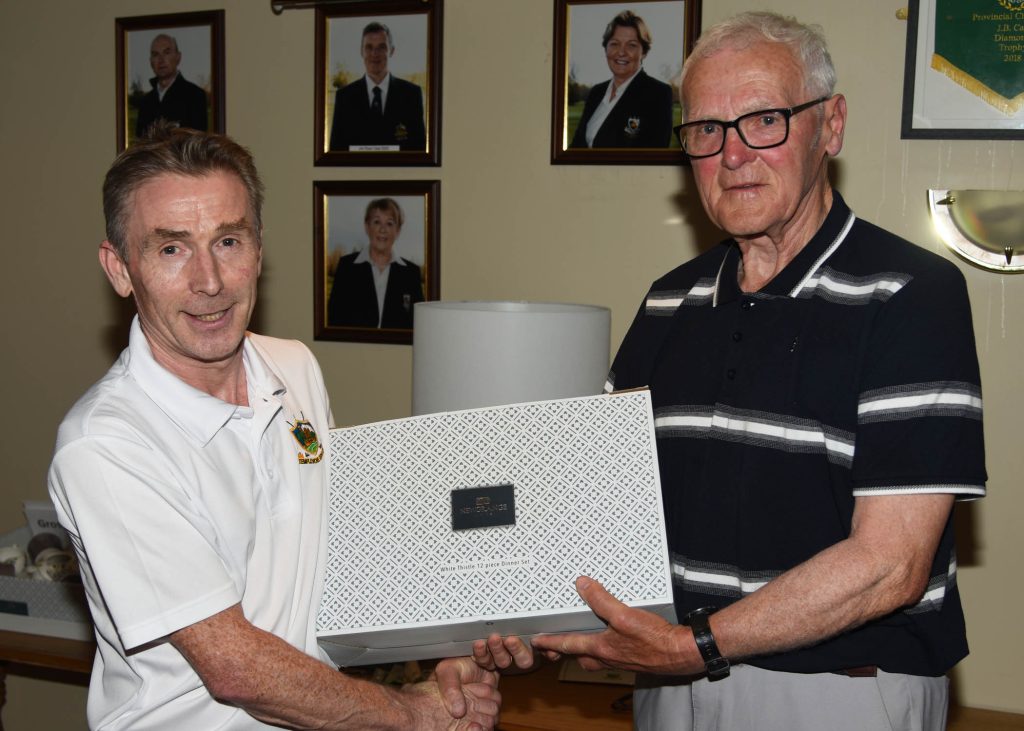 Templemore Golf Club, Vice Captain Third Winner, Donal Golden,  Presentation by Vice Captain Declan Kennedy.
(Photo by Seamus Bourke)
Men's Week-end Competition.
17th. October 2022, Results on the 18-hole Stableford competition carried over to next week.
50/50 Draw.
10th. Oct.  50/50 draw Congratulations to Ambrose Purcell €150.  Results for 17th. carried forward.
The 50/50 Draw is also available online for anyone who cannot make it to the club.  http://templemoregolfclub.ie/membership/ [templemoregolfclub.ie]
Men's Seniors Club Classic.
13th. Oct. On a fantastic Autumnal day for golf where the only issue was leaves and the Sun ( a nice complaint) 8 teams strolled around and the conditions gave us some great shooting so on count back in 1st. place with 57 points Bertie Keane, Ollie Murray, Mick Murphy and Paddy Nolan, in 2nd. also with 57 points,  Jim Gleeson, Seanie Gleeson, Colm Dooley and Christie O'Rourke. In 3rd place with 53 points, Bernie O'Rourke, John Mullally, John Galvin and Willie Haverty again a special thanks to Rody Cawley for looking after our catering..
"Golf is for Everyone" Fees.
Green Fees;  Visitors, €15 for 9 or 18 holes.  Men, Women and Juveniles.  Full Membership will allow you to have access to Club Competitions, Master Score Board for Tee Bookings and Members WhatsApp.  Fees can be paid to any committee member, or placed in the FEE Box in the Locker room.  Alternative, you can pay on the web site.  http://templemoregolfclub.ie/membership/ [templemoregolfclub.ie]  All fee rates are on the Web Site.
Dates for your Diary.
Seniors. Every Thursday 9 AM.