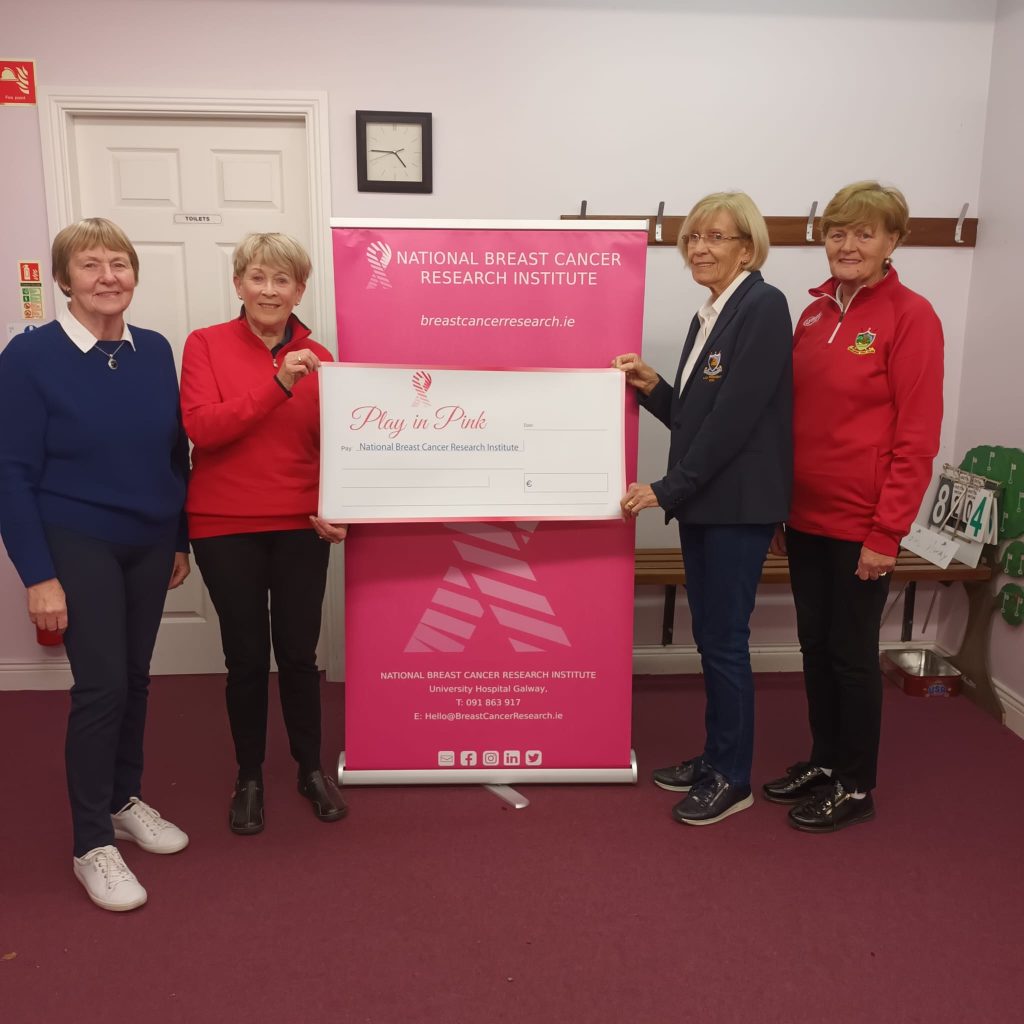 Templemore Golf Club "Play in Pink" Fundraiser.  L.R. Lady Treasurer Margaret Buckley, Former Captain 2022 Mary Hogan organizer, President Margie Costigan, Competition Secretary Marian Keely.(Photo by Seamus Bourke).
"Play in Pink"
Appreciation from Mary Hogan.  On behalf of the Ladies Committee, I am pleased to announce the final total raised for Breast Cancer Ireland, 'Play in Pink' week was €1,415, A sincere thanks to all of you who supported this very worthy cause. Congratulations from Lady Captain Mary Gilmartin.  Well done Mary Hogan for your excellent organising work ,also to your committee. Great paise to all for work and commitment to this great cause and for all the members support.
Short Course to allow play to continue.
Dur to the continued inclement weather, unfortunately week-end competitions were scarce.  To continue playing it was necessary to shorten the course, however a lot of golf was enjoyed by all and especially the seniors. The course was shortened, with temporary mats installed for Tee box's, this new course layout will continue until the weather becomes more favorable for 18 hole play.
Seniors Golf.
2/11   On a cold but bright and most importantly dry day the seniors went out on our new Christy O'Connor Jnr designed course, and with great thanks to the course team, six teams ventured out and an enjoyable round followed by tea and scones in the clubhouse was had. In first place with 55 points were Bernie O'Rourke, .Paddy Bourke, Jim Casey and Eoin Wolahan. In second with 53 points, on countback, were Pat O'Connell, Tony O'Toole, John Egan and John Stapleton and in third place also with 53 points were Ollie Murray,  Frankie Shortt, George Collins and James Murray. Well played all.
9/11.  On a day when the men in white coats would not venture out many doubted their sanity but still seven intrepid teams ventured out and in 1st. place with 53 points Pat O'Connell, John Greed, Jim Casey and Mick Maher in 2nd. on 52 points was Paudie Butler, Frankie Shortt, Les Mason and Eoin Wolahan, in 3rd place on count back with 51 points was Liam Daly, Tommy Foley, John Mullally and John Egan well done all who played a date for the diary is the 14 December for the Seniors Christmas Lunch. It will be he'd in the golf club and Catered for by Liz and her Fairway View team. Further details nearer the time.
16/11.  When the gods of rain and wind were having a rest in the pub 8 teams sneaked out on the golf course and the shortened nature and fine conditions reflected in the scoring 1st. place with 59 points were Paudie Butler, Mick Cahill and James Murray in 2nd. place with 58 points Eamon Connolly, Pat O'Connell, Joe Hennessy and Tommy Deegan in 3rd. Place on 56 points was Paddy Bourke, John Egan and Eoin Wolahan. Well played all.
Bereavement
Sincere sympathy to Elsie and the Browne family on the passing of John (RIP). John served as Captain in 1993 and was a great ambassador for the Club.
50/50 Draw.
11/11  50/50 winner.  Claire Fitzpatrick.  €100 euro.