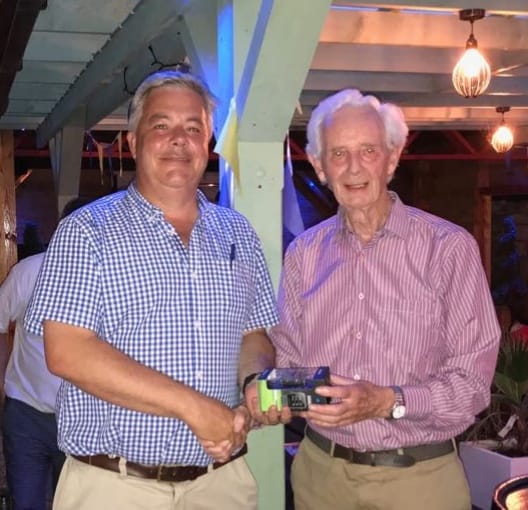 (above photo;. Templemore Golf Club,  Pat Costello wins the White Dowling Golf Society 2018 Connor Scott Captains Prize. (Photos by; WDGS)
Templemore Golf Club News;
A Major Win;  Pat Costello beat a very strong field of seasoned golfers in Roscrea and captured the coveted White Dowling Golf Society Captains Prize 2018.  Pat is also one of the founder members of the White Dowling Golf Society.  Pat is a founder member of Templemore Golf Club, Former President and Captain,  and also the longest continued unbroken membership in the Templemore Golf Club.  This was an exceptional win for Pat and shows his determination and competitiveness at all times to win on the golf course.  All the Templemore Golf Club members and all the Seniors wish you well in golf as you are an Icon and inspiration to us all.
Sat/Sunday 18 Hole Competition:  The continued great upkeep and condition of the course is creating a great turn out for Saturday and Sunday golf.  Use the time sheet to link up with other player to insure you get your game in.  The Winners were for Sat. 22nd./ Sun. 23rd. 18hole Stableford were ;  1st.  Tom Kennedy.  2nd. Mick Carey.  3rd. John Hassett.   All members are requested to make a great effort to participate in this week-end Golf competition.
Golf Ireland;  "A Single Governing Body for Golf In Ireland"  On Tuesday 25th. September a "Club Information Meeting" was held in Ballyneety Golf Club.  The presentation was delivered by GUI, CEO Pat Finn. Officiating were Munster Chairman Jim Long and GUI President John Moloughney.  Representing Templemore Golf Club were Captain Tommy Foley and Vice-Captain Tony O'Toole.  The presentation was very informative on the future creation of a new Single Governing Body for golf in Ireland. (the amalgamation of GUI and ILGU)  Details were discussed on the proposed new Governance Structures – National and Regional, Legal Structures, Club Services and Culture.  An EGM will take place in November or January which will have before it a motion essentially proposing that the GUI (in Parallel the ILGU) agree to dissolve itself, and that all current member clubs of the GUI will automatically transition to become members of "Golf Ireland" on a specific date.  This is a unique opportunity to create an inclusive governing body for Golf in Ireland.  The creation of "Golf Ireland" will help drive the development of the game and ensure that a healthy and successful future lies ahead for Golf and in particular, among younger Golfers .   Explanatory Booklets are now available while stocks last, in the Club Locker Room.  It is advised that all members keep themselves informed on this development.
The McHugh Cups Draw;  The list of players selected for to compete in the" McHugh Cups"  is now posted on the notice board in the Locker Room.   The format will be "Mixed Foursomes Stableford"  The Entry Fee will be 20Euro per pair.  Must be completed by November 1st.   Any further information contact Competition Secretary Liam Leahy 087-4115773.
Away Scoring Recording;  The "Away Score Recording Sheet" for "Qualifying",  "Non-Qualifying",  "Society", "Fourball" and "Team Events" is now places on the notice Board in the locker room.  While all away scores must be listed, Score Cards should also be returned where available.  This is required by the competition secretary John Greed in creating accurate handicap records.  For further information contact John @ 087-0516941.
Juvenile Golf;   It's fantastic to see so many Juveniles showing an interest in the game of Golf and practicing daily on the course their pitching and putting and drive.   If any information is required by parents or others contact the Club Juvenile Officer Pat O Connell, 087 9205821.
Ladies Golf;  Templemore Jewelers Competition; Tuesday 11th. September was replayed on Tuesday 18th. and Sunday 23rd.  The winners were;  1st. Sadie Tynan.  2nd. Mary Ryan.  3rd. Mary Hayes.
Adopt a Bunker Project;  A noticeable amount of players have signed up to commit to adopting a Bunkers which is helping to keep the course in great shape.  Put your stamp on any bunker you feel that you can commit to looking after which will result in the presentation of the course to a high standard.   The "Adopt a Bunker" form is on the notice board in the Locker room.
The Seniors;    Retired golfers to return to the game with like-minded golfers or If you are over 55, from any distance or other Clubs you will be more than welcome.  The results are as follows for Thursday, 27th.  Sept.;   1st. John Mullaly, John Brown, Tom Kennedy  2nd Team; George Collins, Ollie Murray, Jerry Keegan.  3rd. Team;  Mick Murphy, Michael Webster, Willie Haverty, Seanie Gleeson.
Next Seniors;  Thursday 4th. Oct.
Away Seniors in Roscrea;   The Seniors away trip to Roscrea Golf Course will take place on Thursday 11th. October.  Tee Box time 10.30 am.  The Price is 25euro, Including a Meal.  This is a great value and anyone who wants to avail of this great day of golf should contact Seanie Gleeson, 086 1672510.
LMC;  Templemore successfully hosted the LMC on Wednesday 26th.  There was a great turn out of seniors from Leinster, Munster and Connaught.   The course was in great shape and complemented by all who took part.  The event was also supported by the Golf Union of Ireland President Mr. John Moloughney.
LMC Congratulations;    Congratulations to the following 3 Templemore Golf Club Seniors who achieved a placing in the top 10, 2018 Season.  4th. Place;  Pat O'Connell.  9th. Place. Bertie Keane.  10th. Place Eddie Butler.  The LMC has over 200 members, so well done to our lads on achieving a placing in the top 10.
Templemore Golf Club are now Enrolling New Members both Lady and Gents for 2019;  New members will now be accepted for 2019.  Early Bird applications will have the advantage of completing this year golf season.   All current members are encouraged to introduce at least "ONE NEW MEMBER" Lady or Gent, Junior or Student, Seniors Juveniles and Family, Active Retiree's or any person interested in taking up the sport.  It will be a huge advantage to building the club membership and profile.  Registrations Forms for new members are now available on-line on our web site, or at the club house or contact Martin Bohan 087 0509278 or any of the committee members.  All will be welcomed.
Green Fee;  The Green Fee will continue@ €10 for 9hole or 18hole. This is a very competitive and affordable rate and guaranteed no time waiting for tee box.
Rules of Golf;  The 2019 Players edition on the "Rules of Golf", The initial supply of books are now gone, and none available until next supply.  If you still require one contact Communication Secretary Martin Bohan, 087-0509278.
Memorabilia of 50 Years of Golf in Templemore;  PJ requested that all members past and present to dig deep and search achieves for any memorabilia that they can find.  Old photos, sayings, and good banter from the past that can be resurrected to make this project successful All will be appreciated and returned as received after the process.
Playing a 9 hole Golf Course Advantage;   The advantage of playing Golf in Templemore 9hole Golf Course has its advantages;  A magnificent Golf Course to test your golf skills as it tested the best of Tipperary and Munster prestigious clubs in the JB Carr tournament.  Templemore Golf Course is available to all golfers, especially to those that want to return to the game also to members and non-members and members from other clubs to get in your practice rounds, beginners, Active Retiree's and families who want to take up the sport  will get assistance from any committee member, (refer to web site for committee member list) here are some positive reasons for golfing in Templemore Golf Course;   Golf can be good for your health and your heart. Walking an average course for a round of 18 holes of golf can be between five to seven kilometres. If you walk 18 holes three to five times a week, you'll get an optimal amount of endurance exercise for your heart. If you pull your clubs or carry them, you'll burn even more calories each round and benefit even more. Playing golf regularly can help you:  Stay fit, improve your muscle tone and Endurance, Lose weight and body fat.  Golf can also be a great way to keep in touch with friends, help in reducing stress as a result of the physical activity and also due to the pleasure of walking in an open and natural environment,  provide opportunities to meet new people, help develop a sense of community connectedness.  Golf can be a very social and enjoyable sport. While you compete against others, you can also compete with yourself to better your previous best score. Templemore Golf Course provides Good Social occasions, Presentation Nights, Social Mixed, Senior Events and Away Trips.  The Handicap System allows members of different abilities an equal chance of winning.  Various Category of Memberships are available at different rates. (Membership option rates are on our web site).  Full Annual Membership €350 = Approximately, only 95c. per day.  New members are the lifeline of the club, so all existing members are encouraged to tell all your friends to take up membership and test their skills on this challenging Golf course. Registrations Forms for new members are now available on-line on our web site, or at the club house or contact Martin Bohan 087 0509278 or any of the committee members.  All are welcome.
Club Fixtures;
The McHugh Cup. Must be completed by Nov.1st.
6th. and 7th. Oct. 18H S/F.
12th. Oct. JB Carr Team Presentation.
13th. and 14th. Oct. Vice Captain.
20th. and 21st. Oct. GOY 18H S/F.
22nd. Oct. 3T's Team All-Ireland at the K Club.
27th. Oct. White Dowling Society 18H S/F.
15th. Dec. White Dowling Society 18H S/F.
New Golf Rules;   Dropping procedure:  When taking relief (from an abnormal course condition or penalty area, for example), golfers will now drop from knee height. This will ensure consistency and simplicity in the dropping process while also preserving the randomness of the drop. (Key change: the proposed Rules released in 2017 suggested dropping from any height).