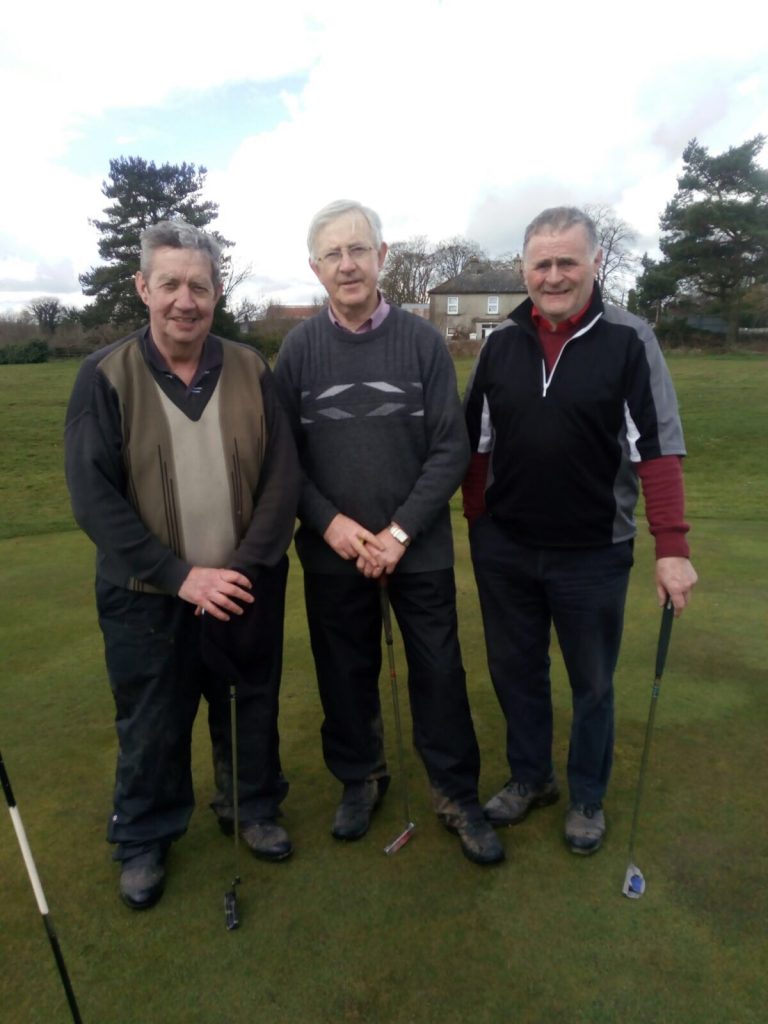 (Templemore Golf Club, Seniors,  Michael Maher, Seniors Committee member – Seanie Gleeson, Bertie Keane.  Photo by; Rody Cawley. )
Templemore Golf Club News;
J.B. Carr Tournament;  Templemore Golf Club will host Thurles Golf Club on Thursday next 26th. April at 3pm. The team Leader is Liam Leahy.  Liam has listed his potential players on the notice board in the locker room.  He requests that all potentials make every effort to attend.  Anyone 60+ not on the list that feels they have the potential contact Liam Leahy 087-4115773.  This popular event has effectively become the Senior Club Championship of Ireland (Over 60's) with some 200 or so clubs from every corner of Ireland participating. The semi-finals and finals are held each year in Woodenbridge Golf Club, usually over the second weekend of September.  The format for the tournament is Scotch Foursomes Matchplay with each participating club selecting 10 gentlemen members over the age of 60 (playing off full GUI handicap + courtesy shot to the away team). The teams initially compete at county level and then for their provincial title. The four winning provincial teams then travel to Woodenbridge in September for the All-Ireland finals.  One of the great features of this competition is that it brings together clubs that might not ordinarily meet.  Please note that the combined handicap limit is 30. The handicaps (on 01/01/2018) of each pairing shall be combined.
The Spring League; The spring League had a great response during the "Summer" weather last week and at the week-end.  The 3rd. leg has been extended for one more week.  The scoring is showing that the finish will be very competitive.  The competition Secretary Liam Leahy has requested that all listed in the competition to complete their rounds as soon as possible in case the weather breaks again.  So don't delay, and support your team by re-entering as many times as possible.  Keep checking the notice board in the event of changes.
Membership is now at an affordable rate;  The following Rates are selected to make the membership affordable to all sectors of the community both home and way. Gent; €350. Lady; €300. Couple; €500. Country Member; €150. Beginner, Gent;(Annual Rate for 3 years). €200. Beginner, Lady;(Annual Rate for 3 years). €170. Junior: (15-18yrs.-2nd Level) €50. Students Green Fee Membership: (3rd. Level & Student Garda,.) €70. OAP/Clergy, Existing; €230. OAP/Clergy, New: €270. OAP/ Couple, Existing; €350. OAP/ Couple. New; €350. Unemployed; at the 1st. Jan. €270. Distance Members; (Lady & Gent, Outside 50k) €150. Juvenile; (Under 15yrs.) €25. Family; (Children under 15yrs.) €500. Green Fees; (No reduction for 9 hole) €10. Green Fee; Junior Juvenile or Student €5. Entry Fee; Suspended . You can pay into the "drop box" in the locker room or "pay online", either way, as soon as possible!  Distance membership and private subscriptions can be made online on the club web site; www.templemoregolfclub.ie
Green Fee , One Rate;  The Green Fee for 2018 is now €10 for 9hole or 18 hole.  "There is just one rate".
Vouchers; Vouchers make the ideal present for Membership, Birthdays, Weddings, Anniversaries, Special Occasions or Corporate Incentive Presentations and Team Building for seasoned golfers, beginners and those that want to take up the Game of Golf; Visit our Web Site and order your voucher by selecting the "Membership" tab and scroll down to the "Voucher" button and order it on-line or contact the club number; 0504 31400 or any committee member or email; info@templemoregolfclub.ie
Availability to this 9 hole Golf Course has great advantages;  Templemore Golf Course is available to all golfers, members and non-members and members from other clubs to get in your practice rounds, beginners, Active Retiree's and families who want to take up the sport  will get assistance from any committee member, here are some positive reasons for golfing in Templemore Golf Course;
Good Outdoor Exercise; 9 holes + 2hrs. 18 Holes = 4hrs.  Good Social occasions, Presentation Nights, Social Mixed, Senior Events and Away Trips.  The Handicap System allows members of different abilities an equal chance of winning.  Various Category of Memberships are available at different rates. (Membership rates are on our web site).  Full Annual Membership €350 = Approximately, only 95c. per day.  New members are the lifeline of the club, so all existing members are encouraged to tell all your friends to take up membership and test their skills on this challenging Golf course. Registrations Forms for new members are now available on-line on our web site, or at the club house or contact Martin Bohan 087 0509278 or any of the committee members. All are welcome.
New Members;  All current members are encouraged to introduce at least "ONE NEW MEMBER" Lady or Gent, Junior or Student, Senior or Family, Active Retiree's or any person interested in taking up the sport.  It will be a huge advantage to building the club membership.
Seniors;  It was great to see John (The Saint) Stapleton back in the Club House lounge at the seniors presentation of tea/sandwiches and great banter.  Also it was a delight to see so  many taking part in the Thursday morning seniors event.  This event is encouraged to all "Active Retirees" especially those that want to take up the game of golf as a recreational sport hobby, they will be more than welcome, just call in on Thursday morning at 10am.  Seniors on Thursday 26th. March "to be confirmed"
Away Fixture;  Tuesday 24th. April in Tipperary Town;  This is always a great venue with a meal provided and all are requested to have their payment on Thursday 19th.  A lot of work goes into the organisation of these away events by the Senior Committee to give everyone a great day out of Golf.  Do support this hard work by putting your name on the list.
Seniors Results;
29th. April;    1st. Team;  Joe O'Connell, Pat Costello, John Mullally, Mick Murphy.  2nd. Team;  Goerge Collins, Mick Carey, Pascal Whelan, Mick Maher.  3rd. Team; Sean Lee, Mick Connell, Pat Connell, John Galvin.
Bunkers Revamped;  There was a great response to the call-up by our Captain Tommy Foley from volunteers to remove the winter look off the bunkers by raking and weeding.  Work still needs to be done so "Just call in and get on with the work".  Great work is already evident on some of the bunkers and some heavy work is now required on some of the weather beaten bunkers.  Additional sand will be put into all bunkers once they are ready.  This work is very important and will also enhance the condition of the course for the coming year.
Club Fixtures;
JB Carr Tournament;  Templemore Golf Club will host Thurles Golf Club on Thursday next 26th. April. At 3pm. The team Leader is Liam Leahy.  Contact; 087-4115773.
Central Towns Trophy; Tullamore Golf Club; 1st. Round on or before May 6th.  Temple more -V- Nenagh. 
Munster County Clubs;  Round 2;  Winners, Spanish Point/Doneraile-v-Templemore.
A.I.G. Pierce Purcell 26/27th. May;  in Ballykisteen Golf Club.  Round 1; Ballykisteen-v-Templemore.  Round 2;  Ballykisteen/Templemore-v-Winners, Clonmel/Thurles.
Mixed Foursomes 16/17th. June;  East Section in Tipperary Golf Club, Round 2; Templemore-v-Clonmel.
Cup and Shield Requirements;  for Foursomes, Fourball Match Play and Single match Play are listed in the Club House locker room.
Munster Golf;  Irish Cups and Shields Tournaments 2018 are now listed on the Club House Locker room for details.
The AIG Cups and Shields National Finals will be in Thurles Golf Club on 21/23 September 2018.
The Irish Mixed Foursomes National Final will be in Miltown Golf Club 5/6 October 2018.
Your Swing Thought by Graeme McDowell–  "To avoid a hook, my takeaway thought is to make sure during those first three feet the clubhead works away wide and outside my hands, with a nice bit of loft on the club."